FAQs about Volunteering for a Clinical Research Study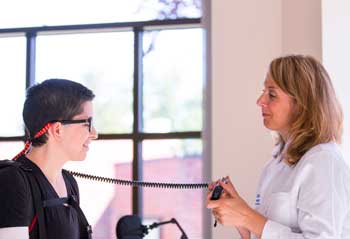 Everything You Need to Know about Volunteering for Kessler Foundation Research 
Wondering what it's like to volunteer for a clinical research study? To get a better picture of how scientists recruit participants for their research recruitment and what to expect when you join a study, read on.
Volunteers are vital to the ongoing rehabilitation research at Kessler Foundation. Why? Volunteers help scientists identify new treatments and interventions that can change the lives of people with disabilities and debilitating health conditions. These scientific advances are made possible when people like you volunteer for clinical research.
If volunteering sounds interesting to you, where should you start? Here are answers to a few common questions.
What is a clinical study?
We develop carefully designed research studies (sometimes called trials) that aim to uncover better ways to prevent, diagnose, or treat disabling conditions.
How do I find and volunteer for a research study?
First, check the studies at Kessler Foundation that need volunteers. Once you find a study that interests you, complete the "Volunteers are the Heart of Our Research" form found on each study page. Then, a member of our research recruitment team will reach out to discuss the study and determine whether you are qualified to participate.
What areas of science are studied at Kessler Foundation?
Some of the areas our research scientists are investigating include:
Cognitive research, which looks at ways to help people regain their abilities to think, remember and learn. In this type of study, a participant may be asked to complete a survey, have  neuropsychological testing, or have a brain scan or other type of test.
Mobility research, which looks at ways to help people who have difficulties standing and walking. Volunteers may try walking in an exoskeleton, perform aerobic exercise, or participate in research to improve balance.
Outcomes research, which looks at ways to help people with disabilities participate fully in their homes, workplaces, and communities. A volunteer in an outcomes research study might fill out questionnaires or surveys about how well they function in their daily lives and obstacles they may encounter.  
Neuroimaging research, which helps scientists understand how the brain is affected by disabilities and may track whether a cognitive or mobility treatment program is having a positive impact on that disability. Volunteers undergo imaging studies while performing certain physical or cognitive tasks.
Medication research, which helps us assess the impact of certain drugs on the disabilities we study. Clinicians monitor our medication studies to ensure participants' safety. These studies may be related to improvement of cognition, mobility, or other functions, such as bone density or bladder control.
Which conditions are crucial to your investigations?
At Kessler Foundation, we conduct studies on stroke, traumatic brain injury, spinal cord injury, multiple sclerosis, autism, Gulf War Illness, and more. We study the role of caregivers who assist individuals with disabilities with daily activities, and we test ways to help people return to the workplace after disabling illnesses or injuries.
Where are the research studies held?
We offer more than a dozen tele-studies that can be completed from your home, while others may require you to visit one of two Foundation locations in East Hanover, NJ, or West Orange, NJ.
How long do research studies last?
Some studies are completed in one day, while others may need volunteers to be available for follow up from six weeks to more than a year.
Are you recruiting for a specific age group or ethnicity?
To achieve results that help as many people as possible, participants of all ages and ethnicities are needed in our studies.
I'm a parent of a child with a disability. Can my child participate in a study?
Yes! There are studies recruiting participants as young as seven years old.
I don't have a disability. Can I join a study?
Yes, absolutely! People without disabilities can serve as controls in clinical studies. Comparing the results between healthy volunteers and participants with disabling conditions helps researchers prove the efficacy of their interventions.
Why should I participate in a clinical research study?
Each individual has his or her own motive for volunteering. Some of the more common reasons we've heard are to help improve the health of others; to help scientists understand a specific illness or disease that affects a friend or family member; and to learn more about resources that caregivers need to help their loved ones.
To find out more about volunteering for a research study, listen to the "Recruitment RoundTable" podcast to hear from a group of research recruiters who work in various research centers at Kessler Foundation.