Signature Employment Grants
Signature Employment Grants are awarded nationally to fund new pilot initiatives, demonstration projects, or social ventures that lead to a generation of new ideas to solve the high unemployment and underemployment of individuals with disabilities. Preference is given for interventions that address the intersection of race, class, gender, disability and poverty within the framework of helping individuals with disabilities obtain competitive, integrated employment in a cost-effective manner. Signature grants are not intended to fund project expansions or bring proven projects to new communities, unless there is a significant scale, scope or replicable component. 
Innovation lies at the core of all Signature Employment Grants. We define innovation as a new idea or process that will spark new models to increase employment outcomes for people with disabilities. Innovation can often improve systems already in place. These ideas may be original or may use existing solutions or technologies in a new way. For purposes of this grant, the intervention must reverberate beyond your institution alone. Ideas should be innovative within the state, the nation or the employment field.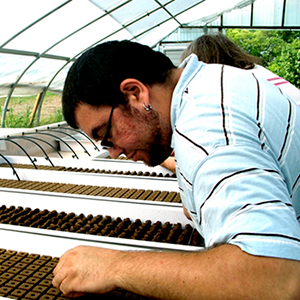 What We Fund
We look for new pilot initiatives or demonstration projects that generate new ideas. For our 2022 grant request for proposals, we have a special interest in projects that address the intersection of race, class, gender, disability and poverty within the framework of helping individuals with disabilities obtain employment or re-enter the job market following injury. Partnerships across sectors, such as public/private collaborations with economic development organizations, banks and municipalities are particularly of interest. However, all submitted innovative grant concepts on various topics are eligible for funding. 
Organizations may apply for up to two years of funding. Yearly funding ranges from $100,000 - $250,000 with maximum project funding at $500,000. Application organizations must have operating budgets greater than $3,000,000. Indirect costs are funded up to 15 percent. Kessler Foundation does not fund any purely research-based projects
Who Can Apply
Any organization recognized as a tax-exempt entity according to the Internal Revenue Code may apply for funding. This includes non-profit agencies, public or private schools, and public institutions, such as universities and governmental entities (state, local, federal) based in the United States or any of its territories. We do not fund outside the United States. Kessler Foundation will not fund projects that discriminate in hiring staff or providing services on basis of race, gender, religion, marital status, sexual orientation or national origin. Organizations employing a large number of staff members self-identifying as having a disability is scored higher.
Our Process
All interested applicants must submit an online concept application. The grant concept application is due February 22, 2022 at 5 p.m. ET. After scoring and review, a selected group of candidates will be asked to submit a full grant proposal. The concept is reviewed for originality, creativity, feasibility, and collaborative stakeholder team. Final grant candidates are selected from the full proposal candidate pool. All potential grant candidates will meet with Kessler's Grant Committee by video conference in the fall of 2022. All grants recommended for funding are subsequently approved by our Board of Trustees. Signature Employment Grants will be awarded on December 9, 2022 for the grant period January 1, 2023 – December 31, 2024. Organizations approved for funding must obtain matching funds equal to 15 percent of the Kessler Foundation grant. Grant recipients will be required to submit documentation with the source, date, and amount of the matching funds or a pledge letter that meets the matching funds requirement. All approved grants are assigned to an external evaluator paid for by the Foundation. All grants are awarded at the discretion of Kessler Foundation.
---
Previously awarded grants   Grant listing by year