Image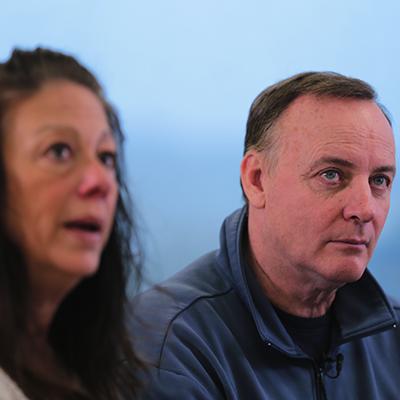 Spatial Neglect Guide for Family Caregivers
Assisting a family member who is a stroke survivor is a complicated task. The caregiver is a key member of the team. Arm yourself with as much information as possible. Know that you are not alone. The explanations, tips, and resources below will get you started.
Stroke is a brain attack that usually results in a brain injury. 

A stroke occurs when a blood vessel that carries oxygen and nutrients to the brain is either blocked by a clot or bursts (or ruptures). Learn more about stroke at the American Stroke Association and National Stroke Association. 

Stroke affects different people differently depending on where the injury is in the brain and what neural network is impaired. 

Spatial neglect is a neurological syndrome that commonly occurs after stroke. It results from a brain injury that impairs the neural networks of spatial attention and related motor and cognitive functions.

Left neglect is more common than right neglect. The neglected side of space is usually the same side as the more affected limb after stroke.

Spatial neglect is a problem affecting the ability to pay attention to one's surroundings and body parts on the more affected side. It affects functional vision but not visual function. In other words, many people with spatial neglect can see everything, but they pay no or insufficient attention to things in the "neglected" side of space.  

Patients with spatial neglect have problems in therapy participation/engagement because they are not fully aware of their neglect-related deficits. 

You may find your loved one having difficulties in locating objects on their "bad" side. They may bump into the doorway or furniture on their "bad" side. They may misread a door sign, a newspaper headline, or a takeout menu by missing the first part of a word or a sentence. You may find them "forgetting" to shave or put makeup on half of their face.  They may leave the more affected arm off the chair or table even after they have regained the strength and function of that arm. They may not turn to you when you talk to them from their "bad" side. These are examples of spatial neglect symptoms.
Tips for Caregivers
Try not to tell them to "look left." Their concept of "left" is different now. There are many other ways to remind your loved one of paying attention to the left. For example, encourage them to turn their head to their left shoulder, sit on their left side when talking to them, massage the back of their neck and shoulder on the left side.

Keep them safe. Because of spatial neglect and impaired self-awareness of it, they may bump into objects on the neglected side, knock off hot beverages on the neglected side, not turn the brake on the neglected side of the wheelchair, or lean toward one side on a chair or bed when sitting. These might increase the risks for falls or injuries.

Take a break. It is extremely important that you take care of yourself as well as your loved one. Stroke recovery and function rehabilitation can be a long journey. It is better to go through it with help and support.
Multimedia
PODCAST: In this podcast lecture, A.M. Barrett, MD presented " Practice-RRuN: A Practice-based Inpatient Rehabilitation Research Network to Improve Spatial Neglect Care. 
PODCAST: This episode features Dr. Michael Reznik presenting "Delirium After Brain Injury"

Dr. Reznik is a neurologist in the division of Neurocritical Care at Rhode Island Hospital and assistant professor of Neurology and Neurosurgery at the Warren Alpert Medical School at Brown University.

PODCAST:  Bench to Bedside Brown Bag Podcast Series

A podcast series about developed treatment and evidence based protocols developed by Kessler Foundation researchers for rehabilitation therapist.

A.M. Barrett, MD presented "Better Outcomes for Spatial Neglect Rehabilitation" Dr. Barrett is director of Stroke Research at Kessler Foundation.

VIDEO: Kessler Foundation's Director of Stroke Rehabilitation Research, Dr. A.M. Barrett, shares her exciting research that is helping patients recover from the debilitating effects of a stroke. Courtesy: One-on-One with Steve Adubato
VIDEO: The Assessment and Treatment of Spatial Neglect in Stroke Survivors A pilot study in high-risk population at Newark Beth Israel Medical Center Funded by Healthcare Foundation of New Jersey

VIDEO: It is recommended that the KF-PAT™ be administered by trained individuals only. The KF-PAT™ may help reducing symptoms of spatial neglect. The Kessler Foundation is not responsible for clinical outcomes.
Practice-based Rehabilitation Research Network
Below is a list of the facilities participating in the Practice-based Rehabilitation Network. Known as Practice-RRuN, this is a nationwide network where stroke survivors with spatial neglect can receive an evidence-based treatment -- prism adaptation treatment -- leveraging a visuomotor phenomenon to improve spatial neglect. It involves repeated arm movements to visual targets while wearing goggles fitted with prism lenses. Facilities participating in the Practice-RRuN project implement prism adaptation treatment using the Kessler Foundation Prism Adaptation Treatment (KF-PAT®) protocols and equipment.  
Facility

Location

Contact number

 

West Orange, NJ

877-322-2580

 

Chester, NJ

877.322.2580

 

Saddle Brook, NJ

877.322.2580

Marlton, NJ

856.988.4106

 

Harrisburg, PA

717.920.4300

 

St Louis, MO

314.447.9810

 

Miami, FL

305.260.1827

 

Los Angeles, CA

424.522.7111

 

Columbus, OH

614.484.9713

 

Denton, TX

940.297.6500

 

Scottsdale, AZ

480.800.3905

 

Atlanta, GA

404.712.7593

 

Schenectady, NY

518.382.4500

 

University of Maryland Rehabilitation  and Orthopaedic Institute

Baltimore, MD

410.448.2500

 

Cleveland Clinic Rehabilitation Hospital, Edwin Shaw
Copley, OH
216.455.6444
 
Volunteers are the Heart of Research
Provide your information below and someone from our recruitment team will contact you about research opportunities. Learn more.
Join a Study