Moving Forward to Make a Difference
Kessler Foundation is a global leader in rehabilitation research and employment funding. Our mission is to change the lives of people with disabilities. With the support of our donors, we return people to their homes, their communities, and the workplace.
Image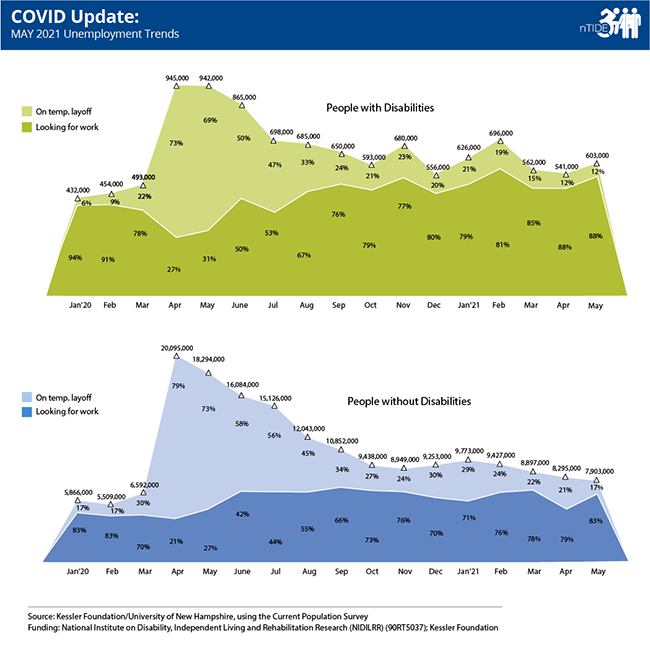 nTIDE May 2021 COVID Update:
Minimal changes in unemployment indicate slow pace of recovery
National Trends in Disability Employment (nTIDE) – issued semi-monthly by Kessler Foundation and the University of New Hampshire
East Hanover, NJ. June 18, 2021. The May 2021 numbers for furloughed workers remained relatively steady, according to today's National Trends in Disability Employment (nTIDE) COVID Update. This mid-month nTIDE follows two key unemployment indicators – furloughs, or temporary layoffs, and the number of people looking for work, comparing trends for people with and without disabilities. The COVID-19 pandemic precipitated an unprecedented rise in furloughs and people looking for work, prompting the addition of this mid-month nTIDE COVID Update in the spring of 2020.
Resilience and Disability in the Time of COVID-19
During the challenging and uncertain times in which we find ourselves, please know that all of us at Kessler Foundation express our deep concern for you and your family and wish you peace and good health.
We are looking forward to the best Stroll 'N Roll ever on Sunday, September 26, 2021. This family event brings together people of all ages and abilities to raise vital funds to advance rehabilitation research and employment initiatives that return people with disabilities to their homes, their communities, and the workplace.
Join us from 10 AM to 1 PM in Verona Park, if allowed, and virtually, from your own neighborhood
This Father's Day, Your Support Can Make All the Difference
In celebration of Father's Day, we share a story to demonstrate how, with the support of friends like you, Kessler Foundation's research makes all the difference for fathers like Pete Welch. You help fathers like Pete and others overcome their disability and live to the fullest with their families.
Kessler Foundation's annual impact reports highlight how generous donors like you champion rehabilitation research and employment for people with disabilities.
Volunteers are the Heart of Research
Provide your information below and someone from our recruitment team will contact you about research opportunities. Learn more.
Join a Study