Moving Forward: Personal Perspectives on Life after Brain Injury
A virtual speaker series for individuals with brain injury, family members and friends. Learn how others have tackled their TBI challenges and the strategies they used to successfully transition back into everyday life.
Image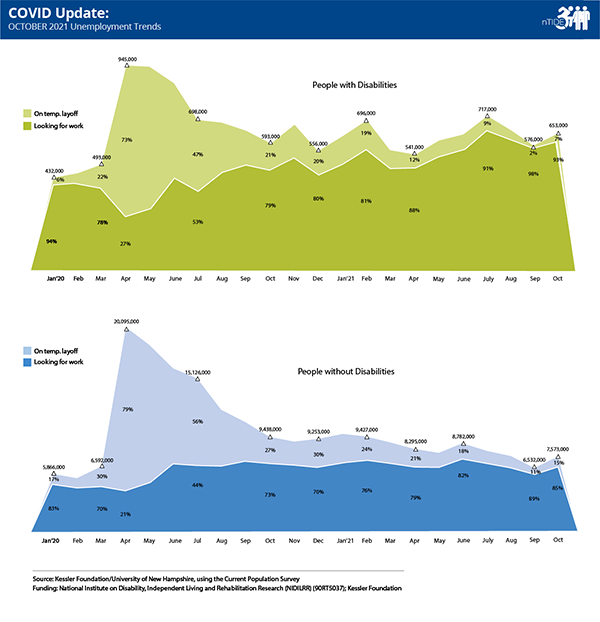 nTIDE October 2021 COVID Update: Rise in unemployment may indicate increase in jobseekers engaging with the labor market
National Trends in Disability Employment (nTIDE) – issued semi-monthly by Kessler Foundation and the University of New Hampshire
East Hanover, NJ. November 22, 2021. Unemployment rose for people with and without disabilities, following two consecutive months of decline, according to today's National Trends in Disability Employment (nTIDE) COVID Update. nTIDE experts advise caution in interpreting monthly changes in the pandemic-era labor market.
Moving Forward to Make a Difference
Kessler Foundation is a global leader in rehabilitation research and employment funding. Our mission is to change the lives of people with disabilities. With the support of our donors, we return people to their homes, their communities, and the workplace.
Kessler Foundation News
Keep up-to-date with the latest information from the Kessler Foundation.
Make a Gift. Become a Champion.
On Tuesday, November 30, Kessler Foundation will participate in #GivingTuesday, a global day of giving dedicated to making an impact in our community. When you champion rehabilitation research and employment this #GivingTuesday, by making a gift you make a direct and profound impact on people with disabilities in need now. Give by November 30, and your gift will be matched dollar for dollar—and your impact will be doubled.
Thank You for an Amazing Day.
Many thanks for a successful and special day! People of all ages and abilities gathered with us in Verona Park and from their own neighborhoods on Sunday, September 26, 2021, for Kessler Foundation's first-ever hybrid Stroll 'N Roll. Together we proved that abilities are what matter.
Kessler Foundation's annual impact reports highlight how generous donors like you champion rehabilitation research and employment for people with disabilities.
Resilience and Disability in the Time of COVID-19
During the challenging and uncertain times in which we find ourselves, please know that all of us at Kessler Foundation express our deep concern for you and your family and wish you peace and good health.
Volunteers are the Heart of Research
Provide your information below and someone from our recruitment team will contact you about research opportunities. Learn more.
Join a Study