TEST - Since March 2013, Kessler Foundation and the University of New Hampshire Institute on Disability have issued a monthly custom report on employment data for Americans with disabilities, titled, National Trends in Disability Employment (nTIDE). John O'Neill, PhD, Kessler Foundation's Director of Employment and Disability Research, and Andrew Houtenville, PhD, the Institute on Disability's Associate Professor of Economics, customize the monthly jobs data released by the US Bureau of Labor Statistics to compare employment for working age men and women (ages 16 to 64) - with and without disabilities. Within a couple of hours of the Bureau of Labor Statistics releasing its monthly jobs report, Kessler Foundation distributes nTIDE over a national wire service and via social media channels.
nTIDE analyzes key economic indicators that reflect the employment environment for Americans with and without disabilities, including:
Labor Force Participation Rate – the rate of how many people are actively employed or looking for work compared to the total population
Employment-to-Population Ratio – the percentage of people who are working compared to the total population
Percent Looking – the percentage of individuals who are actively looking for work
Because the data are not yet seasonally adjusted—which would control for the fluctuations in the workforce based on the time of the year—nTIDE compares the month's employment data to the corresponding month of the previous year. The report, therefore, tracks and compares changes in employment indicators for people with and without disabilities. The nTIDE report is followed by government agencies, policymakers, funders, disability organizations, employers, and other interested parties.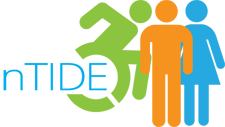 "The ability to find employment is a huge indicator of quality of life, but continues to be a struggle for people with disabilities, including our veterans," said Dr. O'Neill. "Through nTIDE, we have a benchmark to monitor the progress of our country in creating employment opportunities and removing attitudinal and physical barriers to help this talented population find jobs, and succeed in the workplace."
In addition to providing updates on the employment numbers, each nTIDE report highlights a Foundation initiative that expands opportunities for job-seekers with disabilities. Since 2005, Kessler Foundation has awarded $36 million in grants to disability employment initiatives around the US, including social enterprises, public-private partnerships, transition programs for students, self-employment and job training programs, as well as internship opportunities. To meet the varied interests and abilities of people with disabilities, funded programs represent a variety of fields, including finance, retail, manufacturing, warehouse distribution, computer technology, food service, telecommuting, document management, laboratory technology, and the arts. Through the Foundation's support, more than 3,000 individuals with disabilities, including veterans, have found job training and employment.
Register for Latest nTIDE Lunch & Learn Webinar
Listen to previously recorded nTIDE Lunch & Learn webinar.
nTIDE is funded, in part, by a grant from the National Institute on Disability and Rehabilitation Research (9ORT5022-02-00 & 90RT5017) and Kessler Foundation.