Body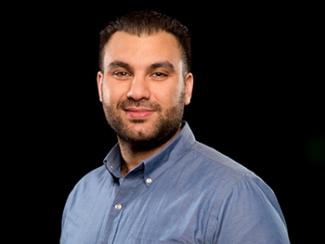 Ghaith J. Androwis, PhD
Laboratory Director
Using engineering principles and pioneering methods we investigate the effectiveness of novel wearable orthotics, robotics, and electromagnetic stimulation to improve quality of life and enhance independence for persons with mobility impairment due to spinal cord injury, multiple sclerosis, or stroke.
Areas of Focus
The main focus of our research is on investigating and developing state-of-the-art orthotics, rehabilitation robotics/wearables using innovative methods, equipment, and technologies to optimize the next generation of assistive devices and interventions, and to improve activities of daily living and motor function for person with mobility impairment.
One study examines the effect of an upper extremity robotic/orthotic device used to improve hand/wrist/elbow movement capability in individuals with acute spinal cord injury. Another study investigates the effects of robotic-exoskeleton assisted exercise rehabilitation on mobility, cognition, and brain connectivity in people with substantial multiple-sclerosis-related disability. In addition, researchers are enrolling participants in a national trial for improving recovery after stroke, pairing therapeutic exercise with stimulation of the brain through an investigational wearable device.
Current Funding Support
U.S. Department of Defense (DoD) Congressionally Directed Medical Research Programs
Rehabilitation Robotics and Research Lab Team