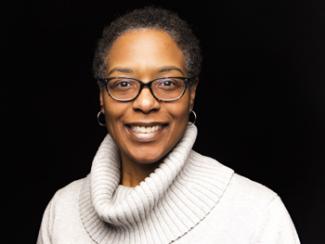 Senior Research Scientist
Denise C. Fyffe, PhD, is senior research scientist in the Centers for Spinal Cord Injury Research and Outcomes and Assessment Research at Kessler Foundation. Dr. Fyffe is also director of the Health Equity in Disability and Outcomes Research Laboratory and a co-investigator in the federally funded model system based at Kessler - the Northern New Jersey Spinal Cord Injury System. Dr. Fyffe received her PhD in Clinical and School Psychology from Hofstra University in 2000. She completed postdoctoral training in geriatric mental health at the Weill Cornell Institute of Geriatric Psychiatry followed by additional training in cancer disparities from the Institute for the Elimination of Health Disparities at the University of Medicine and Dentistry of New Jersey. She is a research assistant professor at Rutgers-New Jersey Medical School and a leader in the American Congress of Rehabilitation Medicine (ACRM), serving as Chair-elect of ACRM's SCI Interdisciplinary Special Interest Group (SCI-ISIG).
Expertise
Qualitative Research
Mixed Methods Research
Social Determinants of Health
Health disparities
Health inequities
Honors
Awarded by the National Institute of Arthritis and Muscloskeletal and Skin Diseases (NIMAS)
Research Interests
Her current clinical and research interests focus on reducing disparities in the care and quality of life of medically underserved rehabilitation groups. Dr. Fyffe is involved in the development of a quality of life (QOL) measure for use in spinal cord injury and innovative interventions to improve outcomes for persons with SCI using the National SCI Model Systems (SCIMS) database. Her research also includes investigation of the demographic, sociocultural, and clinical factors associated with disparities in functional outcomes among individuals living with spinal cord injury.
Dr. Fyffe has led and collaborated on several projects funded by the Department of Defense, Congressionally Directed Medical Research Program, Spinal Cord Injury Research Program (SCIRP), using mixed-methods approaches to examine socioeconomic issues related to clinical outcomes (PI: Fyffe), the use of clinical video technology in the use of healthcare (PI: Gibson-Gill) and striving to work among Veterans living with an SCI (PI: O'Neill).