Body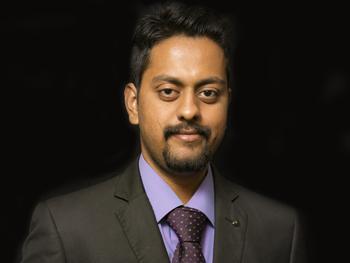 Vikram Shenoy Handiru, PhD
Laboratory Director
Our lab focuses on studying novel neural engineering methods – such as non-invasive brain stimulation and recording and smart wearable sensors – for improving the motor rehabilitation in individuals with stroke and traumatic brain injury.
Areas of Focus
Team members in the Neuromuscular and Electrophysiology Laboratory are studying individualized and targeted, noninvasive brain stimulation methods combined with sensor-based exergaming (exercise + gaming) for improving hand dexterity in stroke and traumatic brain injury (TBI) populations. To study the underlying mechanisms of motor recovery in clinical populations, the team's research involves acquiring the neurophysiological and neuromuscular data using electroencephalography (EEG), electromyography (EMG), transcranial magnetic stimulation (TMS), and high-definition transcranial direct current stimulation (HD-tDCS) techniques.
One on-going study investigates the effectiveness and underlying neural mechanisms combining MRI, HD-tDCS, and MusicGlove exercises to develop individualized, home-based rehabilitation exercises. Over time, researchers pinpoint and validate the intervention-related changes in the cortical connectivity using EEG. In the end, this study will allow the team to understand the cortical dynamics of TBI rehabilitation upon brain stimulation.
Another pilot will investigate the feasibility of home-based, "REmote-Supervised Upper-extremity Motor Exercises (RESUME)" and HabilUp gaming exercises for upper-extremity motor functions at stroke survivors' homes. As with other studies, the team will measure rehabilitation performance and follow progress.
Current Funding Support
New Jersey Health Foundation (NJHF) and New Jersey Commission on Brain Injury Research (NJCBIR).
Recruiting Research Studies
Neuromuscular and Electrophysiology Lab Team