Center for Outcomes and Assessment Research
Achieving Better Community Living for People with Disabilities
Quality of life after a spinal cord injury is influenced by many factors – personal, socioeconomic, cultural and environmental. To help all people with disabilities achieve their best possible quality of life, outcomes researchers study the impact of these factors on their health, their daily activities, and participation in school, work, and community activities.  
Adjusting to Life after Spinal Cord Injury
Adjusting to life in the community can be challenging for people with recent spinal cord injury. A short course of group therapy may help individuals develop the confidence and skills necessary to fully participate at home, in the community, and the workplace. If found to improve outcomes, this approach may serve as a model for supporting the transition of individuals with spinal cord injury from rehabilitation to fulfilling lives in the community.
Image
Investigating the Influence of Personal Factors
Some people with spinal cord injury do better than others in achieving fulfilling lives. Finding out why is the initial step toward developing solutions to the health disparities that impact quality of life. To determine the reasons that underlie poor outcomes, scientists examine associations between personal and cultural factors, such as age, gender, race, and ethnicity, as well as employment history and education level.  
Image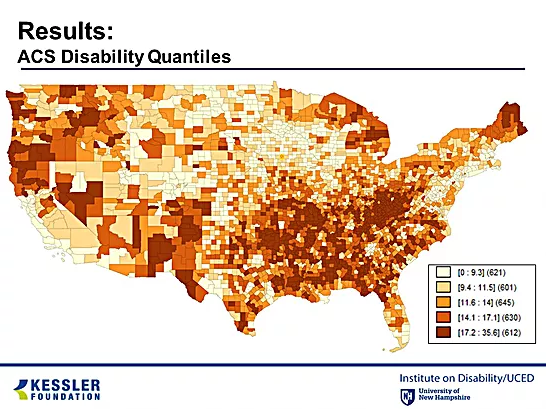 Amanda Botticello, PhD, MPH, is leading research on the U.S. Disability Belt, examining spikes of high levels of disability in geographic areas.
Exploring the Impact of Environmental Factors
Regional differences in health and disability prevalence across the U.S. are associated with differences in quality of life for individuals with disabilities. Using information from national databases enables researchers to delve into the lifestyle, health, and socioeconomic factors that contribute to the disparities comprising the U.S. Disability Belt. This research guides the development of policies and programs toward areas of greatest need.  
Identifying Barriers to Care for Veterans
All veterans with spinal cord injury do not receive the same healthcare and benefits, resulting in health disparities and a range of outcomes in this population. To determine the causes of these disparities, researchers study data on age, duration of injury, type of injury (service- or nonservice-connected), and type of benefits for disability and healthcare. Linking these factors with outcomes helps identify ways to improve quality of life for veterans with spinal cord injury. 
Join a Research Study Today