Image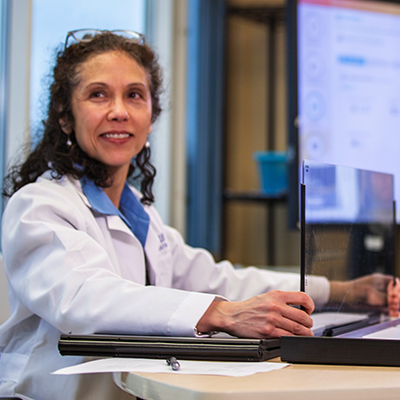 Spatial Neglect Guide for Professionals
Spatial neglect results from damage to the neural networks related to spatial thinking predominantly located in the right hemisphere. Affected individuals pay no or insufficient attention toward the side of space contralateral to the injured cerebral hemisphere. About 50% of right-brain-damaged stroke survivors and about 30% of left-brain-damaged stroke survivors present spatial neglect in the inpatient rehabilitation setting. Because spatial attention is essential to perceptual, cognitive, and motor functions, spatial neglect affects visual perception, auditory localization, proprioception, visuospatial memory, mental imagery, visuomotor control and movement planning. In addition, symptoms of spatial neglect can be manifested in the personal (body parts or on the body surface), peri-personal (within arm's reach) and/or extra-personal spaces (beyond arm's reach). Symptoms can be egocentric (body-centered, viewer-centered) and/or allocentric (stimulus-centered, object-centered). Thus, spatial neglect is multifaceted, and it can affect many aspects of a person's life.
Spatial neglect is disabling. The deficits created by spatial neglect disrupt basic self-care activities (e.g., dressing, grooming), impair postural balance, interfere with reading ability, impede navigation (e.g., avoiding furniture when using a wheelchair, avoiding coming vehicles when crossing streets), and increase the risk of falls. Furthermore, many patients with spatial neglect are unaware of their own symptoms or the consequences of their deficits (i.e., anosognosia for spatial neglect), which delays their seeking appropriate treatment or learning compensatory strategies. This self-awareness deficit can jeopardize safety, especially among patients who have regained some ambulatory ability after stroke.
Network for Spatial Neglect
The Network for Spatial Neglect is an initiative developed by Dr. A. M. Barrett , Dr. Peii Chen, Dr. Kimberly Hreha, and Ms. Robin Hedeman, first presented in the 2011 annual joint meetings of the American Congress of Rehabilitation Medicine – American Society for Neurorehabilitation (ACRM-ASNR). We aim to advocate the need for accurate detection of spatial neglect, for direct translation of research to practices, and for effective treatments tailored to people with various types of spatial neglect. In September 2012, the Kessler Foundation Neglect Assessment Process (KF-NAP®) was published in Topics in Stroke Rehabilitation to provide instructions in using the Catherine Bergego Scale. Since then, we have continued working on refining the KF-NAP. Kessler Foundation now makes the KF-NAP® manuals free. The KF-NAP® video tutorial is online at Kessler Foundation Learning Center.
NOTE: It is recommended that the KF-NAP® be administered by trained individuals only. The KF-NAP® may help clinicians make a diagnosis related to spatial neglect. Kessler Foundation is not responsible for a clinical diagnosis.
In addition, we have established the Kessler Foundation Prism Adaptation Treatment (KF-PAT®), including the KF-PAT Manual and the KF-PAT Portable Kit. Prism adaptation is using an optic device (prism lenses) to achieve a visuomotor phenomenon (prism adaptation), which may ameliorate spatial neglect. The path-breaking study was published in the Journal Nature in 1998 by Dr. Rossetti and his colleagues. Since then, researchers all over the world examined the efficacy and effectiveness of the treatment. Our group conducted several pilot studies, ran two federally funded clinical trials, and has published more than 10 peer-reviewed journal articles on prism adaptation treatment for spatial neglect. The American Heart/Stroke Association, the Canadian Stroke Association, and many meta-analysis studies and systematic reviews recommend that prism adaptation treatment be used to treat patients with spatial neglect. To this end, we provide the KF-PAT® to facilitate research-informed implementation of evidence-based prism adaptation treatment. Kessler Foundation makes the KF-PAT® available to order.
NOTE: It is recommended that the KF-PAT® be administered by trained individuals only. The KF-PAT® may help reduce symptoms of spatial neglect. Kessler Foundation is not responsible for clinical outcomes.
Research work leading to the development of the KF-NAP® and KF-PAT® is supported by the National Institutes of Health (NIH/NINDS, R01NS055808; NIH/NICHD/NCMRR, K24HD062647) and the Department of Health & Human Services/ National Institute on Disability, Independent Living and Rehabilitation Research and Rehabilitation Research (NIDILRR, 901F0037; previously H133G120203 Department of Education/ NIDRR). Contents in the manuals do not necessarily represent the policy of Department of Education or Department of Health & Human Services, and one should not assume endorsement by the federal government of the U.S.
Frequently Asked Questions
How do I join the Network for Spatial Neglect?
Fill out the Network for Spatial Neglect application. We will contact you once or twice a year with updates of our research and related activities.
Is the KF-NAP® an alternative to the Catherine Bergego Scale (CBS)?
The KF-NAP® is not an alternative to the CBS; rather, it is a detailed description of how to administer the CBS. Using the KF-NAP® to administer the CBS may standardize the administration and strengthen the CBS as the most-recommended functional assessment for spatial neglect.
What is prism adaptation?
Prism adaptation is a visuomotor phenomenon that has been known for a long time before it was used for treating spatial neglect. Prism adaptation requires one to wear prism lenses while making arm reaching movements toward visual targets. For treating left-sided neglect, a patient wears the prism lenses that shift the visual field, including the images of the target and of one's own reaching arm, certain degrees to the right depending on the diopter of the lens (e.g., 20-diopter lens shifts the visual field by 11.4 degrees). At the onset of prism exposure, the motor system has not yet registered that visual information has shifted to the right, and thus the arm reaches to the shifted image while the actual target remains in its original position (i.e., to the left of the shifted image). The visual system sends feedback regarding the missed target to the motor system, which adapts over repetitive practice of arm reaching toward the target. The person eventually achieves success with a leftward movement reaching the actual target. This process is prism adaptation.
After removing the prisms, the visual information now is normal (actual target and its image are in the same location), but the motor system has adapted to a movement reaching toward the left of the visual image. Thus, the arm moves toward the left of a visible target. This inaccurate performance is called the after-effect. The leftward after-effect facilitates greater awareness of the left side of space in patients with left-sided neglect who seldom initiate exploration of the left side of space on their own. Prism adaptation and its after-effect occur naturally, requiring no effortful top-down strategy or conscious self-monitoring, which is a great advantage in integrating it into rehabilitation of patients who have limited cognitive capacity to participate in therapies that require explicit learning or self-awareness of one's own deficits. The American Heart/Stroke Association Guidelines recommend the use of prism adaptation treatment for spatial neglect because of its Class IIa effect size (deemed as "benefit much greater than risk" and it is reasonable to perform or administer treatment) based on Level A evidence (multiple populations evaluated using randomized clinical trials or meta-analyses) (Winstein et al., 2016, Stroke, doi: 10.1161/STR.0000000000000098).
Do I have to use the KF-PAT® to deliver prism adaptation treatment?
The KF-PAT® provides an implementation solution for clinicians who wish to utilize prism adaptation treatment for their patients with spatial neglect. The KF-PAT® Manual details treatment principles and a standardized protocol of a systematic treatment course. The KF-PAT® Portable Kit includes all the necessary devices to facilitate the treatment, as demonstrated in the video clip above, and all the devices can be neatly stored in a 46 ᵡ 16 ᵡ 6 in. (LxHxW) bag and easily carried to patients. Kessler Foundation makes the KF-PAT® available to order.
However, you can of course create your own solution to deliver prism adaptation treatment.
May I translate the KF-NAP® or KF-PAT® Manual to a different language?
Yes, we welcome you to do so! The translated version will be the property of Kessler Foundation and will be available at the Kessler Foundation Learning Center. Please contact us or further information.
Practice-based Rehabilitation Research Network
Below is a list of the facilities participating in the Practice-based Rehabilitation Network. Known as Practice-RRuN, this is a nationwide network where stroke survivors with spatial neglect can receive an evidence-based treatment -- prism adaptation treatment -- leveraging a visuomotor phenomenon to improve spatial neglect. It involves repeated arm movements to visual targets while wearing goggles fitted with prism lenses. Facilities participating in the Practice-RRuN project implement prism adaptation treatment using the Kessler Foundation Prism Adaptation Treatment (KF-PAT®) protocols and equipment.  
Facility

Location

Contact number

 

West Orange, NJ

877-322-2580

 

Chester, NJ

877.322.2580

 

Saddle Brook, NJ

877.322.2580

Marlton, NJ

856.988.4106

 

Harrisburg, PA

717.920.4300

 

St Louis, MO

314.447.9810

 

Miami, FL

305.260.1827

 

Los Angeles, CA

424.522.7111

 

Columbus, OH

614.484.9713

 

Denton, TX

940.297.6500

 

Scottsdale, AZ

480.800.3905

 

Atlanta, GA

404.712.7593

 

Sunnyview Rehabilitation Hospital

Schenectady, NY

518.382.4500

 

University of Maryland Rehabilitation  and Orthopaedic Institute

Baltimore, MD

410.448.2500

 

Cleveland Clinic Rehabilitation Hospital, Edwin Shaw
Copley, OH
216.455.6444