Center for Employment and Disability Research
Closing the Employment Gap 
Although the majority of people with disabilities are striving to work, many lack the opportunity to contribute their talents in the workforce.  The Center seeks new ways to expand employment for individuals with disabilities, including veterans, through collaborative research with medical rehabilitation centers and vocational services.
Image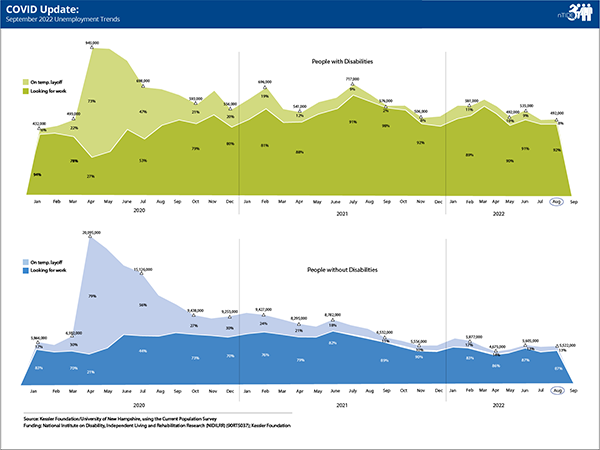 nTIDE August 2022 COVID Update: Unemployment stable at pre-pandemic levels for people with disabilities
National Trends in Disability Employment (nTIDE) – issued semi-monthly by Kessler Foundation and the University of New Hampshire
Image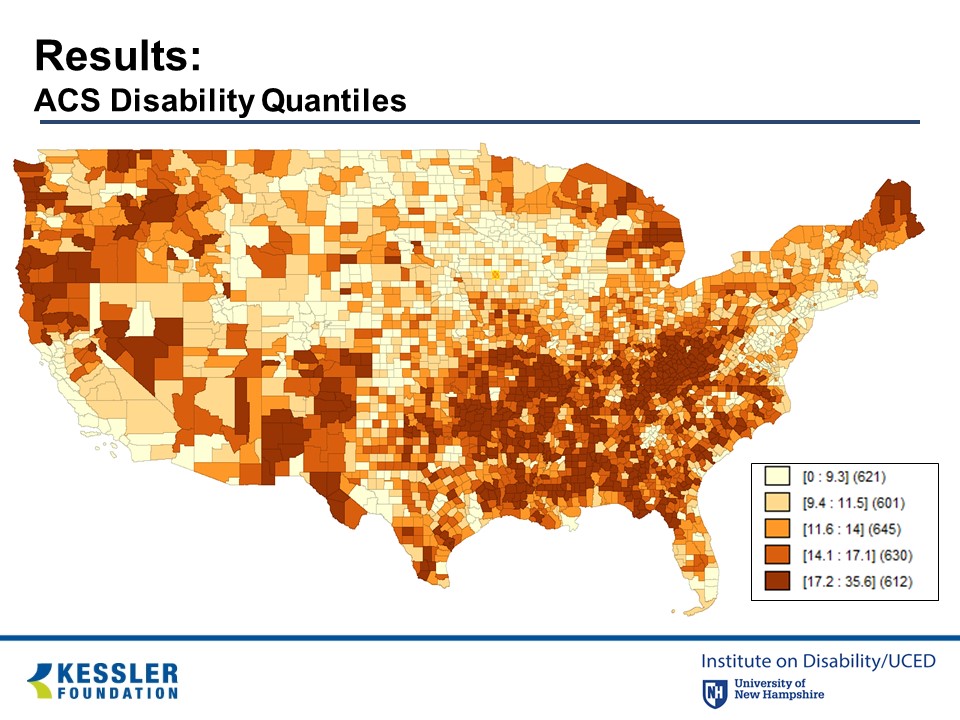 Maximizing Impact through Targeted Research
Pilot studies on the national, state and local levels are adding to our knowledge of disability and employment. Using data from the American Consumer Survey and Social Security Disability Insurance records, have identified a geographic concentration of Americans with disabilities. While other health-related 'belts' have been identified; this is first time that the 'U.S. Disability Belt' has been mapped.  What we learn about the 'Disability Belt" will help target resources to areas of greatest need. 
Image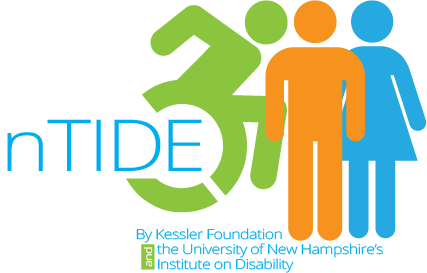 Monitoring the Gap
Since 2013, Kessler Foundation, in collaboration with the University of New Hampshire, has issued a customized monthly release, National Trends in Disability Employment (nTIDE) based on the monthly jobs report issued by the U.S. Bureau of Labor Statistics. nTIDE compares the economic indicators for people with and without disabilities. The release of nTIDE, the only report of its kind, is widely anticipated among business leaders and the disability community.  Following every nTIDE, experts host a noon ET Lunch & Learn webinar, featuring in-depth analyses, guest speakers, and news updates.
Image
Maintaining Employment after Spinal Cord Injury
A pilot project underway at Kessler Institute for Rehabilitation is returning patients to work after spinal cord injury (SCI). This Resource Facilitation project has exceeded expectations for enrollment and job placement of newly injured individuals. A key element to the project's success is the dedicated vocational resource facilitator who intervenes early during the inpatient rehabilitation stay, and continues to provide support after discharge. This promising approach may be adopted by other rehabilitation facilities, which would help larger numbers of people return to work after this disabling injury.
Image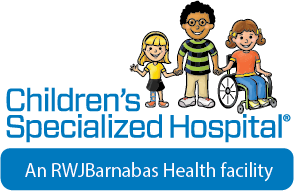 Improving Educational Outcomes for Children
On the state level, researchers are looking at ways to ensure that children continue their education after disabling injuries. By matching patient data from Children's Specialized Hospital in New Jersey with educational records of the New Jersey Department of Education, researchers are defining the impact on their educational outcomes. Findings will help inform parents and professionals of the need for changes to discharge planning and advocacy, as well as educational policy. 
Image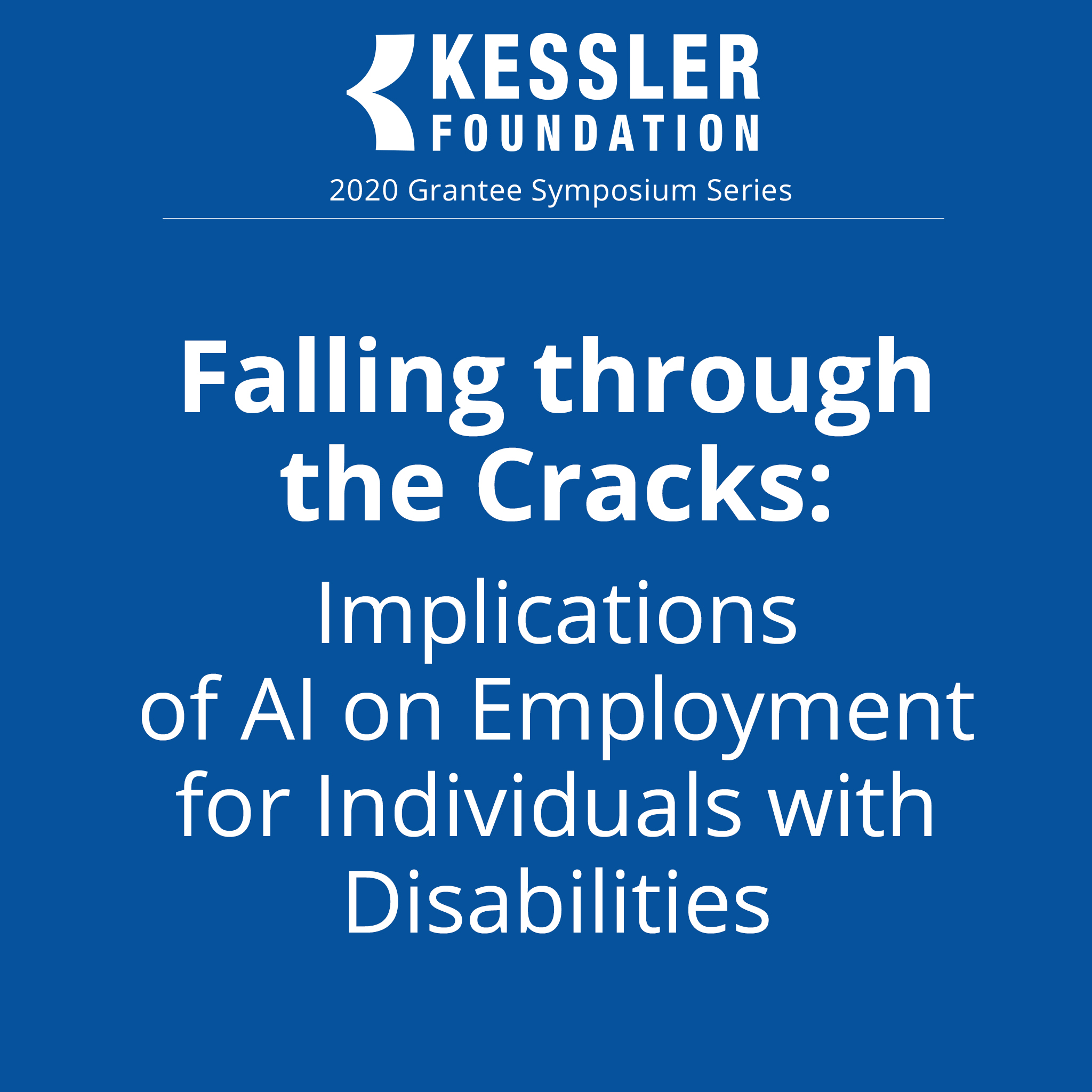 Falling through the Cracks: Implications of Artificial Intelligence on Employment for individuals with Disabilities
The 2020 Kessler Foundation Virtual Grantee Symposium taught how employers use artificial intelligence (AI) in the employment process for streamlining resume screening, interviewing candidates, and onboarding new hires. Increasingly, this machine learning process is reshaping the world of work. It is important for disability professionals working in job search, placement, and support to understand how disability is defined and understood in the context of AI, and the perils of bias in these systems.
Learn more about the 2020 Symposium 
Image

Establishing New Directions for Inclusion
The 2020 Kessler Foundation National Employment and Disability Survey: Recent College Graduates is the third in a groundbreaking series of surveys aimed at gaining detailed information on the ways people with disabilities achieve inclusion in the workplace.
Learn more about the 2020 Survey
Image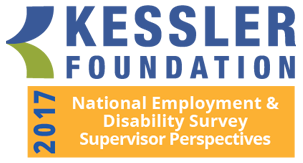 The 2017 Kessler Foundation National Employment and Disability Survey: Supervisor Perspectives was the first survey of workplace practices from the perspective of supervisors of employees with and without disabilities. Researchers learned about the effectiveness of approaches used by employers to recruit, hire, train, and retain people with disabilities. The findings offer insight into how effective these processes and practices are for all employees, and point to new directions for increasing the inclusion of people with disabilities in the workplace. 
Learn more about the 2017 Survey
Image

Understanding Workplace Realities
Continuing to develop effective employment strategies means understanding the realities of the workplace. The 2015 Kessler Foundation National Employment and Disability Survey, the first nationally validated survey of its kind, continues to yield important information from data submitted by more than 3,000 people with disabilities. According to this survey, 69% of people with disabilities are striving to work and overcoming barriers to the workplace, findings that have reframed the traditional dialog about disability and employment. 
Learn More About the 2015 Survey
Volunteers are the Heart of Research
Provide your information below and someone from our recruitment team will contact you about research opportunities. Learn more.
Join a Study
Access to a competitive job is an essential component to living independently. But for people with disabilities like Eliza, employment opportunities can be scarce. Your support drives efforts to increase inclusion in the workplace.