Shaholly Ayers, Model With a Disability Talks About Her Experience in the Fashion Industry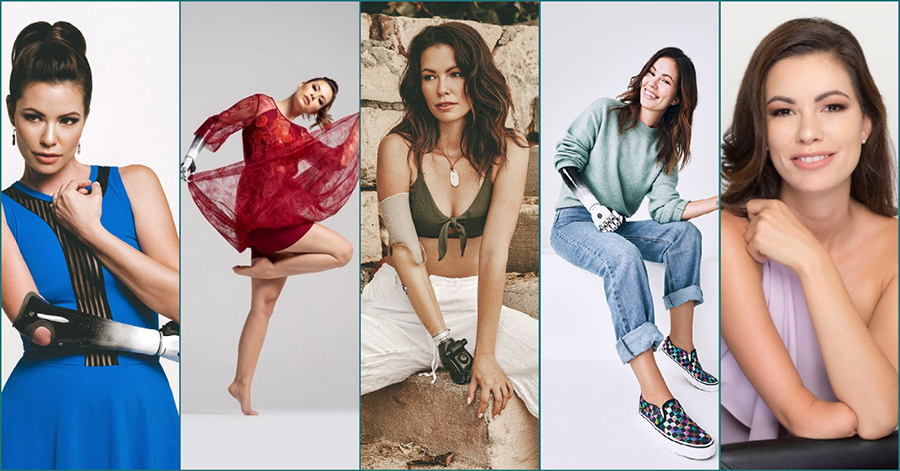 By Nicky Miller
In this episode of Kessler Foundation's podcast, model Shaholly Ayers shares insight about her experience in the fashion industry. Ayers, has been featured in Nordstrom, the Today Show, BBC News, Glamour, and People Magazine. Listen-in as she discusses disability and inclusion in the fashion industry.
Listen to the podcast, view the transcript and download this episode and others for free on Apple Podcasts, SoundCloud, Podbean, Spotify, or wherever you get your podcasts. 
Looking for other podcasts similar to this topic? Listen to Shifting the Culture in Fashion: Creating Adaptive Clothing for People with Disabilities. 
Below is a modified excerpt from the podcast.
Nicky Miller (NM): To paint a picture for everyone who's listening in, can you share a little about your disability?
Shaholly Ayers (SA): I'm a congenital amputee. I was born missing my right arm, right below the elbow. That's essentially my disability.
NM: Shaholly, what inspired you to be a model? Everyone always says how tough the industry is. What made you want to be a part of that world?
SA: When I was younger, I wanted to be a model. So when I was a kid, it was something I wanted to do. I was kind of a ham and liked to be in front of the camera. And then as I got older, I was kind of a tomboy, and I didn't really pursue it until I moved to Hawaii when I was in college. And I pursued it, and I was told by a modeling agency that there was no way I would ever be able to be a model. So that really became the inspiration for my-- I guess, my drive to want to model because I had been told I couldn't do things in the past. And I really wanted to change that perception of disability and make it a conversation like we're having now about why we value beauty, why we value certain things. And so that became my real motivation at that point.
NM: Did you have any inspirations, any models who were an inspiration?
SA: I'm sure I did. I mean, Tyra Banks was a big deal back then. I think I really liked her. There was also Adriana Lima and other supermodels that I liked, but there were no models with disabilities at all 10, 15 years ago when I tried this. So it was definitely a new territory for me.
NM: Well, I'm hoping you will be someone's inspiration in the future. You're definitely ours, seeing the amazing work that you're doing.
SA: Oh, thank you.
NM: How have you paved the way for yourself in an industry that isn't always welcoming to people with disabilities?
SA: It was definitely very difficult. When I tried, like I said, 10 to 15 years ago, this was a time when there wasn't really a push for inclusion. So I went to modeling agencies and was told, "No, you're never going to do this." And in order for me to do it, I had to kind of create my own path. So I had to work with photographers and makeup artists and produce my own photo shoots. I would even work with-- I would call up local magazines and tell them I wanted to model for them and I'd do it for free. And I'd call up boutiques and say, "I'll model this for you for free. I'll give you free advertisement," and then I'd put together these photo shoots so that I could get what is called a tearsheet so that I could get an ad, essentially, and show "Hey, I did this job." So I did that for 10 years without getting paid. And I put a lot into that career because at that time, there was nobody assisting or helping with that. So it is a very challenging industry. I think since then, we do have different agencies-- there are different inclusive agencies with inclusive departments. There are some agencies that cater to people with disabilities and talent with disabilities. So a lot has changed in that time, though I do still think it's somewhat challenging because it is a challenging industry.
NM: How long have you been in the business? And could you tell us about the ups and downs of choosing a career in this industry?
SA: So I've been in it for about 15 years. I really started to get my foot in the door the last, maybe, six years of my career. But the ups and downs, I mean, there's so much rejection within this world. So if this is something that you're interested in pursuing, it's something you have to have a thicker skin for because they're looking for specific people, certain ages, so it can be challenging.