The countdown begins for our best—and first hybrid Stroll 'N Roll on Sunday, September 26 from 10 am to 1 pm in Verona Park and virtually, from your own neighborhood. Our goal for this year is to raise $200,000 and with ONE WEEK left until our family-fun event, we have already raised over $179,000!
If you haven't already, register for Stroll 'N Roll today and form a team with your friends and family. Every dollar you give or raises changes lives for people with disabilities and proves that abilities are what matter.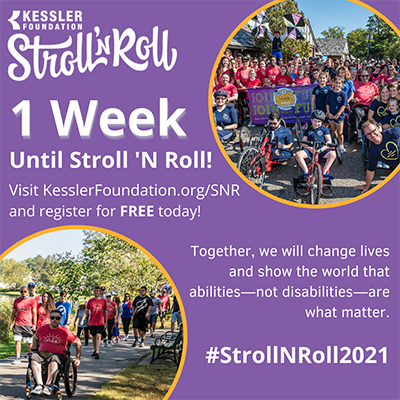 Be sure to join our Stroll 'N Roll event page on Facebook and follow Kessler Foundation on Instagram and Twitter. Whether you're joining us in person or virtually, this is a great way for you to stay connected with us and share your photos and videos from Stroll 'N Roll.
Become one of our top two fundraising teams or the team with the most posts about Stroll 'N Roll on social media using the hashtag #StrollNRoll2021 for a chance to win prizes courtesy of our participating sponsors and food trucks. Winners will also receive a table, tent, and on-stage recognition in Verona Park the day of the event.
We look forward to strolling and rolling with you on September 26!