Get Ready for Our Hybrid Stroll 'N Roll!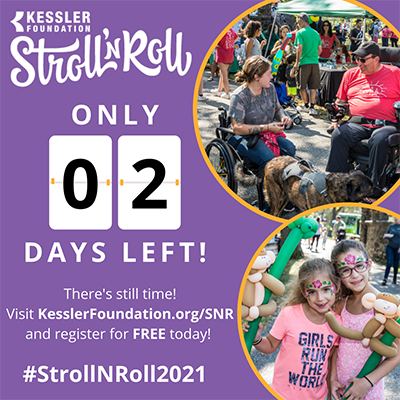 Only two more days until our best—and first—hybrid Stroll 'N Roll! We are expecting a beautiful day in Verona Park this Sunday and we hope the weather will be just as a great wherever you are strolling and rolling with us.
Our goal for this year is to raise $200,000 and thanks to friends like you, we have already raised nearly $190,000!
If you haven't already, register for Stroll 'N Roll today. Join us in Verona Park and make a gift of $25 or more to receive a Stroll 'N Roll t-shirt!
Here are the details about our family-fun event:
Date and time: Sunday, September 26, from 10 am to 1 pm
Location: Verona Park in Verona, NJ or in your own neighborhood with your friends and family!
Get Social with Us: Be sure to join our Stroll 'N Roll event page on Facebook and follow us @KesslerFdn on Instagram and Twitter. Whether you're joining us in person or participating virtually, this is a great way for you to stay connected with Kessler Foundation and post your photos and videos from the event using the hashtag #StrollNRoll2021. The photos and videos you submit will be used to create a compilation of entries to show the strength of our community.
Form a team and give to win: Our top two fundraising teams and the team with the most posts about Stroll 'N Roll on social media have the chance to win prizes courtesy of our participating sponsors and food trucks! Winners will also receive on-stage recognition and their own tent and table in Verona Park the day of the event.
Virtual Exhibitor Spots: Visit our Stroll 'N Roll registration site and check out exciting content from our virtual sponsors.
Together, whether in person or in spirit, we will change lives and prove that abilities—not disabilities—are what matter. We look forward to strolling and rolling with you on Sunday!