This Mother's Day, Support, Heal, Inspire.
Happy Mother's Day! Now, more than ever, because of COVID-19 and the challenging and uncertain times in which we find ourselves, people with disabilities need our help. With your generosity, Dr. Helen Genova, Kessler Foundation researcher and mother, can seek ways to help young people with autism, like her son Anthony, land jobs.
When Helen's son Anthony was four years old, he was diagnosed with autism. She and her husband found themselves travelling an unexpected path with no map to guide them. They learned that finding the right schools and programs was crucial to easing their journey. But Anthony is now thirteen and they worry about what his future holds. Will he find a fulfilling job after graduation? Will he be able to live on his own?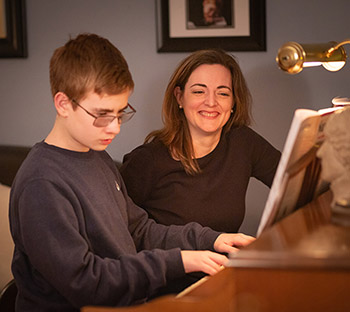 One day Anthony will be searching for a job, and young adults with autism often have trouble "selling themselves" and effectively describing their unique talents and skills to potential employers. "In my current research, I'm looking for ways to help young people with autism gain employment," says Helen. "In one study, my team and I are investigating how technology can build interviewing skills using a novel software platform, developed by SIMmersion Immersive Simulations." The program provides valuable interview practice with a virtual employer so that adolescents with autism can nail their job interviews.
Results from this study are encouraging. Particpants show improved interview performance and are better able to portray themselves as honest and professional team players.
But more research is needed to ensure that training tools are available to Anthony and other young people with autism.
With your support, Helen can grow this valuable research to ensure that those living with autism have a bright future. She is eager to find innovative ways for people with autism to enhance their interaction skills so they can excel in the workplace, in their communities, and at home.
"Nothing in my life's work has been as rewarding as this research and helping people who live with autism," says Helen. "I see the talents of my own son, and I love watching him show the world all he can do. Like any mother, I look forward to that day when Anthony says, 'Mom, I got the job!'"
Your support of Kessler Foundation research will change lives—giving Anthony and other young people living with autism the chance to work, thrive, and live independently.