Kessler Staff Share Stories and Tips for Successfully Working from Home
By Nicky Miller and Sybrina Blissett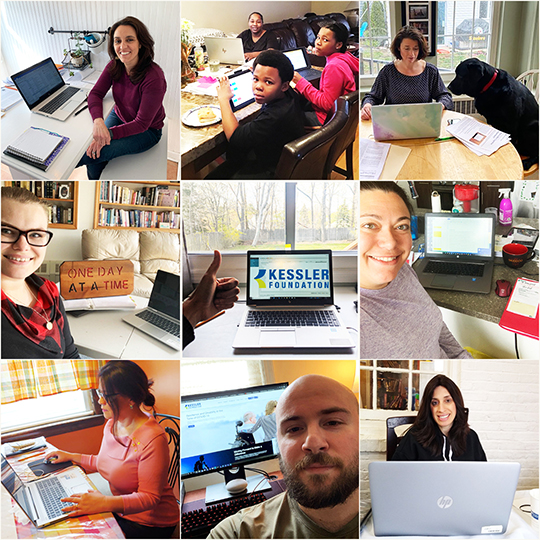 With some changes and provided resources, Kessler Foundation employees have been very productive while sheltering at home from COVID-19. With short notice, employees responded by developing plans to adapt to a new routine and work environment.
Here are a few stories and tips from employees from different departments at Kessler Foundation who are currently working from home, and doing it successfully.
​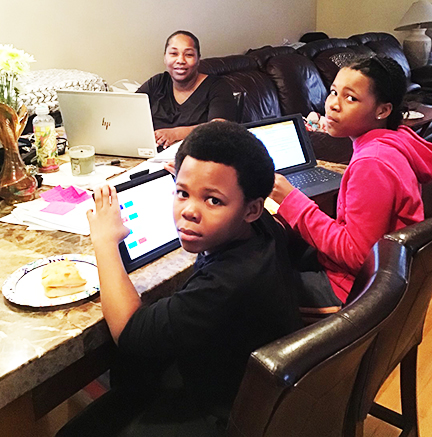 Natasha Johnson
Accounts Payable Specialist
Department: Operations and Administration
I share my workspace with my twins who are completing school assignments from home, during the COVID-19 pandemic. We use my dining room table as a desk, with my laptop and printer. I enjoy having a flexible schedule while working from home, I'm able to start later in the morning, and stay on most days until dinner time.
While in the office, I rarely took a break, so one of the nice perks is taking time to gather my thoughts. The highlight of my day is family, I'm a single parent and a caregiver to my elderly mom, being home allows more flexibility with how I'm able to divide my time. It isn't always easy, but I'm thankful that Kessler is able to provide the resources to successfully work from home, while sheltering from the pandemic and protecting my family's health.  
I stay connected with colleagues through emails. My job requires frequent messages for approvals and requests for information about Kessler Foundation's various studies, in order to process documents.
The most important thing that keeps me motivated while working remotely, is my job. I know that during this pandemic the bills have to be paid, and people need their paychecks. That motivates me to get up every day, and do the best I can to complete our payment process.  
​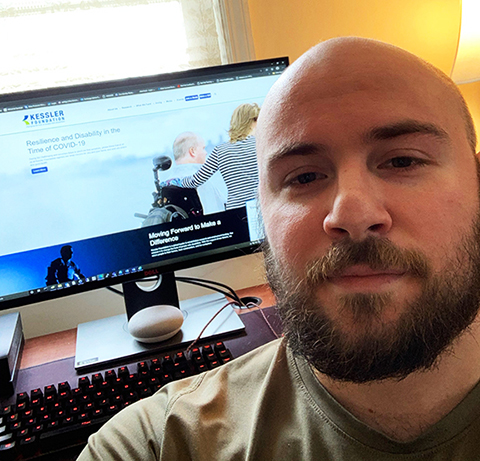 Nicholas Piombo
Desktop Support Specialist
 
Department: Information Technology
Working from home certainly has its perks, time saved by not commuting allows me to sleep in longer, and make a nice breakfast before the start of my work day. As far as routine goes, it's mostly the same. I have a large desk in my room which allows me to setup a monitor and keyboard that's connected to my laptop at all times, this helps me stay productive and I encourage everyone to try doing the same, if working from the laptop is difficult.   
The highlight of my work day are visits from my dog Max and his company while I work. The IT Group is very close, we are constantly in contact daily, via messaging, and periodic video calls for updates so we're always in the loop.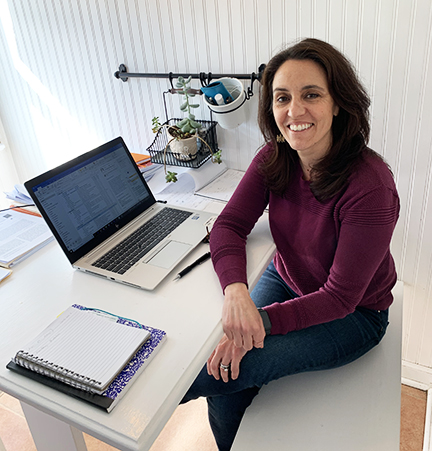 Amanda Botticello, PhD
Senior Research Scientist
 
Department: Center for Spinal Cord Injury Research and the
Center for Outcomes and Assessment Research
I am typically at my "desk" between 8 and 8:30am, much like I would be in the office. I work best with a set routine that mimics my office schedule, so I start work at the same time every day.
I have children in high school and middle school, so our house turned into "command central" with everyone at their workstations by 9 am. I like hearing my 11-year old say, "Quiet guys, I'm going on a meeting." Normally my new co-workers tend to wrap-up around 2pm, and go outside longer than I do. I'd be grumpy about this, but since my commute home has drastically improved, I have no complaints. I try to unplug by 5 or 6, to make sure I get some exercise and enjoy family dinner time.
I've relocated my workspace to my breakfast nook. It has great light and a window that faces a lilac bush that is just about to bloom. Importantly, it gives me the space I need to organize a few writing projects that I want to tackle, and it's quiet to conduct online meetings and calls.
Much like everyone else, my use of web conferencing has exponentiated. In a sense, some meetings have been much easier to coordinate because everyone is working remotely and we are not contending with different schedules. 
In my conversations with colleagues, I find that we are taking the time to check in with one another on a personal as well as a professional level. I have come to a different understanding of the effect of the pandemic on work, by sharing stories and experiences. The pandemic can have different implications for working parents with small children, recent college graduates living alone for the first time, and people with chronic conditions.  We all have more questions than answers, because we have more time for conversation, there is an opportunity to understand people on a personal level under these circumstances that we did not have before.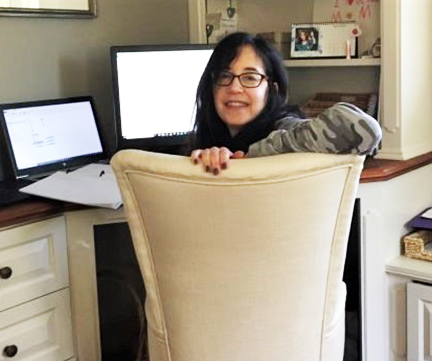 Lauri Wactlar
Vice President and Director
 
Department: Human Resources 
Remote work has been going well overall, despite the uncertainty and daily ups and downs we are all experiencing of life at home during this challenging time. The transition was seamless, given the technology, tools, and support available to us, thanks to our outstanding IT team. I miss seeing everyone and I look forward to returning to our offices in East Hanover, NJ. Meanwhile, I am trying to stay focused on the positive – so grateful to be working from home, safe, and healthy.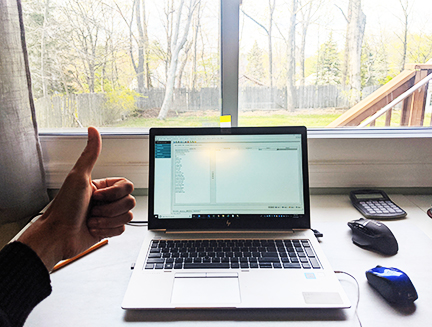 Matthew Hudson
Senior Grants Accountant
Department: Operations and Administration
My workday begins by e-mailing the vice president of finance, Sharon Cross, with my daily agenda. We then assess which items deserve the highest priority and establish a plan of action. Though the workday is very efficient due to the shorter commute, I miss engaging in small talk and banter with my colleagues. By working from home, I have been able to add freshly prepared meals, exercise, and casual reading (Sci-Fi or Historical) to my daily routine.  
My set up is very simple. Just my laptop next to a window, my 10-key calculator, and a snack cabinet. I stay connected to my colleagues through my mobile phone and Microsoft Teams, which allows my team and me to chat, share screens, and finally yet importantly, send gifs.
The highlight of my workday is using the Microsoft Teams shared screen function. It gives me the opportunity to improve my remote presentation skills, which is essential as more workplaces require remote collaboration. The most important skill for being successful while working remotely is keeping in touch with your team. Communication is the basis for boosting morale and enables you to address the deliverables that the organization needs most.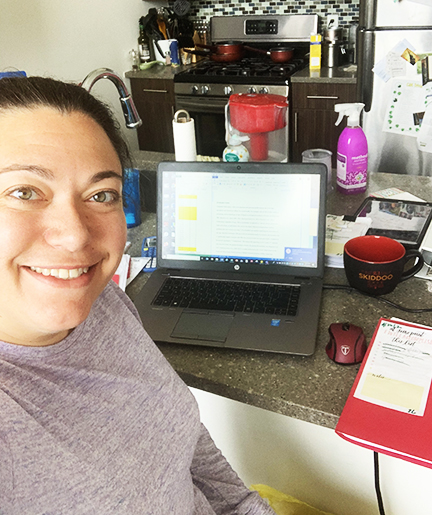 Erica Weber, PhD
Research Scientist
Department: Center for Traumatic Brain Injury Research 
I live in a studio apartment, so finding a comfortable place to set up a workspace has been a bit of a challenge. The first task on my WFH to-do list on March 18, was "change stool height", so my seating could be at a better position to work on my laptop at my kitchen counter. A critical first step. Unfortunately, this workspace has me facing the kitchen all day long, so the temptation to snack is at an all-time high.
I'm trying to use more organizational tools than usual. Every day has a to-do list, written in pen, and when I finish an item, I get to cross it off with a giant green Sharpie. Satisfying! I also make sure to include non-work things (e.g., chores, walk breaks, exercise goals, social calls) on that same to-do list, so I can keep all of my priorities and wellness goals in order. As for research, I'm focusing on projects that have gotten shifted down the list because normal daily operations usually had to take priority. I'm looking forward to finally getting the chance to give these data the attention they deserve, and hope to be able to publish some findings in the near future.
My "co-worker" is my dog Lucy. While she's not pulling her weight on helping me with data analysis, she's a helpful reminder to take an occasional break for fresh air. She's provided some amusement during Zoom calls, especially because she uses them as opportunities to shred her toys to get some attention (RIP Lamb Chop).
One at-home/COVID-19 project that has been fun is being able to get involved in outreach via podcasting, thanks to the efforts of our communications team. I've been able to be a part of great discussions with some of our scientists about how the disability community is currently affected by the pandemic. It's been a fantastic way to stay in touch with my work colleagues (and get to learn more about what they do) and to think critically about how to best be useful to our participants in this time of crisis.
There's definitely a number of things that I miss in the office. I will be so glad to sit in my office chair again - oh ergonomic design, how I have missed you. I also have a giant whiteboard hanging in my office, and as much as I am tempted to pull out some markers for my walls to brainstorm, I don't know that my apartment building management would appreciate it. And absolutely, I miss seeing my coworkers. Kessler Foundation is comprised of an awesome team of folks, and while Zoom/GlobalMeet/Facetime/Teams have been very helpful to stay in touch, I miss the spontaneity of being able to walk down the hall to talk through a research question with a colleague, or to check in with someone during a Keurig run in the Beacon. I'm also curious to see what wildlife has taken over the outskirts of 120 in our absence!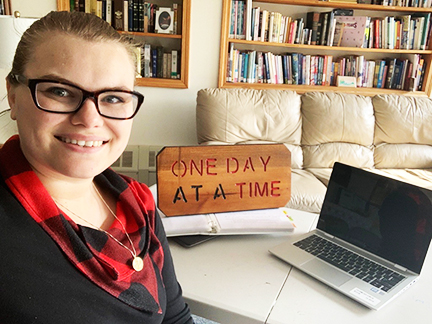 Holly Klecha
Research Assistant
Department: Center for Traumatic Brain Injury Research 
Having never worked from home, this has been an interesting experience. I've learned that respecting my space and body is important. I first started working from the couch, the floor, the kitchen table, or anywhere I could find space to sprawl out. Then, my back pain kicked into high gear. I have since transitioned to the basement, where I have repurposed a folding table used for parties, and a chair from the garage. While my day to day activities change from time to time, keeping a set schedule is necessary, and I always schedule breaks.
My helpful tips:
• Don't schedule Zoom meetings back to back, make time to prepare for the next meeting.
• If you have difficulty staying motivated, try chunking your time with a coworker. Find someone who is willing to set aside time to talk on the phone or email. Having someone to lean on and to discuss ideas is important during this time.
•If the internet is down, use the excess time away from your computer to complete paperwork or filing tasks to accomplish.
One aspect that keeps me level headed, is daily walks with my dog during lunch breaks. We go outside for fresh air, or play in the living room on gloomy days.
I hope you all are staying safe, healthy, and most importantly being gentle with yourself. These are strange and scary times, and mental health is just as important. Take time for self-care and calm activities.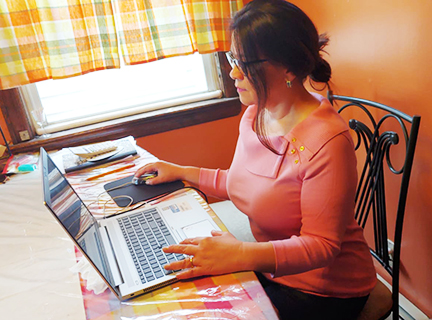 Jenny Masmela
Senior Research Coordinator

Department: Center for Stroke Rehabilitation Research
I would have never imagined that my kitchen would turn into my office. Working from home as a result of the COVID-19 pandemic has been a new experience for me. Despite the ongoing situation, I have observed that everyone at the Center has maintained a high degree of enthusiasm and communication. Items like technology and all the software that support communication has become critical to our team. The sharing of knowledge on projects has demanded more detailed note taking for me. I am very optimistic that soon we will return to our offices and continue working with our research participants.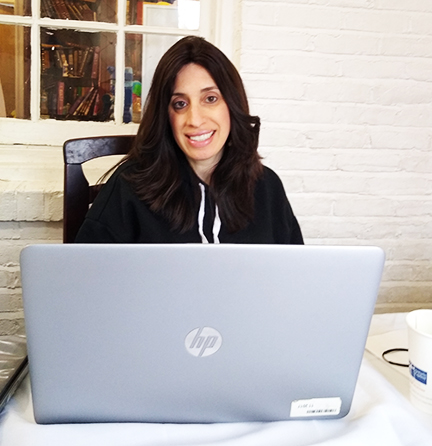 Chaya Lebovic
Research Assistant
Department: Center for Traumatic Brain Injury Research
I've been working in our four seasons room, aka our dining room. I like being able to work near windows especially when the sun is out.
Thankfully, I've enrolled 35 women in the Women's Health and Disability study since working remotely, and we are collectively making real progress towards reaching our recruitment goals.
I typically spend around two hours commuting to work, so it's nice having extra time. I try using the time to get more sleep and exercise. My daughter and I have the same fitness Apps, so it's been fun to have a goal that we work on together. There is definitely a feeling that we are all in this together. One time when I was on the phone, a participant apologized for her children's noise in the background, and then I did the same when our smoke alarm went off while my daughter was baking cookies. So my advice for others in the same situation is, try getting extra sleep, exercise more, and stay resilient. We will get through this.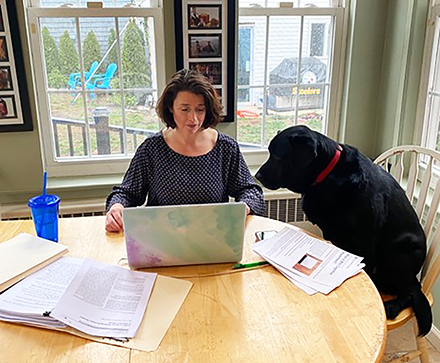 Nancy Chiaravalloti, PhD
Director
Department: Center for Neuropsychology and Neuroscience Research and the
Center for Traumatic Brain Injury Research
I work at home often, so the routine is down pat and I know what works and doesn't.  This was not a difficult adjustment for me. I work best at odd hours – usually late at night, when the house is quiet. The dogs are often with me and have made several appearances in zoom meetings over the past month. I start working every day at 9am, but I take breaks throughout the day when my sons are not on zoom.  My 4th grader often needs direction and assistance, so I spend a good deal of time during the day working with him. I get additional time to work during the kids activities including, zoom soccer practice, zoom baseball meetings, zoom piano, zoom violin lessons and after bedtime!
My workspace is mobile. I don't like being in the same place for a long period of time and concentration is rarely a problem for me – I can block out almost anything. I spend a lot of time in my kitchen, but sometimes work in the upstairs den or our family room.  We have 5 people working / schooling at home – so I move around based on everyone's activities.
I look forward to the regular zoom meetings and conference calls each week. It is great to see my colleagues and catch up. I miss seeing them every day.  I think this experience has made us all appreciate being together! 
The most important thing that makes my work from home successful is flexibility. I am open to scheduling calls and zooms whenever they work. Overall, this has been a very productive time!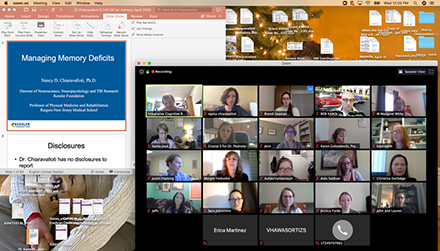 Dr. Chiaravalloti, giving a presentation via Zoom 
Here's how the Center for Neuropsychology and Neuroscience Research and the Center for Traumatic Brain Injury Research have been adjusting to life in quarantine, an update via Nancy Chiaravalloti, director of both facilities at Kessler Foundation.  
The Centers have been very productive while employees are sheltering and staying safe. Working from home has worked out fine for this group!  Previously in-person meetings, were easily moved to zoom and accommodated many people.  Attendees now look forward to these meetings because we have the opportunity to see each other, chat and share experiences after business is done.  Presentations by scientists, grant reviews, grant workshops, and podcasts have been quite successful! We have become more comfortable with using technology to successfully complete projects, and it will surely remain a part of our business activities when we return to the office. Fortunately, we have several ongoing grants that are exclusively done via zoom or telephone (funded by NIDILRR, NIH, and the NJ TBI Commission).  These were designed to overcome the transportation hurdles that many of our patients with disabilities face – but they have fit into the COVID-era workflow quite well!  Those studies are flourishing.