Managing Children with Autism while Sheltering from COVID-19: Advice for Parents
In this episode of Kessler Foundation's podcast, Dr. Helen Genova, director of the Center for Neuropsychology and Neuroscience Research at Kessler Foundation andDr. Regina Peter, director of Newmark Education, share practical tips to survive the COVID-19 pandemic to help educators and parents of children with autism. They spoke to Nicky Miller, the foundation's social media specialist.
Listen to the podcast, view the transcript and download this episode and others for free on Apple Podcasts, SoundCloud, Podbean, Spotify, or where ever you get your podcasts.
Below is a blog that's related to the conversation, written by Dr. Genova and Dr. Peter.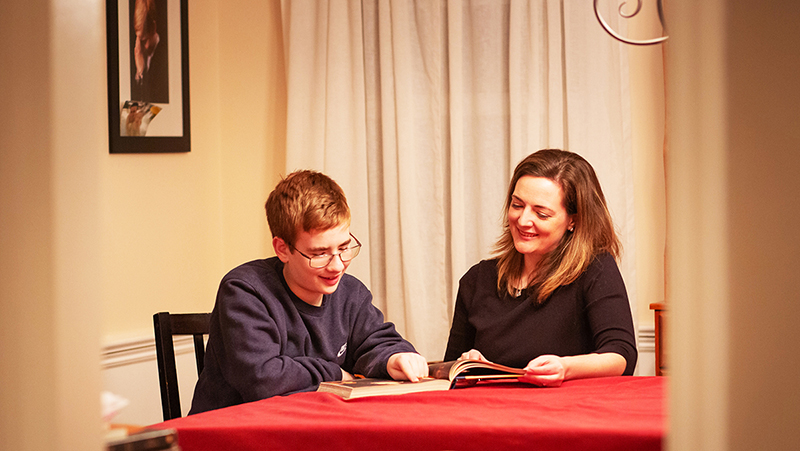 Let's face it. The corona virus outbreak has been difficult for all of us. However, some of us may be having a harder time than others. Children with autism, for example, may be feeling the effects of this crisis more than most.
Children with autism thrive when there is a predictable routine. They feel a strong sense of needing things to be the same each day, and their anxiety levels can be heightened when there are unusual changes to their schedules. Thus, forced isolation and school closures can cause significant anxiety both in children with autism, as well their families.
Adding to this anxiety is that children with autism may not be able to pinpoint why they are stressed, making it difficult for parents to understand the causes of distress and how to help. Some telltale signs of distress in a child with autism can include increased stimming behaviors, increased sadness and crying and/or verbal or physical harming behaviors, as well as emotional withdrawal.
Parents may also feel heightened stress during this time. Overnight, parents find themselves in the role of home-school instructor, therapist, and counselor, all while juggling their other responsibilities.
So what can parents do? The first step is to forgive yourself and your child. It is critical to understand that your child has little control over the anxiety they are feeling right now. In turn, parents need to forgive themselves. It is important to remember that you are only human and these times are truly unprecedented. It is ok to make mistakes, to "lose it" occasionally, and to not be perfect.
Additionally, there are concrete ways that you can help your child with autism, and they can be easily implemented. First and foremost, remembering that a child with autism does best when things are highly predictable is key. While a schedule may be the last thing on your mind (especially when you can spend the whole day in your pajamas!), it may be the exact thing your child with autism needs right now.
For some children, creating a schedule could include a simple "to-do" list posted on the refrigerator. However, for others, it might be best to make a visual schedule, with pictures to remind your child what needs to be accomplished and when. The key is to help children with autism establish a new routine, so that they can predict what will occur over the course of the day.
Many children with autism experience sensory issues and these issues may become more apparent when anxiety levels rise. It may help to regulate sensory processes by adding sensory activities to your daily routine. These activities can be as simple as having your teenage child do pushups or lift weights, or having a young child finger paint or ride their bike.
Practicing Mindfulness
Another tip that can help both children with autism AND their parents is to practice mindfulness, which is a way to focus your attention to the present moment. It is common for people to worry about things over which they have no control, and to constantly focus on those issues. For example, one may find oneself watching the news more often or checking social media. However, these activities may only make you more anxious. Practicing mindfulness, for example, is one way to stop focusing on things that you cannot control (such as the spike in corona virus in your state or the short supply of necessary cleaning products at the grocery store) and to focus on what is going on in our minds and bodies right now.
One way to practice mindfulness would be to disconnect from social media and to spend time outside. Go for a walk outside and take note of how the weather is changing and the trees are turning green. Lie on a blanket on your lawn and close your eyes, and try to identify each of the sounds you hear: birds chirping, trees rustling, cars driving, your own breathing. It is truly amazing what focusing on the current moment (and not on the craziness of social media) can do for one's mood.
Self Care for Parents
Importantly, parents must practice self-care in order to best care for their children. Getting enough sleep (for both you and your child), regular exercise (again, go outside!), and eating well are critical right now. If you are home all day with your child, try to schedule some alone time (away from your child) if possible, to either FaceTime a good friend, read a chapter of a new book, or take a bath.
Finally, while this pandemic is incredibly difficult, one way for parents to manage stress levels is to see this time as something other than a curse or burden. We can mentally flip our perspective on this, and realize that in some ways, this pandemic is giving us the opportunity to slow down, disconnect, and spend time with those who are most important in our lives, including our children. Once this pandemic is over, we will all go back to our lives full of other types of stressors and activities and appointments and parties. Now is the perfect time to be still, enjoy the quiet, and enjoy each other.
Interested in joining Kessler's autism studies? Learn more here or contact: ResearchStudies@KesslerFoundation.org
Autism Resources
Autism Society of Minnesota Guide to Managing  Self-Quarantine and Social Distancing
Visual Social Stories to Help Individuals with Autism understand the Pandemic: My Schedule will Change and My Coronavirus Story 
Mental Health Resources
NJ Mental Health emotional support during COVID-19
866-202-HELP (4357), 7 days a week, 8am to 8pm (EST)
Helpful App to make a visual schedule for your child with autism: Choiceworks
Mindful Meditation
Daily Calm | 10 Minute Mindfulness Meditation | Be Present
Jon Kabat Zinn Body Scan Meditation Guided Meditation 
3/30 Livestream Meditations with Jon Kabat-Zinn
For Educators 
Online training offered by Newmark Education to support educators who work with children with autism. 
Podcast Information
In this episode, we discuss how the corona pandemic has affected children with autism. Specifically we discuss:
• The effects that Covid-19 pandemic has on children with autism (1:38)
• How the Newmark School (Scotch Plains, NJ) - (www.newmarkeducation.com) has created an online learning program to meet the needs of children with ASD (4:22) and how educators can utilize the techniques used by the Newmark School (13:14)
• Practical tips for parents of children with autism including:
• Creating a visual schedule for their child (14:33)
• Maintaining physical and sensory activities during pandemic (15:52)
• Practicing mindfulness to reduce anxiety (18:05; 33:00)
• Maintaining mental health during the pandemic (21:05)
• Disconnecting from technology and social media (24:56)
• Latest research performed by Dr. Genova on using mindfulness in children with autism (28:33)