Living a Full Life Despite MS, Tammy Reclaims Her Power
Saturday, May 30, is World Multiple Sclerosis (MS) Day. With your generosity, you help people with MS like Tammy stay employed and live their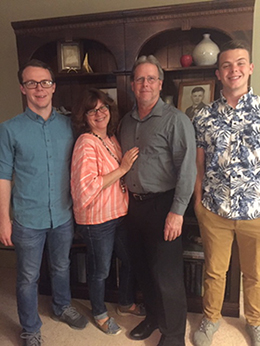 life to the fullest.
Tammy Quasius, a biologist, wife, and mother of two, started experiencing symptoms of fatigue, numbness, and trouble thinking and remembering.
She suspected MS, but it took three years before she was diagnosed. Then, she worried. "How will I take care of my kids? Will I be able to work?" 
Tammy set a goal of maintaining an active, healthy lifestyle. She learned about Kessler Foundation's MS research and participated in 11 studies—thanks to your support. In 2015 and 2018 she joined two studies led by Dr. Lauren Strober, Senior Research Scientist in the Center for Neuropsychology and Neuroscience Research, designed to build essential skills for succeeding in the workplace. Regarding some of the cognitive challenges associated with work difficulty, Tammy noted, "I learned new ways to organize information into lists and categories. This greatly improved my recall of names and words and my ability to complete tasks at work." 
Now, Tammy is back to work full-time as a laboratory manager at Centenary University. "Returning to my career is a dream come true. Kessler Foundation gave me the tools and confidence to pursue my dream and reclaim my power over the disease," she notes. "Your support has changed my life and the lives of others with MS."
Like our Facebook page to stay up to date with the newest MS research discoveries