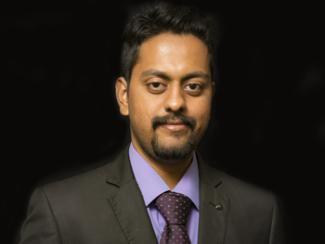 Associate Research Scientist
Department
Postdoctoral Fellowship Program
Laboratory
Neuromuscular and Electrophysiology Laboratory
Dr. Vikram Shenoy Handiru joined the Neuromuscular and Electrophysiology Lab at Center for Mobility and Rehabilitation Research at Kessler Foundation as a Postdoctoral research fellow in March 2018. He is also affiliated with the Department of Physical Medicine and Rehabilitation at Rutgers New Jersey Medical School as a research assistant professor. Before beginning the postdoctoral journey, he was a PhD researcher (2013-2017) at Interdisciplinary Graduate School, Nanyang Technological University, (Singapore) working on EEG-based Brain-Computer Interfaces. Dr. Handiru was also affiliated with the Brain Computer Interface (BCI) Lab at Institute for Infocomm Research (I2R) in Agency for Science, Technology and Research (A*STAR) Singapore. In 2016, he was a visiting student researcher in the Department of Empirical Inference at Max Planck Institute for Intelligent Systems, Germany. Before joining the Ph.D. program, Dr. Handiru did his Bachelor of Technology in Electronics & Communication Engineering from National Institute of Technology Karnataka, Surathkal (India) during 2009-2013.  His overarching research goals are (1) to develop signal processing and machine learning algorithms to understand the brain dynamics (2) to advance the understanding of neurophysiology of neuromuscular disorders (e.g. Traumatic Brain Injury, stroke) for better prognosis, and (3) to develop personalized therapeutic approaches for neurorehabilitation. To this end, Dr. Handiru make use of various modalities such as EEG, EMG, and MRI to study the functional and effective connectivity in the brain.  
Expertise
EEG Source Imaging
Biomedical Signal Processing
Brain-Computer Interfaces
Brain Connectivity Analysis
Machine learning algorithms
Education
PhD - Neural Signal Processing, Nanyang Technological University, Singapore
B.Tech - Electronics and Communication Engineering, National Institute of Technology Karnataka, Surathkal, India
Research Interests
Dr. Vikram Shenoy Handiru primary research interests involve signal processing and machine learning algorithms for EEG and EMG to understand the neurophysiological mechanism of motor tasks. His current project focuses on EEG based neuroimaging and neurorehabilitation of traumatic brain injury population, wherein he studies the lower-limb balance deficits in the TBI population by means of EEG and EMG during the balance perturbation task. He also works on graph-theoretic optimization algorithms for EEG functional and effective brain connectivity analysis. Dr. Handiru is recently awarded research grants from the New Jersey Health Foundation and New Jersey Commission on Brain Injury Research to study the feasibility of Targeted Noninvasive Brain Stimulation (T-NIBS) to improve hand motor functions in stroke and TBI population.  He foresees his future research spanning across some interrelated sub-areas of neural signal processing. The unifying theme of the research will be the development of efficient and robust algorithms for the prognosis and diagnosis of neuromuscular and cognitive disorders.