World MS Day—You Help Improve the Invisible Symptoms of MS
Today, May 30, is World MS Day. I share a story to thank you for your support and show how you help people with Multiple Sclerosis, like Rosemarie Collopy, live to the fullest, despite the invisible symptoms of the disease.
After her diagnosis, Rosemarie had to adjust to the challenges of living with MS. For her, these were fatigue, weakness, balance problems, and difficulties with thinking and remembering. "The cognitive symptoms were the most frustrating and eventually forced me to give up my job," she recalls.
Most people know about the physical symptoms, but few, including doctors, fully understand the cognitive symptoms, which are often invisible. Many are diagnosed with MS in the prime of their lives, and more than half will develop cognitive problems. MS is the leading cause of neurological disability among young and middle-aged adults. Learn how the support of donors like you advances MS research.
Today, Rosemarie does her best to find fulfillment and help others with MS find their way. Seeking to 'pay it forward,' she discovered MS research at Kessler Foundation and, over the years, has participated in more than 20 studies, made possible by the support of donors like you. 
"While research is designed to collect data that benefits everyone with MS, some studies have benefited me personally," said Rosemarie. "Studies that challenged me to recall lists of items, for example, taught me ways to organize different types of information."
Besides volunteering for research, Rosemarie helps others with MS as a patient advocate. "I encourage people with MS to achieve their goals. The research at Kessler Foundation helps them do just that." More than 25 years after her diagnosis, Rosemarie uses techniques learned at Kessler Foundation to enjoy life as a wife, mother, and MS activist—thanks to you.
With gratitude,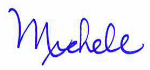 Michele Pignatello
Vice President and Chief Development Officer
[email protected]
Phone 973.324.8363
---