Voices of the ADA Generation: The College-to-Work Story of Victoria Queyquep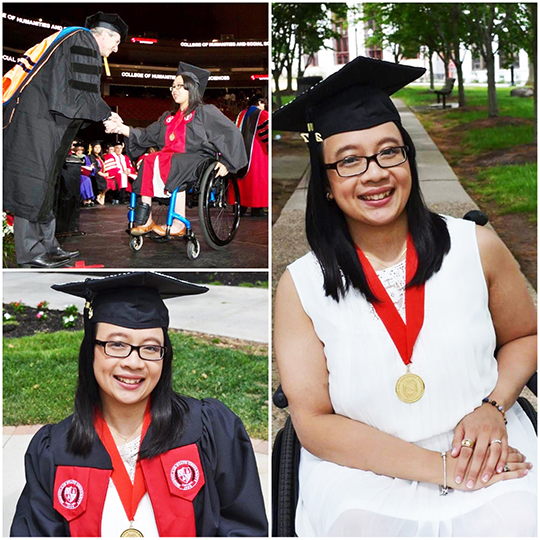 By Nicky Miller 
In conjunction with the launch of our newest survey, the 2020 Kessler Foundation National Employment and Disability Survey: Recent College Graduates, I chatted with Victoria Queyquep, Kessler's donor engagement specialist on the Development team, and a member of the first generation to come of age after the Americans with Disabilities Act became law in 1990. We talked about her education, her aspirations, and her career path, and I asked her to reflect on her journey as a person with a disability seeking work after college.
Our survey dispelled many long held myths about people with disabilities and higher education. Young people and their families were often told that college would be a waste of time, they would be unable to perform as well as their peers, and a college education would not increase their likelihood of gainful employment. All of these beliefs were upended by the survey, which showed that college graduates with and without disabilities are employed at the same rates – 90%. The survey also looked at how key experiences during college influenced the success of recent graduates in the workplace. Taking advantage of career advising services, doing an internship, and having paid work, were all positively associated with employment after college for graduates with and without disabilities. During our Q&A, I learned how Vicky Queyquep's college-to-work experience compared with the members of the ADA generation who participated in the survey.
First, Queyquep shared some background on her childhood and her disability. At one month of age, Queyquep was diagnosed with tethered cord syndrome, a condition that can damage the spinal cord. Despite multiple operations, she developed an L2 spinal cord injury, which caused progressive spinal and neurological problems. At age 13, she went from walking the halls of middle school to adjusting to a wheelchair. Although her friends were supportive, Queyquep endured some name calling and taunts because of her disability. Her school had no ramps or elevators, forcing Queyquep to study from home for the remainder of 8th grade. "It was challenging to keep up with assignments and being isolated from my friends, classmates, and teachers," said Queyquep, "but I passed my classes and was able to attend my graduation in person, which was a special moment." 
Queyquep went on to Verona High School, where she graduated with honors, and then to Montclair State University, graduating with a major in Religious Studies and a minor in French. She now works fulltime in the Development Office at Kessler Foundation.
Read our Q&A, to learn how Queyquep navigated her transition to college and managed the challenges of living on campus, and how she prepared for her career and searched for jobs after college. Her story reflects the similar experiences of her peers in the ADA Generation, who have forged a new path to the workplace by taking advantage of higher education, and the supports available for students with disabilities.   
Nicky Miller (NM): How do you view your decision to go to college?
Vicky Queyquep (VQ): College has had a significant influence on my life. During my four years at Montclair State I learned more about myself, what courses interested me, and what career path I wanted to pursue. More importantly, going to college boosted my independence. I taught myself to do my own laundry, cook my own meals, and create a day-to-day schedule that fit my needs as a student.
NM: How did you decide what college you wanted to attend?
VQ: Based on accessibility and other factors that were important to me, I submitted applications to four schools: Montclair State University, Rider University, Pace University, and Stockton University. I got accepted to all four, and received scholarships from Rider and Pace University.
I chose Montclair State because the campus is very close to my home and the school was accommodating for students with disabilities. My parents and I met with the director of the Disability Resource Center, and she did an outstanding job addressing my specific needs to make my college experience the best that it could be.
I was very impressed with how accessible the residence halls were at Montclair State. My dorm room and bathroom were larger than the standard dorm rooms, giving me plenty of space to move around. My junior year, I moved into one of the on-campus apartments and that was wheelchair accessible. I lived with two roommates and enjoyed the freedom of cooking my own meals without struggling to reach the stove.
Also, Montclair State provides a shuttle service, and students with disabilities were encouraged to utilize it. A driver picked me up from my residence and took me to my lecture halls, saving time and putting less strain on my arms and shoulders from wheeling around campus, especially during the winter months.
NM: Were your parents supportive of your decision to attend college?
VQ: My parents have always supported my education, and were especially supportive of my decision to live on campus. I'm their only child, and this was the first time I was going to be completely independent and away from home.
Additionally, my parents emigrated from the Philippines to the United States to pursue better  opportunities, and I was born here. They are proud that I was the first in my family to receive a Bachelor's degree from an American university.
NM: What were your expectations about college, and how did they compare to the reality?
VQ: I expected college to be a completely different experience than high school. I viewed it as an opportunity to become independent as a young adult, to expand my knowledge, and to help pave the way for my career. Although I had my ups and downs, I was not disappointed. Compared to high school, class assignments were definitely a lot more time consuming, resulting in many late nights of studying. I learned to be proactive and to think more critically.
NM: What did you like about your college experience?
I loved my time in college, especially living on campus. I made a lot of friends whom I've developed lifelong relationships with. I met them through the Newman Catholic Campus Ministry, which is the Catholic student club at Montclair State.
I also enjoyed the courses I took as an undergraduate, as well as the professors who taught them. The religious studies classes were fairly small, which I appreciated because we were able to have in-depth discussions and really connect with our professors. I still keep in touch with many of my professors.
NM: Did you experience any discrimination during your education, or were you ever discouraged from pursing an education?
VQ: When I was in high school, our guidance counselors required our class to create a list of colleges that we would be interested in exploring. Montclair State was on the top of my list. When I met my guidance counselor to discuss my choices, I was discouraged from applying to Montclair State, due to my grades in math and science, which were below average and affecting my GPA.
Besides those two subjects, I considered myself a good student and excelled in other classes. I applied to Montclair State despite my guidance counselor's discouragement—and got accepted. I worked hard my senior year of high school to boost my grades, and graduated with high honors.  
NM: As a person with a disability, did you feel limited in your college experience?
VQ: I feel that Montclair State did an exceptional job at providing me with the best college experience possible. Despite the many times I switched majors, I never felt discouraged by an advisor or professor to take a different path. Additionally, my experience would not have been as great as it was without the assistance of the Disability Resource Center.
They made arrangements for my on campus housing, implemented accommodations such as installing an automatic door that I could open by scanning my student ID, granted me priority when scheduling classes for the semester, and gave my class schedule to the shuttle service.
NM: While on campus, did you use any career services, have any mentors, or do any internships?
I was a development intern for the Christopher & Dana Reeve Foundation during my senior year. I got the internship by attending a career panel. I was familiar with the work the organization did in regards to advocating for people with a spinal cord injury and paralysis; also, I wanted to learn about a nonprofit career path. At the Reeve Foundation, I learned fundraising techniques, large event planning, and how to connect with donors through email and social media.
In addition, I utilized career services within the College of Humanities and Social Sciences to review my resume. This was a huge help. It better prepared me for applying to internships and jobs.
I also turned to Dr. Dorothy Rogers, who is the chair of the Religion Department at Montclair State and one of my former professors. Through keeping a close connection with her, I was offered a summer research position after graduation to work on a DVD series on female philosophers. After that project ended, I expressed my interest in working in the nonprofit sector and Dr. Rogers assisted with my job hunt by identifying positions related to my field of interest.
NM: Did you look for jobs in your field of study?
VQ: I changed my major several times as an undergraduate. However, my active membership and position as community service chair on the executive board of the Catholic student club at MSU played a significant role in my major. I decided I wanted to work for the Catholic Church and go into ministry. Towards the end of my senior year I applied to multiple openings at parishes in the area, but only made it as far as an interview.
Post-graduation, I opened up to other career paths. Nonprofit was one of the fields that came up as I researched careers pursued by people with degrees in religious studies. I remembered my time as a development intern for the Christopher & Dana Reeve Foundation, an experience I was passionate about. That helped narrow my focus to nonprofits that help people overcome barriers and improve their quality of life.
NM: What was your job search process like?
VQ: Post-graduation, I job hunted for one year. A lot of time was spent scrolling through job posting sites, looking for openings at nonprofit organizations. This definitely took a toll on me and there were days when I really became inpatient and discouraged. The main barrier I came across was a lack of experience. Jobs that I was interested in required 4 to 5 years of experience which, as a fresh college graduate, I did not have. But, I didn't give up, I continued my job search.
NM: Do you believe that a college degree helped you pursue your goals?
VQ: Although I ended up pursuing a degree unrelated to my current field of work, I still believe that it indeed helped me pursue my goals. I am thankful my professors pushed me to excel as a person and a student, and for the resources I was able to use to achieve what I desired moving forward after graduation.
NM: Why did you pursue a career at Kessler Foundation?
VQ: From my internship at the Christopher & Dana Reeve Foundation, I gained a deep interest in the nonprofit field, specifically in organizations that promoted health and well-being, and improving the quality of life for people with disabilities.
During my job search I came across an opening for a development assistant for the Foundation. Once I read through what the position entailed, I felt that it was a perfect match. I personally connected with the mission of the organization, which is to improve the lives of people with disabilities, with one of those populations being people with spinal cord injury.
NM: Do you like working at Kessler Foundation?
July will be my 2-year anniversary at Kessler Foundation, and I have loved it every step of the way. As a donor engagement specialist, I collaborate with my colleagues in development, using external resources to connect with donors and potential donors, whether it be through web content, producing print or digital materials, and event planning. Our team is very productive, and I'm constantly brainstorming. This role has also given me opportunities to expand my knowledge of programs such as Adobe InDesign, Photoshop, and Illustrator, as well as Raiser's Edge and other useful fundraising tools.
I'm grateful for the amazing team of women that I work with every day and to be surrounded by people who are passionate about making a major impact in the lives of people with disabilities.
NM: What advice would you give to a young adult considering their future?
VQ: Be proactive and utilize as many resources as you can, whether it be career services or services for those with disabilities. Keep a close connection with your professors and advisors and don't be afraid to reach out to them with questions or guidance. During those times when you are unsure about how to move forward or what path to go on, take some time to reflect on who you are as a person and what sparks a passion in you.
NM: Thank you for sharing your story with us, Vicky. Your experiences add a personal perspective to our survey's findings about the education and employment of the first post-ADA generation.
Listen to the podcast: 
Listen-in as Queyquep, shares more details about her college-to-work experience in this episode of Kessler Foundation's podcast. She spoke to Nicky Miller, the foundation's social media specialist.
Listen to the podcast, view the transcript and download this episode and others for free on Apple Podcasts, SoundCloud, Podbean, Spotify, or where ever you get your podcasts.
Looking for other podcasts similar to Queyquep's story? Listen to Bryce Stanley Rises to Success, Despite Educational Barriers and Discrimination Against His Disability and A Woman with a Disability: Finds Strength, Conquers Barriers and Creates Success in the Workforce.