Support, Heal, Inspire Our Heroes
On Veterans Day, we are proud to share how your support of Kessler Foundation helps people with disabilities—both visible and invisible—including wounded warriors like Justin Frisbie, realize their dreams of career fulfillment, continued service to others, and independence.
Your generosity helps veterans—and others with disabilities in need now—thrive in the workplace, and live with pride, honor, and dignity.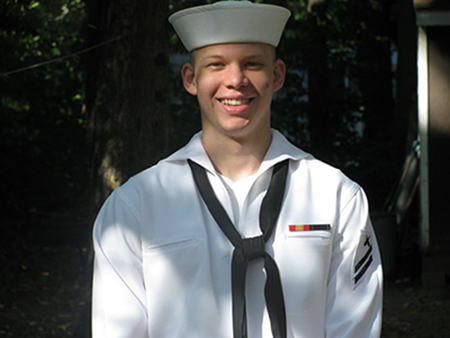 Justin is a veteran with disabilities who longs to serve others, but he didn't always know that.
After graduating from high school, Justin didn't know the direction he wanted to take with his life, so he pursued adventure and experience by joining the Navy. Military structure helped him, but the demands took their toll. Carrying heavy equipment caused permanent damage to Justin's spine and decompression sickness after a deep-sea dive injured his joints causing chronic arthritis.
His physical injuries were compounded by bouts of anxiety, depression, and aimlessness. After leaving Navy life, he enrolled at State University of New York at Oswego in a search for structure and purpose. He pursued his studies with discipline, but he was anxious about his age compared to his peers. He obsessed over competing against younger graduates. Not all disabilities are visible, but that doesn't make them any less debilitating or life-changing.
Luckily, Justin learned about Combat2Careers, a program at Oswego funded by Kessler Foundation, thanks to the support of donors like you. Combat2Careers helps student veterans with disabilities like Justin navigate pathways to successful careers. A compassionate staff—many of them veterans too—understand his challenges.
Combat2Careers helped Justin identify his best career choice, guiding him on the path to achieve his dreams. He discovered his passion for serving others, his interest in the medical field, and his dream to become a nurse.
But we need to do so much more. Justin's story isn't finished and so many others need help.
That age-old question, "What do you want to be when you grow up?" was one he struggled with. The support of our donors has helped Justin discover his dream career and how he can continue to serve others and live with pride, honor, and dignity as a U.S. veteran.
For Justin, one of the most helpful aspects of Combat2Careers was CareerChoiceGPS, an assessment tool that identifies skills, strengths, and personality traits to guide the student veteran toward future success in a specific field or industry. CareerChoiceGPS helped him realize he has the skills and desire for a career in nursing.
This knowledge you've given Justin has changed his life. After graduation, he began working at a program helping low-income women with children get healthcare and nutrition, and he's saving for nursing school. Justin is so excited for his future.
Combat2Careers had Justin's back because of your support of Kessler Foundation. Your support helps Justin—and others in need now—realize their dreams of career fulfillment, continued service to others, and independence.
See How Kessler Foundation Cares About Veterans