Portland Head Light—Cape Elizabeth, Maine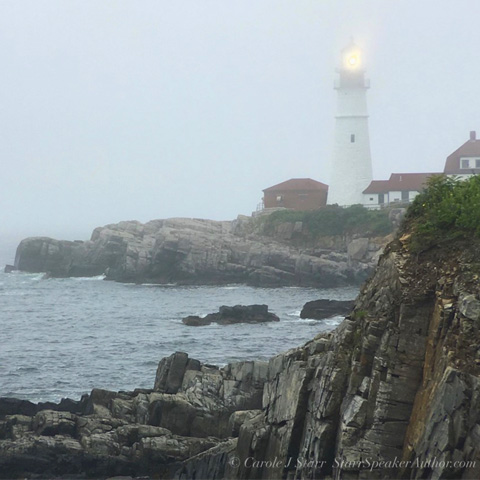 Coping with the life-changing challenges of brain injury can feel like we're lost in a murky fog
By Carole J. Starr
Coping with the life-changing challenges of brain injury can feel like we're lost in a murky fog: stranded, closed in, cut off, and disoriented. When we can't see where we're going, it's easy to lose our way.
However, many people help traumatic brain injury (TBI) survivors find their way, including medical professionals, family, friends, peers, and mentors.  
TBI survivors who have successfully navigated through their own fog can become mentors, otherwise known as beacons, to individuals at an earlier stage in their journey to recovery. Beacons can comfort, guide, inspire, and help others cut through the fog of TBI.
My mentor was a beacon to me. Until I met her, it seemed like no one else understood the loss or fears I felt. She validated my feelings and my TBI experience at a time when I struggled to describe it. Beacons comfort: they show that we are not alone in our challenge.
I was amazed at the way my mentor described her brain injury challenges freely and without embarrassment. She showed me how to manage symptoms and encouraged me to focus on what I could do. Her example was a light when the fog of my injury overwhelmed me. Beacons guide: their lived experiences illuminate our path forward.  
Seeing what my mentor had achieved showed me that it was possible to create a meaningful, productive life after brain injury. Through her example, I began to believe that even though my life was forever changed, it could still be good. Beacons inspire: they model what is possible.
My mentor passed away in 2014, but her legacy lives on. I am now a mentor, author, and speaker, just like she was. Once we've found our own way through the fog, I believe we have a responsibility to become beacons for others who share our challenges.  
If you're a survivor lost in the fog of TBI, know that you are not alone. Beacons are out there.  
To all the TBI beacons who spend time comforting, guiding, and inspiring others on their path to recovery, thank you. You do make a difference!
The unyielding, jagged rocks surrounding Portland Head Light in Maine remind me of the hardness of life with traumatic brain injury (TBI) and the resilience it takes to face TBI's challenges. While reflecting on my own journey through the TBI fog, the lighthouse beam inspires me to think about people as beacons—individuals who use their TBI experience to illuminate the challenge and light the way forward for others.
Carole J. Starr is a brain injury survivor, national keynote speaker, author of the award-winning book To Root & To Rise: Accepting Brain Injury, and the founder/facilitator of Brain Injury Voices, a survivor volunteer group in Maine.