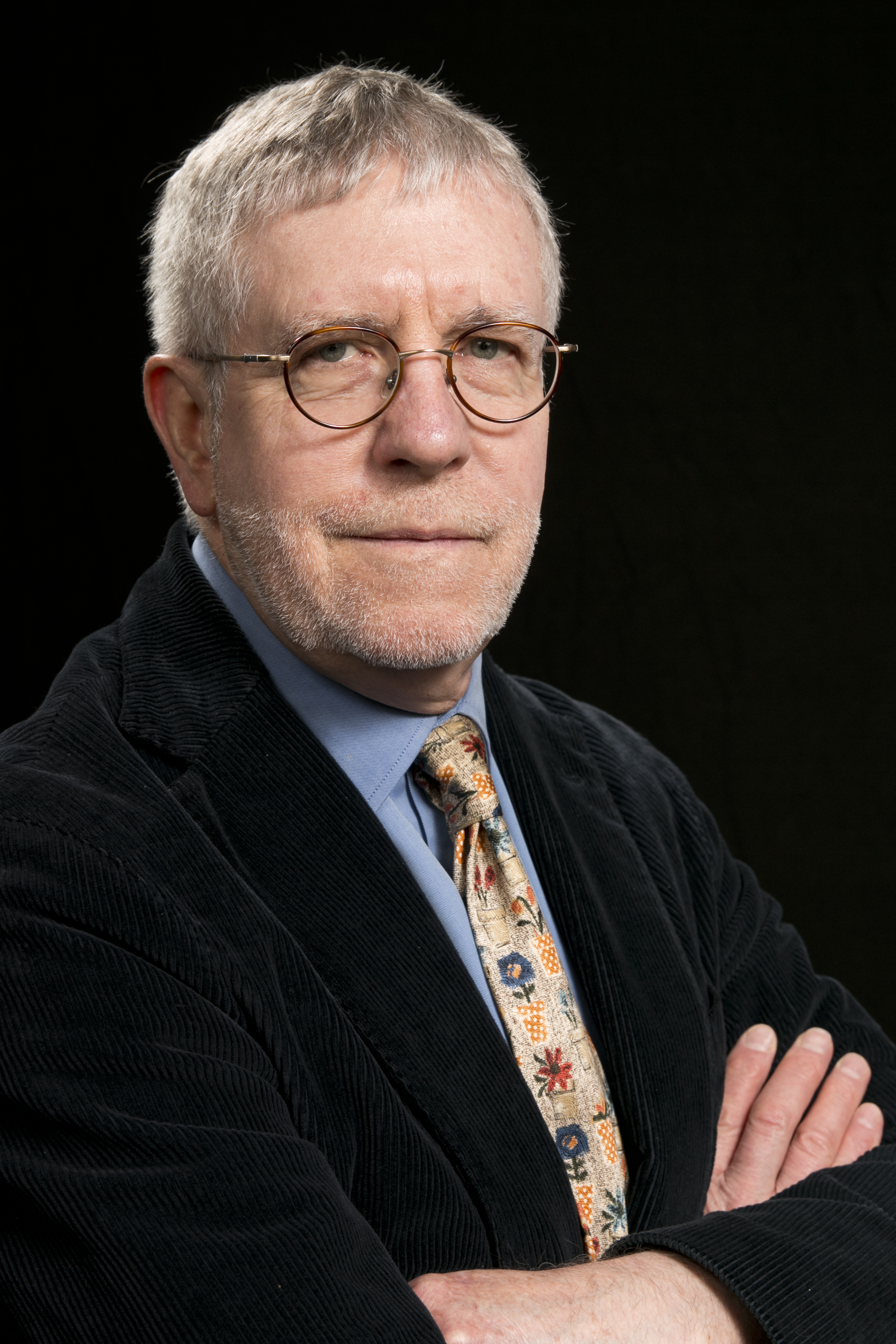 Disability & Employment: Realizing the Foundation's Vision
Employment is fundamental to achieving independence and economic security, as well as personal fulfillment. In our society, work often defines who we are, and how we are perceived by others. Because participating in the workplace has many benefits, tangible and intangible, Kessler Foundation focuses its grant making on expanding employment opportunities for people with disabilities, and addresses employment outcomes through its rehabilitation research.  
Through research and grant making, the Foundation seeks solutions to the persistently low employment rate for the nearly 56 million Americans with disabilities. While progress is being made, the employment gap between people with and without disabilities remains large.  In 2016, only 27.7 percent of individuals with disabilities were participating in the labor force compared with 72.8 percent of people without disabilities, according to data from the U.S. Department of Labor.
Addressing the persistent underemployment and unemployment of people with disabilities requires careful investigation of the factors involved, tailored approaches to research, and strategic funding to expand employment. Research efforts are coordinated by John O'Neill, PhD, director of Disability and Employment Research.  Through collaborations with universities, research firms, and disability organizations, Dr. O'Neill strives to maximize the Foundation's impact on the employment gap. Elaine E. Katz, MS, CCC-SLP, leads the Foundation's $36 grant making initiatives, which prioritizes funding for innovative programs with the potential for connecting large numbers of jobseekers with disabilities to meaningful, competitive employment.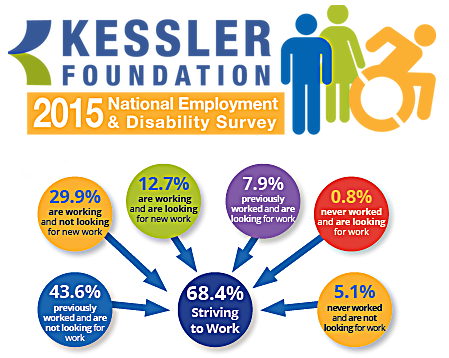 Investigating the Gap and Contributing Factors
Identifying the scope of the problem and the factors involved is an important first step.  Dr. O'Neill and colleagues at the University of New Hampshire Institute on Disability (UNH-IOD), have developed surveys designed to answer these questions. The 2015 Kessler Foundation National Employment and Disability Survey, the first nationally validated survey of its kind, continues to provide important data gathered from more than 3,000 people with disabilities about their attitudes toward employment and experiences with work. The results, which showed that 69% of people with disabilities are striving to work,  have reframed the national dialog about disability and employment in a positive direction.
The findings of the 2015 Kessler Foundation Employment Survey, which were widely disseminated via traditional and social media channels, are influencing the work of legislators, policymakers, advocacy organizations, government agencies, and philanthropic organizations.
Kessler Foundation recently released the results of a new national survey – commissioned by Kessler Foundation and conducted by UNH-IOD – that shows that employers are striving to recruit, hire, train, and retain people with disabilities, and reveals areas of opportunity for even greater successes in the workplace. The 2017 Kessler Foundation National Employment and Disability Survey: Supervisor Perspectives is the first survey to look at the effectiveness of these practices from the perspective of supervisors of employees with and without disabilities. More than 3,000 supervisors provided detailed information on the processes and practices used by their employers to promote success in the workplace, and their effectiveness for employees with and without disabilities. When a practice was not available, they were asked whether it would be feasible for their organization to implement the practice.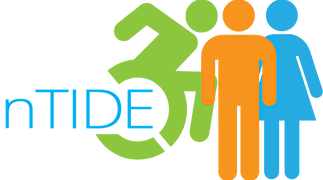 Another key element is accurately measuring the employment gap in the U.S., and how that changes over time. To fill this need, Kessler Foundation launched National Trends in Disability Employment, known as nTIDE, in 2013. Based on the monthly jobs report issued by the U.S. Bureau of Labor Statistics (BLS), Dr. O'Neill and economist Andrew Houtenville, PhD, UNH-IOD, create a customized, illustrated report that reflects the employment status of working-age people with disabilities. An nTIDE national press release is issued on the same morning as the BLS Jobs Report, and disseminated through email, an e-newsletter, and social media (Facebook and Twitter).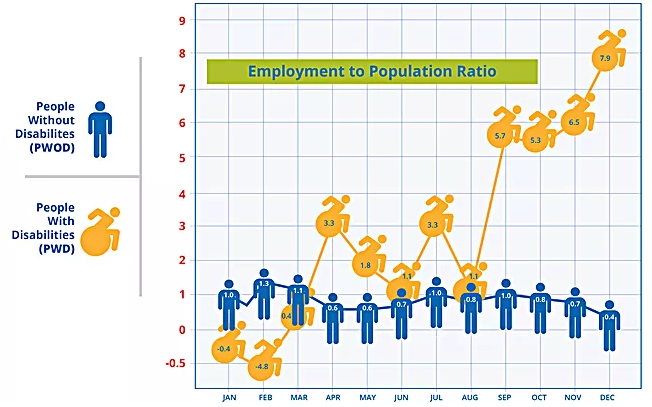 Each report compares two important economic indicators – the employment-to-population ratio and the labor force participation rate – for people age 16 to 64, with and without disabilities.  The employment-to-population ratio reflects the percentage of people who are working relative to the total population. The labor force participation rate is the percentage of the population that is working or actively looking for work.  At the end of each year, Kessler Foundation issues the nTIDE Year-end Jobs Report that details the year's economic activity within the context of prior years, and looks at influences for the upcoming year.
Major outlets have featured survey findings, nTIDE trends, and related interviews with Foundation experts, including C-SPAN, Wall Street Journal, Washington Post, Huffington Post, CNBC, Fortune magazine, Associated Press, PBS, and The Hill. 
Tailored Approaches to Research
Our research shows that people with disabilities are striving to work, which is defined as working, looking for work or for a better position, or seeking more hours. They are preparing for the workplace through job training and education, getting necessary medical care and rehabilitation, and networking for opportunities.  At Kessler Foundation, researchers are looking for optimal ways to help people achieve their workplace goals. Funding sources include the National Institute on Disability Independent living and Rehabilitation Research, the Craig H. Neilsen Foundation, the National Multiple Sclerosis Society, and Kessler Foundation.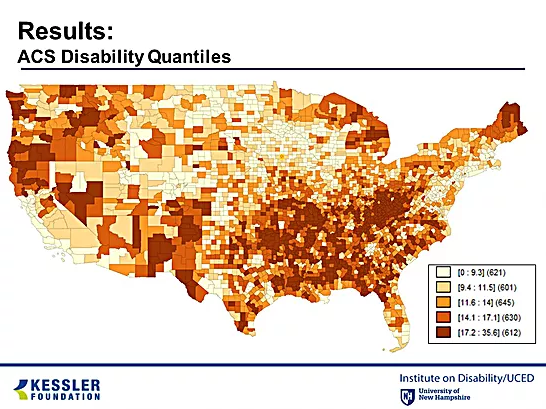 Outcomes and Assessment Research is yielding information on rehabilitation and disability outcomes, including employment status. This type of research is yielding valuable information on environmental factors, for example, the influences of the environment on community participation, social interaction, and employment of people with disabilities. Identifying obstacles, as well as successes, can guide the optimal provision of resources and services, including vocational support. Amanda Botticello, PhD, MPH, is leading research on the U.S. Disability Belt, examining geographic areas with high levels of disability and looking into what's causing the spike.While other health-related 'belts' have been identified, this is first time that the 'U.S. Disability Belt' has been mapped.  What we learn about the 'Disability Belt' will help target resources to areas of greatest need.
In this podcast, John O'Neill, PhD, James Malec, PhD, and Trevor Dyson-Hudson, MD discuss a collaborative project aimed at increasing employment after spinal cord injury.
Vocational research is also conducted in individuals with disability caused by illness and injury. At Kessler Institute for Rehabilitation, a pilot project is underway, aimed at increasing the very low employment among individuals with spinal cord injury by integrating vocational services with in-patient rehabilitation. The goal of this early intervention is to develop a protocol that will serve as a national model for comprehensive, coordinated services.  Another project addresses the need for the optimal application of assistive technology in the workplace, toward the goal of improving workplace productivity among individuals with spinal cord injury. 
Unemployment rates are also high among Individuals with multiple sclerosis, which causes disability in people in their prime working years. Neuropsychologist Lauren Strober, PhD, senior research scientist, is studying factors relating to unemployment in MS patients, and developing a predictive model to help healthcare professionals guide them to stay in the workforce.
Through its federally funded model systems, Kessler Foundation collects data on individuals with brain and spinal cord injury, from the point of injury, through rehabilitation and long-term recovery, to identify the factors that affect their quality of life. In the Northern New Jersey TBI Model System, data are gathered on a variety of measures, including employment.  
Strategic Funding for Employment Initiatives
Our research in disability and employment informs What We Fund. As we gain knowledge about people with disabilities, the needs of employers, economic trends, and promising approaches to expanding jobs, we are better able to apply our funding strategically to narrow the employment gap. Kessler Foundation has provided more than $36 million in funding through its Signature Employment Grants, Community Employment Grants, and Special Initiative Grants.  These grants support a variety of innovative programs, including social enterprises, public-private partnerships, and faith-based initiatives, as well as programs for adaptive sports and the arts.
Disability Employment Research Projects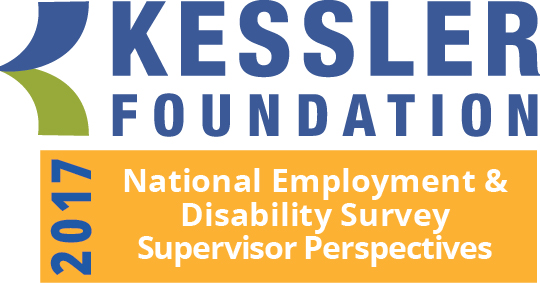 Executive Summary
Meet Our Experts
Overview
Presentation
Presentation Transcript
Press Release
Survey Questionnaire
Survey Results

Executive Summary
Overview
Survey Questions
Survey Results
Press Release
PowerPoint Presentation
NEILSEN GRANT
Craig H. Neilsen Foundation grant aims to improve employment outcomes for persons recovering from spinal cord injury http://kesslerfoundation.org/content/major-grant-kessler-foundation-funds-vocational-research-after-spinal-cord-injury