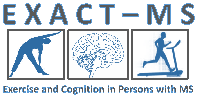 This purpose of this research study is to examine the effects of two different exercise programs on cognition and brain functioning in individuals with MS over a 3 month period. The results from this study may lead to guidelines for using exercise training for managing cognitive problems in people with MS. 
Duration
Participation lasts approximately 3 months. 
Inclusion Criteria
Individuals diagnosed with MS
18-65 years of age
Able to walk without assistance
Compensation
Participants who complete the study receive up to $380.