Positions Available in Postdoctoral Fellowship Program at Kessler Foundation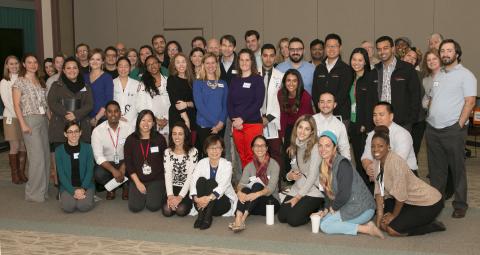 Positions Available in Postdoctoral Fellowship Program at Kessler Foundation
EAST HANOVER, N.J. March 14, 2017—Kessler Foundation, a global leader in rehabilitation research, currently has several openings in its Postdoctoral Fellowship Program, in the areas of multiple sclerosis (MS), traumatic brain injury (TBI), and pediatric research. Fellows will receive training to facilitate the pursuit of a career in rehabilitation research.
The unique fellowship program, offered in conjunction with the Department of Physical Medicine and Rehabilitation of Rutgers University - New Jersey Medical School (RU - NJMS), and the Kessler Institute for Rehabilitation, features several innovative and distinctive components: an individualized training plan, mentors from various areas of psychosocial and biomedical research, formal training and learning activities, and a career development lecture series.
"It's not a program-in-a-box. It's tailored, so it really keeps you motivated because you're doing things that you've decided are important to your career," says Dr. Erica Weber, an associate research scientist in TBI Research at Kessler Foundation, and chief fellow of the Postdoctoral Fellowship Program. "And it's great to work with a cohort of such high caliber individuals, who're also really passionate about rehabilitation research."
Learn more about Kessler Foundation's Fellowship Program by listening to this lively podcast featuring Dr. Weber, along with Dr. Silvana Costa, the past chief fellow: https://soundcloud.com/kesslerfoundation/foundation-fellowship-program
Requirements for Eligibility
Excellent academic record.
Doctoral degree (PhD, MD) should be in a field relevant to rehabilitation. Doctoral candidates planning dissertation research on topics relevant to rehabilitation are also encouraged to apply.
An expressed intention to pursue a career of rehabilitation research.
Research experience: PhD candidates should be proficient in basic research skills. Strong candidates will have either publications or publishable theses. MD candidates should at the minimum have experience with research on the basis of an initial project.
Kessler Foundation extends unique fellowship opportunities to individuals from underrepresented minority groups, and to those interested in research projects that contribute to the advancement of knowledge and treatment of diseases, disabilities, and adverse health problems that disproportionately or differentially affect minority populations.
The program is supported by Kessler Foundation, along with the National Institutes of Health, Children's Specialized Hospital, National Multiple Sclerosis Society, and the National Institute on Disability, Independent Living, and Rehabilitation Research.
 How to Apply
Candidates are considered on a rolling basis, so it's best to apply as soon as possible. To get started, please first review this document on our website, and then contact the investigators listed in the laboratories of your choice: https://kesslerfoundation.org/researchcenter/postdoctoralfellowshipprogram
About Kessler Foundation
Kessler Foundation, a major nonprofit organization in the field of disability, is a global leader in rehabilitation research that seeks to improve cognition, mobility and long-term outcomes, including employment, for people with neurological disabilities caused by diseases and injuries of the brain and spinal cord. Kessler Foundation leads the nation in funding innovative programs that expand opportunities for employment for people with disabilities.
 Keep in Touch
For more information, visit KesslerFoundation.org. To keep up with our activities, follow us on Facebook www.facebook.com/KesslerFoundation and Twitter twitter.com/KesslerFdn, and subscribe to our channel on YouTube www.youtube.com/user/KesslerFoundation, and to our podcast feeds on iTunes and SoundCloud soundcloud.com/kesslerfoundation.
Contacts:
Dana Hawkins-Simons, MS; 973-324-8398; Dhawkins-Simons@KesslerFoundation.org
Carolann Murphy, PA; 973-324-8382; CMurphy@KesslerFoundation.org