National Trends in Disability Employment (nTIDE) – issued semi-monthly by Kessler Foundation and the University of New Hampshire
East Hanover, NJ. October 24, 2022. Unemployment rose slightly in September for people with disabilities, reflecting a net rise in individuals entering the labor force, according to today's National Trends in Disability Employment (nTIDE) COVID Update. Experts referenced the increases in labor force participation and the employment-to-population ratio in this month's nTIDE September Job Report released on October 7. 
"We are seeing people with disabilities continue to engage in the labor market to a greater extent than people without disabilities," said Andrew Houtenville, PhD, professor of economics at the University of Hampshire (UNH) and research director of the UNH Institute on Disability. "With the impact of inflation affecting the costs of basics such as food and housing, households of people with disabilities may be feeling the pressure to maintain or increase their income."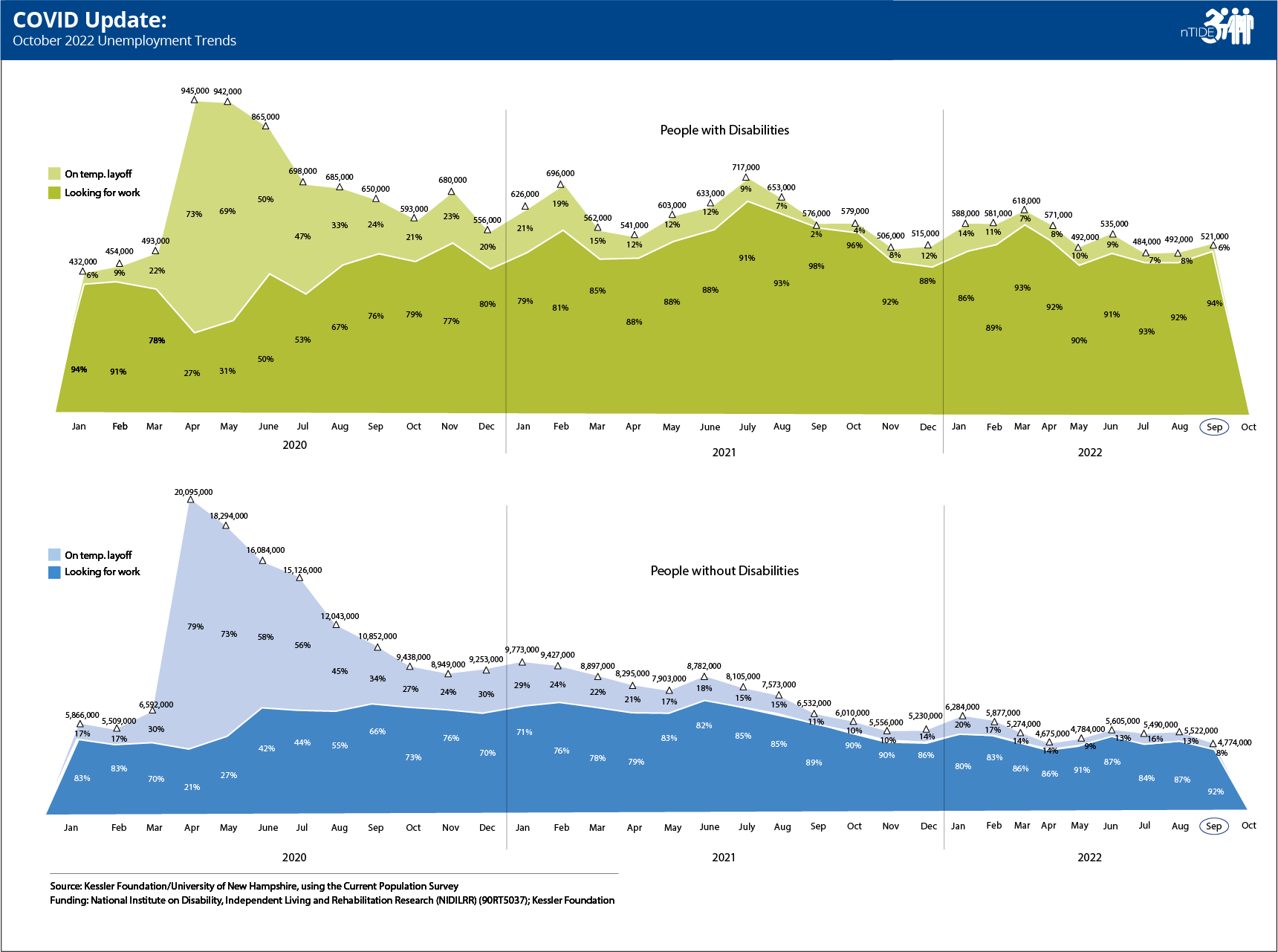 Even without inflation, people with disabilities need to strive to cover their basic needs, according to Elaine E. Katz, MS, CCC-SLP, senior vice president of grants and communications at Kessler Foundation. "Nationally, poverty is a fact of life for the majority of people with disabilities," Katz stated, citing data from ALICE, a national research project of United Way Northern NJ. ALICE is an acronym for Asset Limited, Income Constrained, Employed, and represents the growing number of families who are unable to afford the basics of housing, childcare, food, transportation, health care, and technology.
Based on the American Community Survey of 2019, the latest brief in the ALICE in Focus series − Financial Hardship Among People with Disabilities − breaks down poverty nationally, by state, and by county. "More than half of all people with disabilities live in households with income either below the poverty level or below the ALICE threshold," reported Katz, who served on the ALICE in Focus National Leadership Committee for People with Disabilities.
"These data are likely a major reason for striving to work among people with disabilities," added Dr. Houtenville, noting that these are conservative numbers, since the federal poverty level needs updating for today's living standards. "And it's important to note that despite being employed, many households still struggle to meet their daily needs."
Monitoring the National Trends in Disability Employment helps us track the impact of economic shifts on people with disabilities. Register now for our upcoming nTIDE webinars scheduled for November 4 and November 18, 2022: nTIDE Lunch & Learn Webinar Series | Center for Research on Disability
Just out! A new survey produced by the nTIDE team, the 2022 Kessler Foundation National Employment & Disability Survey: Effects of COVID-19 Pandemic on Supervisor Perspectives
About nTIDE Updates
National Trends in Disability Employment (nTIDE), is a joint project of Kessler Foundation and the University of New Hampshire (UNH) Institute on Disability, co-authored by Andrew Houtenville, PhD, from the UNH Institute on Disability and John O'Neill, PhD, of Kessler Foundation. The nTIDE team closely monitors the job numbers, issuing semi-monthly nTIDE reports, as the labor market continues to reflect the many challenges of the pandemic. Since 2013, a monthly nTIDE has been issued in conjunction with the first Friday Jobs Report issued by the Bureau of Labor Statistics. In April 2020, restrictions on economic activity in the U.S. due to the COVID-19 pandemic precipitated an unprecedented rise in furloughs and people looking for work, prompting the addition of this mid-month nTIDE COVID Update. The mid-month nTIDE follows two key unemployment indicators – furloughs, or temporary layoffs, and the number of people looking for work, comparing trends for people with and without disabilities.
Funding: Kessler Foundation and the National Institute on Disability, Independent Living and Rehabilitation Research (NIDILRR) (90RT5037).
About the Institute on Disability at the University of New Hampshire
The Institute on Disability (IOD) at the University of New Hampshire (UNH) was established in 1987 to provide a coherent university-based focus for the improvement of knowledge, policies, and practices related to the lives of persons with disabilities and their families. For information on the NIDILRR-funded Employment Policy and Measurement Rehabilitation Research and Training Center, visit ResearchonDisability.org.
About Kessler Foundation
Kessler Foundation, a major nonprofit organization in the field of disability, is a global leader in rehabilitation research that seeks to improve cognition, mobility, and long-term outcomes – including employment – for people with neurological disabilities caused by diseases and injuries of the brain and spinal cord. Kessler Foundation leads the nation in funding innovative programs that expand opportunities for employment for people with disabilities.