nTIDE October 2021 COVID Update: Rise in unemployment may indicate increase in jobseekers engaging with the labor market
National Trends in Disability Employment (nTIDE) – issued semi-monthly by Kessler Foundation and the University of New Hampshire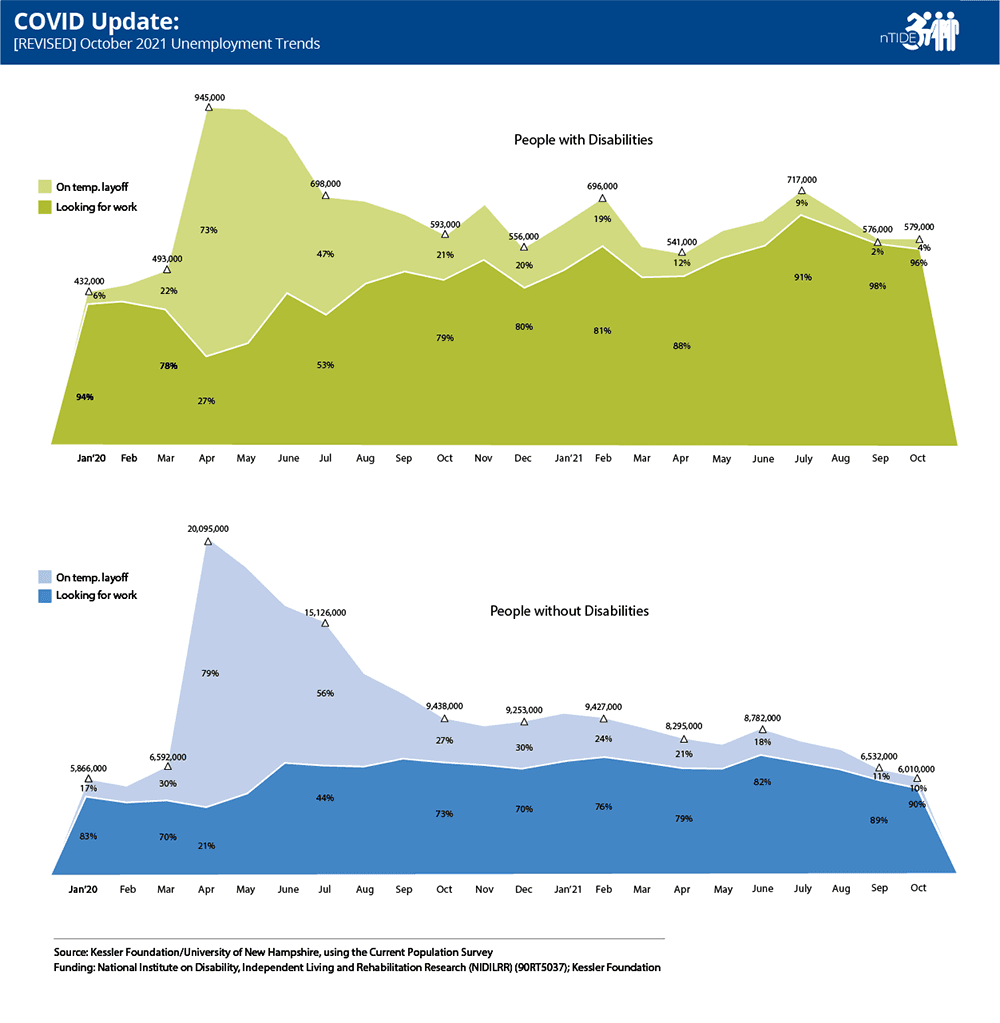 East Hanover, NJ. November 22, 2021. Unemployment rose for people with and without disabilities, following two consecutive months of decline, according to today's National Trends in Disability Employment (nTIDE) COVID Update. nTIDE experts advise caution in interpreting monthly changes in the pandemic-era labor market.
In April of 2020, restrictions on economic activity in the U.S. due to the COVID-19 pandemic precipitated an unprecedented rise in furloughs and people looking for work, prompting the addition of this mid-month nTIDE COVID Update. The mid-month nTIDE follows two key unemployment indicators – furloughs, or temporary layoffs, and the number of people looking for work, comparing trends for people with and without disabilities.
October's numbers indicate that the labor market remains in a state of flux as the economy strives to adapt to the effects of the COVID-19 pandemic. Andrew Houtenville, PhD , professor of economics at the University of New Hampshire (UNH) and research director of the UNH Institute on Disability indicated the uptick in unemployment may reflect more people with disabilities looking for work. "Given the large number of job openings, they may be engaging in the labor market to take advantage of new opportunities. We'll want to follow this going forward," he added, "because looking at month-to-month changes can be misleading in a volatile labor market."
News about shortages of workers in different sectors and the rising numbers of people looking for work raise questions about the success of jobseekers in meeting the needs of employers. "Both jobseekers and employers are seeking the right match," commented Elaine E. Katz, MS, CCC-SLP , senior vice president of Grants and Communications at Kessler Foundation. "While openings are so widely available, there's a pressing need for vocational services to help jobseekers with disabilities match their skills with the needs of the labor market."  
"While following monthly updates, it's important to remember that unemployment levels remain above pre-pandemic levels," Dr. Houtenville emphasized. "Whether or not this is an indication of a 'new normal' is unclear. Economic recovery efforts and the expansion of the vaccine campaign are rapidly evolving factors that may have a positive impact."
This COVID Update is an extra edition of National Trends in Disability Employment (nTIDE), a joint project of Kessler Foundation and the University of New Hampshire Institute on Disability, co-authored by Dr. Houtenville and John O'Neill, PhD, of Kessler Foundation. The nTIDE team closely monitors the job numbers, issuing semi-monthly nTIDE reports, as the labor market continues to reflect the many challenges of the pandemic.
Each nTIDE release is followed by a Lunch & Learn webinar at 12:00 ET. You may register for upcoming webinars, and view the nTIDE archives here:   nTIDE Lunch Learn Webinar Series | Center for Research on Disability
Funding: Kessler Foundation and the National Institute on Disability, Independent Living and Rehabilitation Research (NIDILRR) (90RT5037)
About Kessler Foundation
Kessler Foundation, a major nonprofit organization in the field of disability, is a global leader in rehabilitation research that seeks to improve cognition, mobility, and long-term outcomes -- including employment -- for people with neurological disabilities caused by diseases and injuries of the brain and spinal cord. Kessler Foundation leads the nation in funding innovative programs that expand opportunities for employment for people with disabilities. For more information, visit KesslerFoundation.org.
About the Institute on Disability at the University of New Hampshire
The Institute on Disability (IOD) at the University of New Hampshire (UNH) was established in 1987 to provide a coherent university-based focus for the improvement of knowledge, policies, and practices related to the lives of persons with disabilities and their families. For information on the NIDILRR-funded Employment Policy and Measurement Rehabilitation Research and Training Center, visit ResearchonDisability.org.
For more information, or to interview an expert, contact Carolann Murphy:
973.324.8382
CMurphy@KesslerFoundation.org
Twitter | www.twitter.com/KesslerFdn
Facebook | www.facebook.com/KesslerFoundation
YouTube | www.youtube.com/user/KesslerFoundation
Instagram | www.instagram.com/kesslerfdn
iTunes SoundCloud | www.soundcloud.com/kesslerfoundation