nTIDE March 2018 Jobs Report: Job Growth for Americans with Disabilities Reaches Two-Year Milestone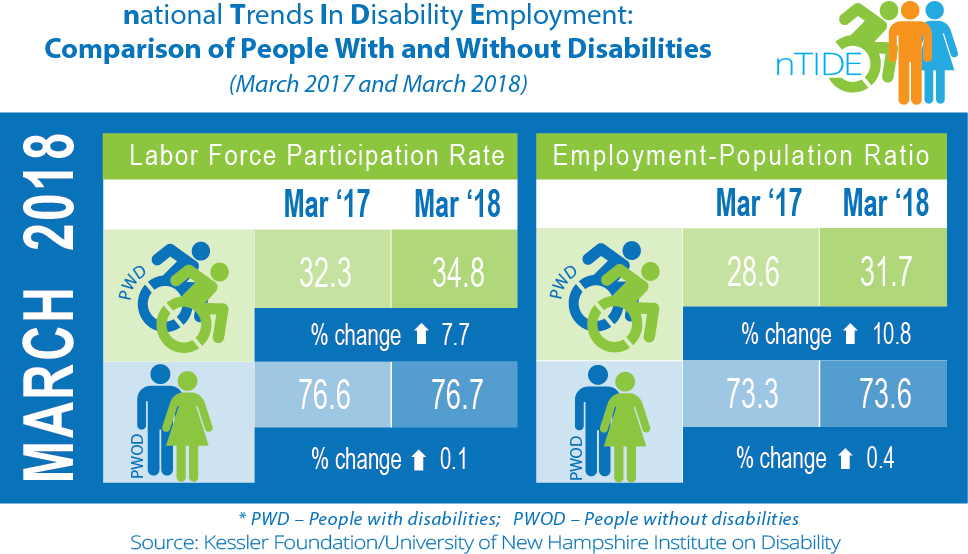 Kessler Foundation and University of New Hampshire release nTIDE Report – Monthly Update
East Hanover, NJ – April 6, 2018. Americans with disabilities reached a milestone this month, as the major economic indicators showed increases for the 24th consecutive month, according to today's National Trends in Disability Employment – Monthly Update (nTIDE), issued by Kessler Foundation and the University of New Hampshire's Institute on Disability (UNH-IOD).  The strengthening economy underscores the value of diversity in the workplace. As hiring increases, preparing for the workplace is more important than ever for people with disabilities. Jobseekers with skills and experience gain employment more readily. Programs that provide hands-on work experiences are equipping people with disabilities with the skills they need to succeed in careers in government, nonprofits and private industries.
In the Bureau of Labor Statistics (BLS) Jobs Report released Friday, April 6, the employment-to-population ratio for working-age people with disabilities increased from 28.6 percent in March 2017 to 31.7 percent in March 2018 (up 10.8 percent; 3.1 percentage points). For working-age people without disabilities, the employment-to-population ratio also increased from 73.3 percent in March 2017 to 73.6 percent in March 2018 (up 0.4 percent; 0.3 percentage points). The employment-to-population ratio, a key indicator, reflects the percentage of people who are working relative to the total population (the number of people working divided by the number of people in the total population multiplied by 100).
"For the 24th consecutive month, we are seeing improvement in the employment-to-population ratio for people with disabilities," commented John O'Neill, PhD, director of employment and disability research at Kessler Foundation. "This is the longest duration of job gains we've seen during our five years of issuing nTIDE Jobs Reports.  Most importantly," he emphasized, "because of this upward trend, people with disabilities are closing in on their pre-Great Recession employment levels."
The labor force participation rate for working-age people with disabilities increased from 32.3 percent in March 2017 to 34.8 percent in March 2018 (up 7.7 percent; 2.5 percentage points), while for working-age people without disabilities, the labor force participation rate increased slightly from 76.6 percent in March 2017 to 76.7 percent in March 2018 (up 0.1 percent; 0.1 percentage points). The labor force participation rate is the percentage of the population that is working or actively looking for work.
"The gains made by people with disabilities continue to outpace the gains of people without disabilities," said Andrew Houtenville, PhD, associate professor of economics at UNH and research director of the Institute on Disability. "The recent increases in wages may possibly be offsetting some of the barriers that people with disabilities face, and thus making employment more feasible," he noted.
For students, internships are a proven pathway to competitive employment. The Washington Center for Internships and Academic Seminars (TWC) connects college students from the U.S. and abroad with semester experiences for academic credit in the DC area. TWC actively recruits students with disabilities, and provides comprehensive support services to ensure their full participation in the internship program. Through its Leadership Initiative for Student with Disabilities, TWC supports scores of students every year, enabling them to choose from the rich array of opportunities in our nation's capital, while employers meet potential job candidates and learn the benefits of workplace inclusion.
New Jersey college students are eligible for TWC scholarships funded by Kessler Foundation.  "The internship experience is especially valuable for students with disabilities," said Elaine E. Katz, MS, CCC-SLP, senior vice president of grants and communications at Kessler Foundation. "Like other students, they gain skills and experience and earn course credit. However, effectively managing their disability in workplace requires that they have knowledge of their rights as employees. At TWC, students with disabilities receive the preparation they need to launch themselves into the workplace and navigate their advancement in professional careers."   
In March 2018, among workers ages 16-64, the 4,945,000 workers with disabilities represented 3.4 percent of the total 145,299,000 workers in the U.S.
The next nTIDE will be issued on Friday, May 4, 2018.
Join our nTIDE Lunch & Learn series today, April 6, at 12:00 pm Eastern. This live broadcast, hosted via Zoom Webinar, offers attendees Q&A on the latest nTIDE findings, provides news and updates from the field, as well as invited panelists to discuss current disability-related findings and events. Kermit Kaleba, JD, federal policy director at National Skills Coalition, will join Dr. Houtenville, Dr. O'Neill, and Denise Rozell, policy strategist at AUCD, to discuss his organization's Washington-based efforts to advance a national skills strategy within federal legislation, agency regulation and national funding initiatives. Join live, or watch the recordings at: www.ResearchonDisability.org/nTIDE.
NOTE: The statistics in the nTIDE are based on Bureau of Labor Statistics numbers, but are not identical. They are customized by UNH to combine the statistics for men and women of working age (16 to 64). NTIDE is funded, in part, by grants from the National Institute on Disability, Independent Living and Rehabilitation Research (NIDILRR) (9ORT5022 and 90RT5017) and Kessler Foundation.
About Kessler Foundation
Kessler Foundation, a major nonprofit organization in the field of disability, is a global leader in rehabilitation research that seeks to improve cognition, mobility, and long-term outcomes -- including employment -- for people with neurological disabilities caused by diseases and injuries of the brain and spinal cord. Kessler Foundation leads the nation in funding innovative programs that expand opportunities for employment for people with disabilities. For more information, visit www.KesslerFoundation.org.
About the Institute on Disability at the University of New Hampshire
The Institute on Disability (IOD) at the University of New Hampshire (UNH) was established in 1987 to provide a coherent university-based focus for the improvement of knowledge, policies, and practices related to the lives of persons with disabilities and their families. For information on the NIDILRR-funded Employment Policy and Measurement Rehabilitation Research and Training Center, visit www.ResearchonDisability.org.
For more information, or to interview an expert, contact:
Carolann Murphy, 973.324.8382, CMurphy@KesslerFoundation.org.