nTIDE January 2017 Jobs Report: Solid Start to New Year for Americans with Disabilities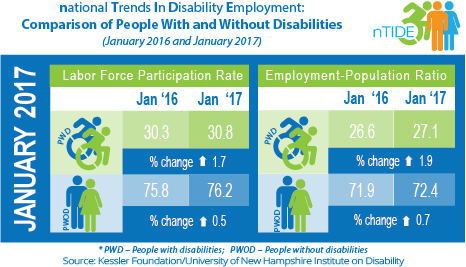 nTIDE January 2017 Jobs Report: Solid Start to New Year for Americans with Disabilities
Kessler Foundation and University of New Hampshire release nTIDE Report – Monthly Update
East Hanover, NJ – February 3, 2017.  Momentum carried employment gains into the new year, extending the longest upward trend for Americans with disabilities since the Great Recession, according to today's National Trends in Disability Employment – Monthly Update (nTIDE), issued by Kessler Foundation and University of New Hampshire's Institute on Disability (UNH-IOD). In transition programs for jobseekers with disabilities, a multi-level approach to job training can improve employment outcomes. Developing the placement skills of disability service providers, as well as the job skills of the individuals they serve, creates a sustainable framework for optimal transitions to the workplace.
In the Bureau of Labor Statistics (BLS) Jobs Report released Friday, February 3, the employment-to-population ratio for working-age people with disabilities increased from 26.6 percent in January 2016 to 27.1 percent in January 2017 (up 1.9 percent; 0.5 percentage points). For working-age people without disabilities, the employment-to-population ratio also increased from 71.9 percent in January 2016 to 72.4 percent in January 2017 (up 0.7 percent; 0.5 percentage points). The employment-to-population ratio, a key indicator, reflects the percentage of people who are working relative to the total population (the number of people working divided by the number of people in the total population multiplied by 100).
 "The proportion of people with disabilities working continues to improve," according to John O'Neill, PhD, director of employment and disability research at Kessler Foundation. "Ten consecutive months of employment growth is very encouraging and shows people with disabilities are striving to work as they move toward pre-Great Recession employment levels," he added.
The labor force participation rate for working-age people with disabilities increased from 30.3 percent in January 2016 to 30.8 percent in January 2017 (up 1.7 percent; 0.5 percentage points). For working-age people without disabilities, the labor force participation rate also increased from 75.8 percent in January 2016 to 76.2 percent in January 2017 (up 0.5 percent; 0.4 percentage points). The labor force participation rate is the percentage of the population that is working or actively looking for work.
"Last year, 2016 was a very good year for the employment of people with disabilities—see our 2016 nTIDE Year in Review—and the good news is continuing in 2017," remarked Andrew Houtenville, PhD, associate professor of economics at UNH.
Achieving success in the workplace for adults with developmental disabilities presents unique challenges - for jobseekers, vocational counselors, job coaches, and employers. Meeting these challenges requires a comprehensive approach, exemplified by the Maryland Customized Employment Project, a collaborative effort of two state agencies and five service providers. This project is based on formal staff training in customized employment, which is offered through intensive workshops, a three-part certification process, and one-on-one mentoring by experts in the field, culminating in each staff person being paired with a jobseeker. Working together, they develop a Customized Employment Plan that details the prospective employee's interests and abilities, the initial step toward networking in the community and connecting with the needs of employers.
"Dozens of disability employment professionals throughout Maryland are gaining valuable placement skills and putting them to use through this customized employment project," said Elaine E. Katz, MS, CCC-SLP, senior VP of grants and communications at Kessler Foundation, which provides project funding through a large Signature Employment Grant to SEEC, a Maryland-based nonprofit dedicated to full inclusion for people with developmental disabilities. "This innovative skills-based approach is succeeding because it effectively engages, motivates and empowers service providers, jobseekers and families, while maintaining a focus on employers' needs. This is the type of comprehensive project that can serve as a model for addressing the extraordinarily high rates of poverty and unemployment among working-age people with developmental disabilities."
In January 2017, among workers ages 16-64, the 4,234,000 workers with disabilities represented 3.0 percent of the total 141,589,000 workers in the U.S.
The next nTIDE will be issued on Friday, March 10, 2017.
Join our nTIDE Lunch & Learn series, starting today, February 3 at 12:00pm EST. This live broadcast, hosted via Zoom Webinar, will offer attendees Q&A on the latest nTIDE findings, provide news and updates from the field, as well as host-invited panelists to discuss current disability-related findings and events. Karen Tamley, Commissioner of the Mayor's Office for People with Disabilities, joins Drs. Houtenville and O'Neill, Michael Murray of AAPD, and Michael Gamel-McCormick, PhD, of the Association of University Centers on Disabilities (AUCD), to discuss today's findings as well as employment for people with intellectual and developmental disabilities. You can join live, or watch the recordings at: www.ResearchonDisability.org/nTIDE.
NOTE: The statistics in the National Trends in Disability Employment Update are based on Bureau of Labor Statistics numbers, but are NOT identical. They've been customized by the University of New Hampshire to efficiently combine the statistics for men and women of working age (16 to 64). NTIDE is funded, in part, by grants from the National Institute on Disability, Independent Living and Rehabilitation Research (NIDILRR) (9ORT5022-02-00 & 90RT5017) and Kessler Foundation.
About Kessler Foundation
Kessler Foundation, a major nonprofit organization in the field of disability, is a global leader in rehabilitation research that seeks to improve cognition, mobility, and long-term outcomes - including employment - for people with neurological disabilities caused by diseases and injuries of the brain and spinal cord. Kessler Foundation leads the nation in funding innovative programs that expand opportunities for employment for people with disabilities. For more information, visit www.KesslerFoundation.org.
About the Institute on Disability at the University of New Hampshire
The Institute on Disability (IOD) at the University of New Hampshire (UNH) was established in 1987 to provide a coherent university-based focus for the improvement of knowledge, policies, and practices related to the lives of persons with disabilities and their families. For information on the NIDILRR-funded Employment Policy and Measurement Rehabilitation Research and Training Center, visit www.ResearchonDisability.org.
For more information, or to interview an expert, contact:
Carolann Murphy, 973.324.8382, CMurphy@KesslerFoundation.org