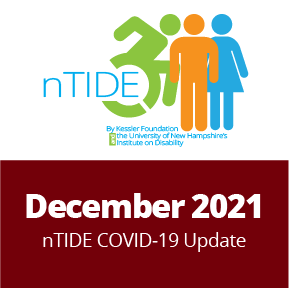 National Trends in Disability Employment (nTIDE) – issued semi-monthly by Kessler Foundation and the University of New Hampshire

East Hanover, NJ. January 24, 2022. Small rises in furloughs affected workers with and without disabilities in December, indicating the early impact of the omicron variant on some business sectors, according to today's National Trends in Disability Employment (nTIDE) COVID Update. For the fourth consecutive month, unemployment fell below historic highs for people with disabilities, a positive sign given the ongoing challenges of the labor market. 
In April of 2020, restrictions on economic activity in the U.S. due to the COVID-19 pandemic precipitated an unprecedented rise in furloughs and people looking for work, prompting the addition of this mid-month nTIDE COVID Update. The mid-month nTIDE follows two key unemployment indicators – furloughs, or temporary layoffs, and the number of people looking for work, comparing trends for people with and without disabilities.
The increases in furloughs seen in December may be short-term, according to nTIDE co-author John O'Neill, PhD, director of the Center for Employment and Disability Research at Kessler Foundation. "The omicron surge prompted some businesses to curtail services for safety reasons or because of inadequate staffing," noted Dr. O'Neill. "However, omicron infections appear to be waning in the U.S., so workers recently furloughed may be recalled fairly quickly."
December's unemployment numbers extended a positive trend for people with disabilities, according to  Andrew Houtenville, PhD, professor of economics at the University of Hampshire (UNH) and research director of the UNH Institute on Disability. "As we tracked job recovery post-lockdown, we saw that despite signs of recovery, the levels of unemployment remained substantially higher compared to pre-pandemic levels for people with and without disabilities. We called this evidence for a 'new normal,' characterized by the stabilization of employment numbers at new, higher levels," Dr. Houtenville recalled. "However, we are now seeing four consecutive months of improvement, which may be a welcome sign of a thaw in that 'new normal.'"
"As we enter the third year of the pandemic, we anticipate that unemployment levels will continue to improve," Dr. O'Neill predicted. "Many businesses have adapted to the uncertainties of the pandemic, and vaccines and public health measures may help buffer the impact of COVID-19 variants on the economy."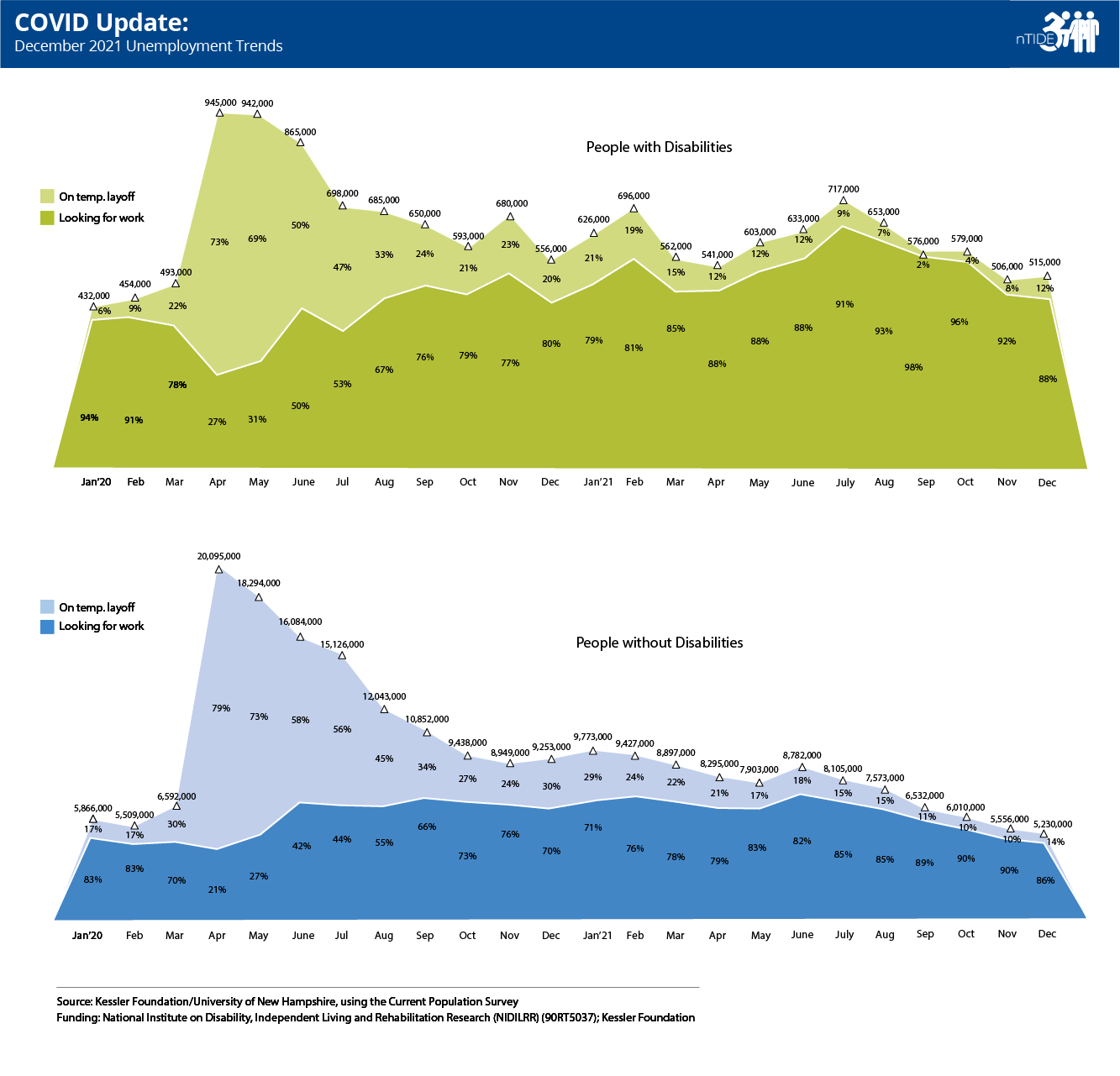 About nTIDE Updates
This COVID Update is an extra edition of National Trends in Disability Employment (nTIDE), a joint project of Kessler Foundation and the University of New Hampshire Institute on Disability, co-authored by Dr. Houtenville and John O'Neill, PhD, of Kessler Foundation. The nTIDE team closely monitors the job numbers, issuing semi-monthly nTIDE reports, as the labor market continues to reflect the many challenges of the pandemic.
Upcoming nTIDE webinars are scheduled for February 4 and February 18.
Each nTIDE release is followed by a Lunch & Learn webinar at 12:00 ET. You may register for upcoming webinars, and view the nTIDE archives here:  nTIDE Lunch & Learn Webinar Series | Center for Research on Disability
Funding: Kessler Foundation and the National Institute on Disability, Independent Living and Rehabilitation Research (NIDILRR) (90RT5037)
About Kessler Foundation
Kessler Foundation, a major nonprofit organization in the field of disability, is a global leader in rehabilitation research that seeks to improve cognition, mobility, and long-term outcomes -- including employment -- for people with neurological disabilities caused by diseases and injuries of the brain and spinal cord. Kessler Foundation leads the nation in funding innovative programs that expand opportunities for employment for people with disabilities. For more information, visit KesslerFoundation.org.
About the Institute on Disability at the University of New Hampshire
The Institute on Disability (IOD) at the University of New Hampshire (UNH) was established in 1987 to provide a coherent university-based focus for the improvement of knowledge, policies, and practices related to the lives of persons with disabilities and their families. For information on the NIDILRR-funded Employment Policy and Measurement Rehabilitation Research and Training Center, visit ResearchonDisability.org.
Interested in trends on disability employment? Contact Carolann Murphy to arrange an interview with our experts::
973.324.8382
Twitter | Facebook | YouTube | Instagram | iTunes & SoundCloud