nTIDE COVID Update October 2020: Jobseekers with Disabilities Cope with Uncertainties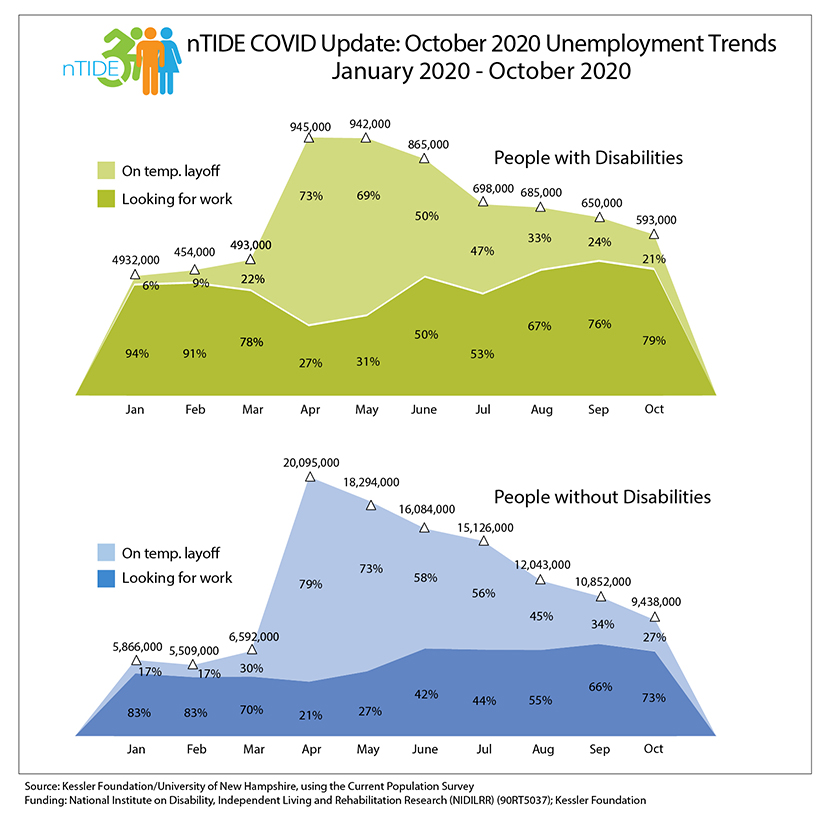 Since its sharp rise in April 2020, the unemployment rate has declined through October 2020 for people with and without
disabilities, a decline fueled by large numbers of workers shifting from furlough to actively looking for work after being permanently laid off. 
As the likelihood of returning to work fades for workers on furlough, multiple variables will affect employment outcomes for people with and without disabilities
East Hanover, NJ. November 24, 2020. As the job market strives to recover from the devastating impact of lockdowns aimed at slowing the spread of COVID-19, the unemployment rate continues to decline for people with and without disabilities, characterized by a decrease in the numbers of workers on furlough and an increase in those actively looking for work. As reported last month, this appears to indicate a slowing of the pace of economic recovery.
Despite the decline in workers on furloughs, 21% of people with disabilities were still on furlough in October– a number that is concerning at this point in the recovery, according to economist Andrew Houtenville, PhD, research director of the University of New Hampshire Institute on Disability. "As months go on, the likelihood of these workers being recalled to their jobs diminishes. Many of these workers will seek new jobs, which may be difficult if the ongoing pandemic prompts states to institute further lockdowns."
There's evidence that the impact of the spring lockdown has been worse for people without disabilities. Looking at trends in labor force participation rates, people without disabilities are still below their pre-Great Recession level. "The impact is less profound on people with disabilities," noted Dr. Houtenville, "indicating they have done better at remaining engaged in the labor market. If these signs of resilience persist, that will affect the outlook for their role in the workforce." For all workers, outcomes will be affected by the many variables affecting the evolving economy – future federal aid packages, the course of the pandemic and related closures, advances in public health measures, and resolution of the technology divide.
Disability employment expert John O'Neill, PhD, offered his perspective on the employment picture. Dr. O'Neill, director of the Center for Employment and Disability Research at Kessler Foundation, sits on the board of Job Path, a New York City-based nonprofit that provides customized employment services for people with autism and developmental disabilities. "In September, we saw an uptick in furloughed workers returning to work, but the rate slowed in October," he noted, "an indication of a cooling of the recovery."
Through their connection with Job Path, individuals who lose their jobs permanently have options for staying engaged in the labor market. "Job Path has a safety net for clients who lose their jobs. Unlike many of their counterparts, they can immediately recycle into job development and career preparation services," explained Dr. O'Neill.
The boom in remote learning has created a need for new types of workers. For example, universities now need to monitor the compliance of students and faculty with the numerous courses being offered via Zoom. "People with disabilities are staffing these newly created positions in the growing field of remote learning," said Dr. O'Neill. Job Path has seen a spike in interest in its career preparation services, by people still in the work force as well as those who are job hunting. "Weekly sessions have expanded from one to five to accommodate the demand," he reported. "There's a distinct awareness of the need to prepare for new opportunities in the evolving economy."
As the pandemic continues to buffet the economy. Drs. Houtenville and O'Neill will closely monitor the job numbers, issuing semi-monthly nTIDE reports.
This COVID Update is an extra edition of National Trends in Disability Employment (nTIDE), a joint project of Kessler Foundation and the University of New Hampshire Institute on Disability, co-edited by Drs. O'Neill and Houtenville.
Register for our December 4, 2020 nTIDE Jobs Report, and our December 18, 2020 COVID Update at https://researchondisability.org/home/ntide
Funding: Kessler Foundation and the National Institute on Disability, Independent Living and Rehabilitation Research (NIDILRR) (90RT5037)
About Kessler Foundation
Kessler Foundation, a major nonprofit organization in the field of disability, is a global leader in rehabilitation research that seeks to improve cognition, mobility, and long-term outcomes -- including employment -- for people with neurological disabilities caused by diseases and injuries of the brain and spinal cord. Kessler Foundation leads the nation in funding innovative programs that expand opportunities for employment for people with disabilities. For more information, visit KesslerFoundation.org.
About the Institute on Disability at the University of New Hampshire
The Institute on Disability (IOD) at the University of New Hampshire (UNH) was established in 1987 to provide a coherent university-based focus for the improvement of knowledge, policies, and practices related to the lives of persons with disabilities and their families. For information on the NIDILRR-funded Employment Policy and Measurement Rehabilitation Research and Training Center, visit ResearchonDisability.org.
For more information, or to interview an expert, contact Carolann Murphy:
973.324.8382
CMurphy@KesslerFoundation.org