nTIDE COVID Update November 2020: Surge Takes Its Toll on Jobseekers with Disabilities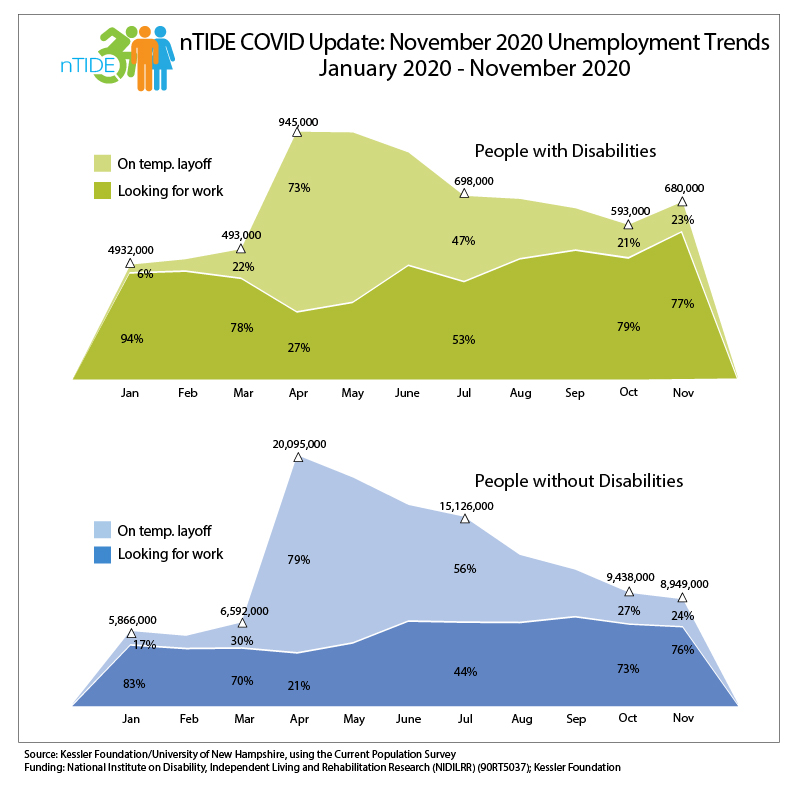 In November, as the country experienced a surge in COVID-19 infections,
there was an uptick in furloughs for workers with disabilities, the first such increase since the dramatic
increase in April 2020. Furloughs for workers without disabilities continued to decline.
Following months of decline, furloughs increased for people with disabilities in November while continuing to decline for workers without disabilities
East Hanover, NJ. December 18, 2020. The recent surge in COVID-19 cases across the nation is adversely affecting workers with disabilities. In a break from the recent trend, temporary furloughs increased in November for people with disabilities (from 21% to 23%), while continuing to decline for people without disabilities (from 27% to 24%). The unemployment rate, which had been declining for both people with and without disabilities, rose for both groups in November. Counted among the unemployed are furloughed workers, people seeking to enter the workforce, and workers actively looking for new jobs after being permanently laid off.
The rise in furloughs among people with disabilities is not a good sign, according to economist Andrew Houtenville, PhD, research director of the University of New Hampshire Institute on Disability. "Up until now, we saw small but steady decreases in furloughs for this group, but the latest data show that the effects of the surge are taking a greater toll on people with disabilities. It is unclear why we are still seeing furloughs decline at this point among people without disabilities. Types of job may be a factor, as well as regional differences in the severity of infections. Next month's update will give us more information," he concluded.
John O'Neill, PhD, director of the Center for Employment and Disability Research at Kessler Foundation, reported the recent experiences of the clients of the New York City-based nonprofit Job Path, which provides customized employment services for people with autism and developmental disabilities. "Some employers are placing a value on experience," noted Dr. O'Neill. "We are seeing workers furloughed from the retail sector being called back to work based on their seniority," he noted. The experiences of restaurant workers are different, however. "With the return to greater restrictions on indoor dining, some workers are being furloughed again, or laid off permanently."
The staff of Job Path devotes substantial time to maintaining relationships with employers as way to keep positions available. Some workers are reluctant to return to work, and their family's concerns may also be a factor. "In some of those cases, Job Path has been able to maintain the opportunities for workers with disabilities by placing new workers in these positions."
Drs. Houtenville and O'Neill will closely monitor the job numbers, issuing semi-monthly nTIDE reports, as the labor market continues to reflect the many challenges of the pandemic, as well as potential prospects for additional federal relief and the ramping up of national vaccination efforts.
This COVID Update is an extra edition of National Trends in Disability Employment (nTIDE), a joint project of Kessler Foundation and the University of New Hampshire Institute on Disability, co-edited by Drs. O'Neill and Houtenville.
Register for our January 8, 2021 nTIDE Jobs Report, and our January 22, 2021 COVID Update at https://researchondisability.org/home/ntide
Funding: Kessler Foundation and the National Institute on Disability, Independent Living and Rehabilitation Research (NIDILRR) (90RT5037)
About Kessler Foundation
Kessler Foundation, a major nonprofit organization in the field of disability, is a global leader in rehabilitation research that seeks to improve cognition, mobility, and long-term outcomes -- including employment -- for people with neurological disabilities caused by diseases and injuries of the brain and spinal cord. Kessler Foundation leads the nation in funding innovative programs that expand opportunities for employment for people with disabilities. For more information, visit KesslerFoundation.org.
About the Institute on Disability at the University of New Hampshire
The Institute on Disability (IOD) at the University of New Hampshire (UNH) was established in 1987 to provide a coherent university-based focus for the improvement of knowledge, policies, and practices related to the lives of persons with disabilities and their families. For information on the NIDILRR-funded Employment Policy and Measurement Rehabilitation Research and Training Center, visit ResearchonDisability.org.
Interested in trends on disability employment? Contact Carolann Murphy to arrange an interview with our experts: cmurphy@kesslerfoundation.org.