nTIDE April 2020 Jobs Report: COVID Recession Hits Workers with Disabilities Harder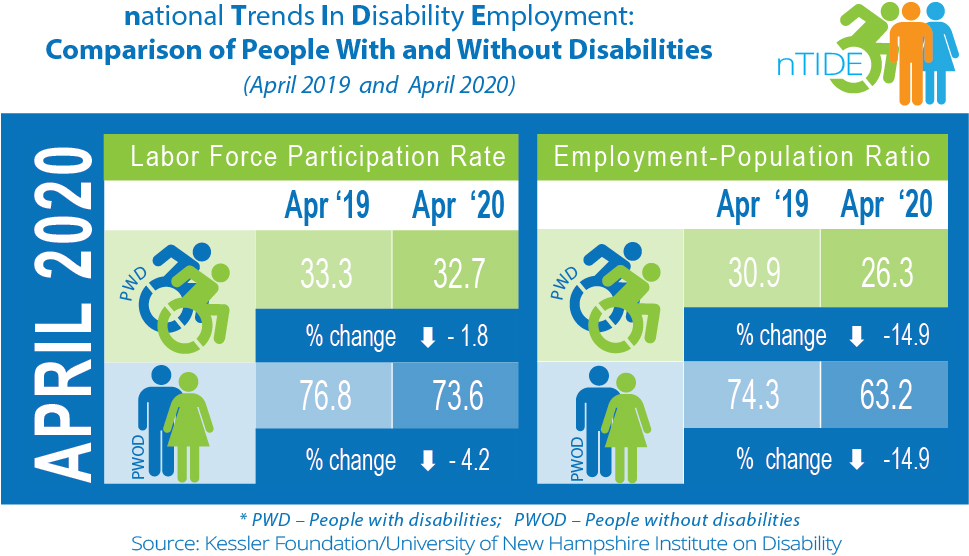 Kessler Foundation and University of New Hampshire nTIDE Report—featuring the Disability Rights Louisiana's FAIR (Financial Access Inclusion and Resources) Program for formerly incarcerated individuals with disabilities
East Hanover, NJ – May 8, 2020 – As the COVID Recession deepens, nearly one million more people with disabilities are not working compared to March, according to today's National Trends in Disability Employment – Monthly Update (nTIDE), issued by Kessler Foundation and the University of New Hampshire's Institute on Disability (UNH-IOD).
In the Bureau of Labor Statistics (BLS) Jobs Report released Friday, the number of working-age people with disabilities who were employed decreased by 950,000 between March and April (from 4,772,000 to 3,827,000), a 20 percent reduction.  In comparison, the number of working-age people without disabilities who were employed decreased by 14 percent (from 140,135,000 to 120,804,000).
"The modest gains seen in the employment-to-population ratio for people with disabilities during January, February, and March have been lost due to the effects of COVID-19," said John O'Neill, PhD, director of employment and disability research at Kessler Foundation. "The May nTIDE is likely to show a further decline."
"Unlike the Great Recession and the Great Depression, many workers in the COVID Recession may be 'on temporary layoff' (aka furloughed) and may be recalled, rather than losing their jobs completely," explained Andrew Houtenville, PhD, research director of the University of New Hampshire's Institute on Disability. "To further investigate this issue, we plan to release a Special nTIDE Report on May 15."
Traditional nTIDE Numbers
The employment-to-population ratio for working-age people with disabilities decreased from 30.9 percent in April 2019 to 26.3 percent in April 2020 (down 14.9 percent or 4.6 percentage points). For working-age people without disabilities, the employment-to-population ratio also decreased from 74.3 percent in April 2019 to 63.2 percent in April 2020 (down 14.9 percent or 11.1 percentage points). The employment-to-population ratio, a key indicator, reflects the percentage of people who are working relative to the total population (the number of people working divided by the number of people in the total population multiplied by 100).
For working-age people without disabilities, the labor force participation rate decreased from 33.3 percent in April 2019 to 32.7 percent in April 2020 (down 1.8 percent or 0.6 percentage points). For working-age people without disabilities, the labor force participation rate also decreased from 76.8 percent in April 2019 to 73.6 percent in April 2020 (down 4.2 percent or 3.2 percentage points). The labor force participation rate is the percentage of the population that is working or actively looking for work.
In April 2020, among workers ages 16-64, the 3,827,000 workers with disabilities represented 3.1 percent of the total 124,631,000 workers in the U.S.
nTIDE Special Report – Friday May 15
Stay tuned for more on jobs as we follow the impact of COVID-19.
Beyond the Numbers
Finding a job and maintaining employment are challenges for everyone today, and people with disabilities who are striving to work face mounting challenges to reaching their goal of financial independence. Individuals with disabilities who are re-entering the community from jail or prison have even greater needs for comprehensive services and supports. The pandemic has promoted early release of inmates to reduce exposure in crowded facilities, increasing the need for vocational support for this population.
In Louisiana, which has the highest incarceration rate in the nation, efforts were already underway to improve employment outcomes and financial security of formerly incarcerated individuals with disabilities, with an ultimate goal of helping people remain in their communities. In 2019, with funding from the Greater New Orleans Foundation, JPMorgan Chase & Co., and Kessler Foundation, Disability Rights Louisiana launched the FAIR project (Financial Access Inclusion and Resources), in response to the state's plans to reduce the prison population by 10%.       
FAIR enrolls individuals pending release from incarceration within 3 months, as well as those up to 10 years post release, assessing baseline goals, identifying barriers to employment, and creating an action plan with tasks and target dates. Financial coaching is the cornerstone of FAIR's flexible and holistic program, which partners with the Justice and Accountability Center of Louisiana to address clients' court fines and fees and draws on community resources for job training and placement, health care, legal services, housing assistance, and other services. As of March 2020, 61% of enrollees were actively participating, with 48% working, and a growing number increasing their incomes and reducing their debts, according to FAIR's program director Libby Whiteside at Disability Rights Louisiana. The spread of COVID-19, however, prompted measures that triggered layoffs that affected FAIR's clients, and complicated the coordination of community services.
"We are grateful to have this program up and running at a time like this," says Whiteside, "when it is so important to help our clients access services and supports during this time, so they are positioned for employment opportunities moving forward." Working remotely, Whiteside and case manager Pat Holmes have been able to continue to accept new clients and provide case management and financial coaching services. They find the most pressing current needs of their clients relate to accessing healthcare services, reporting wage changes to Social Security, and applying for income supports, including disability benefits, SNAP, unemployment assistance, and rental assistance.
Many of the career development providers that had assisted FAIR's clients have suspended their employment services. "For clients who are job-ready, we are helping them apply for high-demand opportunities," says Whiteside, "while keeping in mind that many of our clients are considered to be in the high-risk category for coronavirus infection."
Whiteside anticipates the need to be creative and pivot to find new opportunities to meet client needs. "We have participated in webinars hosted by National Disability Institute and APSE on how COVID-19 has impacted the disability community and on providing remote employment supports," she reports, "and we are taking weekly courses from the Financial Clinic on financial coaching strategies in the face of COVID-19, as well as attending New Orleans Reentry Task Force and other meetings focused on the needs of people in reentry during this pandemic. Like many disability organizations," she said in conclusion, "we are finding our way, seeking new ways to connect, building new relationships and improving our own capacity for finding job leads available to the population we serve."
Ask Questions about Disability and Employment
Join our nTIDE Lunch & Learn series today, May 8, at 12:00 pm Eastern. This live broadcast, hosted via Zoom Webinar, offers attendees Q&A on the latest nTIDE findings, provides news and updates from the field, as well as invited panelists to discuss current disability-related findings and events. Libby Whiteside, program director for FAIR at Disability Rights Louisiana and case manager Pat Holmes join Dr. O'Neill, Dr. Houtenville, and Denise Rozell, Policy Strategist at AUCD. Join live or watch the recordings at: ResearchonDisability.org/nTIDE.
NOTE: The statistics in the nTIDE are based on Bureau of Labor Statistics numbers but are not identical. They are customized by UNH to combine the statistics for men and women of working age (16 to 64). nTIDE is funded, in part, by grants from the National Institute on Disability, Independent Living and Rehabilitation Research (NIDILRR) (90RT5037) and Kessler Foundation.
About Kessler Foundation
Kessler Foundation, a major nonprofit organization in the field of disability, is a global leader in rehabilitation research that seeks to improve cognition, mobility, and long-term outcomes -- including employment -- for people with neurological disabilities caused by diseases and injuries of the brain and spinal cord. Kessler Foundation leads the nation in funding innovative programs that expand opportunities for employment for people with disabilities. For more information, visit KesslerFoundation.org.
About the Institute on Disability at the University of New Hampshire
The Institute on Disability (IOD) at the University of New Hampshire (UNH) was established in 1987 to provide a coherent university-based focus for the improvement of knowledge, policies, and practices related to the lives of persons with disabilities and their families. For information on the NIDILRR-funded Employment Policy and Measurement Rehabilitation Research and Training Center, visit ResearchonDisability.org.
For more information, or to interview an expert, contact:
Carolann Murphy, 973.324.8382, [email protected].