nTIDE March 2020 Jobs Report: COVID-19 Effects Not Yet Seen in Jobs Data for Americans with Disabilities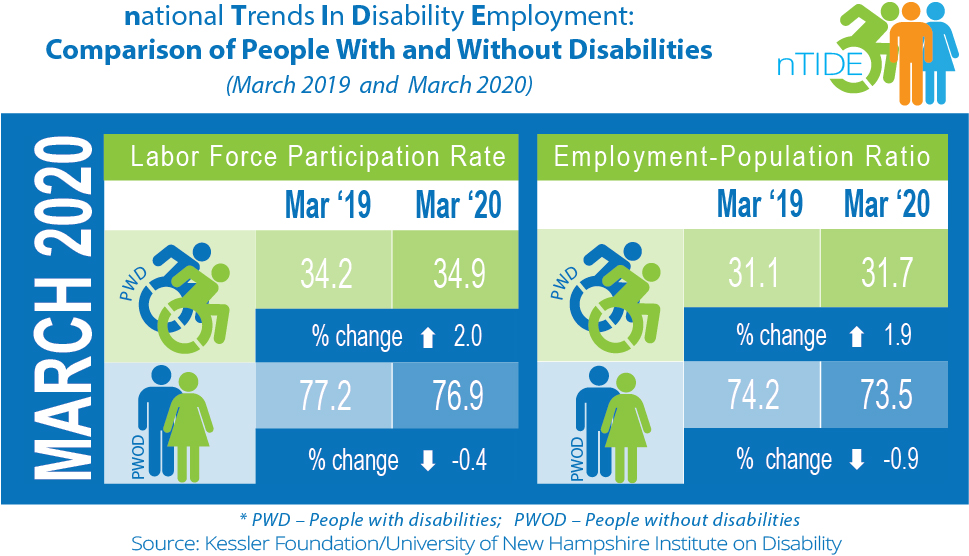 Kessler Foundation and University of New Hampshire nTIDE Report— featuring The Women's Project – a holistic program based in New York City that helps women with special needs manage the complexities of the justice system, re-enter their communities, and join the workplace
East Hanover, NJ – April 3, 2020 – Based on data from early March, today's indicators showed gains for people with disabilities and slight declines for people without disabilities, according to today's National Trends in Disability Employment – Monthly Update (nTIDE), issued by Kessler Foundation and the University of New Hampshire's Institute on Disability (UNH-IOD). This positive news is tempered by the substantial declines for all workers that will be reflected in next month's Jobs Report. 
In the Bureau of Labor Statistics (BLS) Jobs Report released Friday, the employment-to-population ratio for working-age people with disabilities increased from 31.1 percent in March 2019 to 31.7 percent in March 2020 (up 1.9 percent or 0.6 percentage points). For working-age people without disabilities, the employment-to-population ratio decreased from 74.2 percent in March 2019 to 73.5 percent in March 2020 (down 0.9 percent or 0.7 percentage points). The employment-to-population ratio, a key indicator, reflects the percentage of people who are working relative to the total population (the number of people working divided by the number of people in the total population multiplied by 100).
"We actually have positive news this month for people with disability, but today's job numbers don't reflect the devastating losses of the last three weeks of March. We have yet to see the impact of COVID-19 on the employment situation of people with or without disabilities," said John O'Neill, PhD, director of employment and disability research at Kessler Foundation. "Next month's nTIDE will almost certainly reveal the expected downturn."
The labor force participation rate for working-age people with disabilities increased from 34.2 percent in March 2019 to 34.9 percent in March 2020 (up 2 percent or 0.7 percentage points). For working-age people without disabilities, the labor force participation rate decreased slightly from 77.2 percent in March 2019 to 76.9 percent in March 2020 (down 0.4 percent or 0.3 percentage points). The labor force participation rate is the percentage of the population that is working or actively looking for work.
"For the May nTIDE, to provide the complete picture, we will add the unemployment rate to this report," reported Andrew Houtenville, PhD, interim director of the University of New Hampshire's Institute on Disability. "This will include the large numbers of people furloughed or laid off who are considered to be unemployed, even if they intend to go back to work for the same employer."
To provide additional information during this upheaval in the labor market, the nTIDE team plans to distribute a special report in mid-May. "We will look at the numbers for people furloughed and laid off as well the proportion of people absent from work due to illness," explained Dr. Houtenville. "This will provide greater insight into the sectors being affected."
In March 2020, among workers ages 16-64, the 4,772,000 workers with disabilities represented 3.3 percent of the total 144,907,000 workers in the U.S.
Beyond the Numbers
Even in a strong economy, finding and maintaining employment is difficult for those living with disability, and making that transition is complicated further by poverty, mental illness, and incarceration. Women dealing with these issues need comprehensive and consistent services in order to achieve personal freedom, meaningful work, and financial independence while meeting their personal goals and family responsibilities.
The Women's Project provides an alternative to pretrial detention for women who cannot afford monetary bail. Part of a partnership of Wildcat Services Corporation, an agency of The FEDCAP Group (FEDCAP), defenders and district attorneys, The Women's Project aims to reduce the number of women being held pretrial,  supporting them as they return to court and participate in their own defense.  The Women's Project focuses on high-needs women detained on Rikers Island in New York City, helping them manage the complexities of the justice system, re-enter their communities and join or rejoin the workplace. Women with special needs are referred to The Women's Project by their defense attorneys. Care coordination begins during their detention and continues after their release.
The Women's Project is directed by founder Valentina Morales, FEDCAP's senior director of Justice Initiatives. "Having strong relationships with stakeholders in the criminal legal system and the support of many community organizations enables The Women's Project to provide the culturally competent and person-centered services these women need," explained Morales. "Our integrated care team is small and mobile, with service provision led by well-trained licensed social workers who provide a continuous and consistent connection to women from detention through stability in the community – a model that is fundamental to the successes achieved by The Women's Project," she said.
The Women's Project connects participants to employment services provided through FEDCAP's specialized programs, which include job training and placement. These services are part of The Women's Project's holistic program that includes benefits assistance, advocacy, support in entering transitional housing, access to medical care, training in self-advocacy and financial literacy, and clinical support for every court appearance. "For women with pending court cases, progress toward economic stability can be especially challenging," Morales said. "The collateral consequences of arrest and detention often include loss of housing, disconnection from care and resources, family separation, job loss, or prolonged absence from employment or training opportunities. Additionally, more than half of the women in our community have significant mental health needs and nearly 98% report a past history of physical, sexual or emotional abuse." she relates. "Holistic support services and advocacy can make a significant difference in overcoming these barriers to employment and successful reintegration."
The spread of COVID-19 brings new challenges to supporting women released from local jails and upstate prisons. Despite the disruptions, The Women's Project continues to provide ongoing support to its community members leaving Rikers Island. "New York City is practically under siege and changing rapidly," she observed. "Maintaining a strong connection to women who have been released, those detained pre-trial and those in upstate correctional facilities through The Women's Project is now more important than ever."
Ask Questions about Disability and Employment
Join our nTIDE Lunch & Learn series today, April 3, at 12:00 pm Eastern. This live broadcast, hosted via Zoom Webinar, offers attendees Q&A on the latest nTIDE findings, provides news and updates Valentina Morales, director/founder of The Women's Project, and senior director of Justice Initiatives at FEDCAP, joins Drs. Houtenville and O'Neill and Denise Rozell, Policy Strategist at AUCD. Join live or watch the recordings at: ResearchonDisability.org/nTIDE.
NOTE: The statistics in the nTIDE are based on Bureau of Labor Statistics numbers but are not identical. They are customized by UNH to combine the statistics for men and women of working age (16 to 64). nTIDE is funded, in part, by grants from the National Institute on Disability, Independent Living and Rehabilitation Research (NIDILRR) (90RT5037) and Kessler Foundation.
About Kessler Foundation
Kessler Foundation, a major nonprofit organization in the field of disability, is a global leader in rehabilitation research that seeks to improve cognition, mobility, and long-term outcomes -- including employment -- for people with neurological disabilities caused by diseases and injuries of the brain and spinal cord. Kessler Foundation leads the nation in funding innovative programs that expand opportunities for employment for people with disabilities. For more information, visit KesslerFoundation.org.
About the Institute on Disability at the University of New Hampshire
The Institute on Disability (IOD) at the University of New Hampshire (UNH) was established in 1987 to provide a coherent university-based focus for the improvement of knowledge, policies, and practices related to the lives of persons with disabilities and their families. For information on the NIDILRR-funded Employment Policy and Measurement Rehabilitation Research and Training Center, visit ResearchonDisability.org.
For more information, or to interview an expert, contact:
Carolann Murphy, 973.324.8382, [email protected]