JESPY House Honors Elaine Katz of Kessler Foundation for Years of Leadership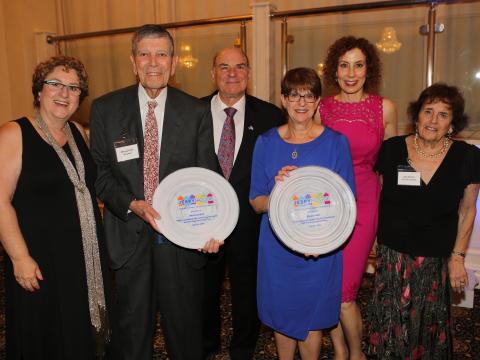 Honorees recognized for dedication to JESPY House, a nonprofit organization assisting adults with learning and developmental disabilities.
 July 18, 2017 – East Hanover, NJ – Elaine Katz, MS, CCC-SP, senior vice president of grants and communications at Kessler Foundation, will be honored at the annual JESPY House Gala for her years of dedication to the continued success of JESPY House – a South Orange-based nonprofit organization that enables adults with learning and developmental disabilities to achieve their full potential and lead independent lives. Katz has been actively involved with JESPY House for more than 12 years, as both board president and member. The gala, which takes place Wednesday, July 26, 2017 at 6:00 pm, at The Wilshire Grant Hotel in West Orange, NJ, will also honor Michael Och, a long-time member of the JESPY House board of trustees.
 As president of the board, Katz led efforts to widen the board's scope of expertise and applied a system of strategic processes that promoted an innovative and forward-thinking philosophy throughout the organization. JESPY House credits Katz for its "renewed vision."
 "I am honored to be recognized for my commitment to JESPY House's programs and success," remarked Elaine Katz. "For me, philanthropic innovation not only means cultivating something novel through prior expertise and resources; it means always implementing new thinking, founded on progressive research and information, and applying this framework to old problems and processes. The goal is to create sustainable support systems that benefit people with disabilities today and into the future."
 The JESPY House Gala recognizes, "two very exceptional individuals who have been strong champions for the organization over the years," stated Audrey Winkler, the Executive Director of JESPY House. "To have Elaine Katz, a true thought leader in the disability field, as our Board President has been a great privilege for me, personally and professionally. As the Executive Director of JESPY House, the strong partnership with the board president included discussions about strategy, program, finances and more, the future. JESPY has been able to further its best practices because of Elaine's drive for excellence and her willingness to share the latest research and information and her vast learnings from other organizations."
Funds raised from the event go to support JESPY House's Annual Scholarship Program, which provides financial aid and other essential needs to clients who otherwise would not be able to participate in JESPY House's programs. Currently, JESPY House serves 250 clients – ranging in ages 18 to over 60 – whose services and supports include varied housing options, job training, structured day programs, clinical referrals, help with daily living, and recreation and cultural arts.
 About JESPY House:
JESPY House is a South Orange-based nonprofit organization that strives to enable adults with learning and developmental disabilities to achieve their full potential and to lead independent lives. JESPY does so by supporting and promoting the philosophy of choice, self-direction and independent community living for the clients it serves. JESPY provides an environment where people with disabilities live and work together. Along with its clients and their families, it works to break down barriers to ensure that clients have opportunities for full community inclusion.
About Kessler Foundation:
Kessler Foundation, a major nonprofit organization in the field of disability, is a global leader in rehabilitation research that seeks to improve cognition, mobility, and long-term outcomes--including employment--for people with neurological disabilities caused by diseases and injuries of the brain and spinal cord. Kessler Foundation leads the nation in funding innovative programs that expand employment opportunities for people with disabilities.
For more information on Kessler Foundation's research, visit KesslerFoundation.org.
Facebook |http://www.facebook.com/KesslerFoundation
Twitter | http://twitter.com/KesslerFdn
Instagram | https://www.instagram.com/kesslerfdn
YouTube | http://www.youtube.com/user/KesslerFoundation
iTunes & SoundCloud | http://soundcloud.com/kesslerfoundation
Contacts:
Carolann Murphy, PA; 973-324-8382; CMurphy@KesslerFoundation.org
Laura Viglione, MS; 973-323-3675; LViglione@KesslerFoundation.org