Feasibility study of novel core-strengthening intervention shows promise for maximizing trunk and balance rehabilitation outcomes after stroke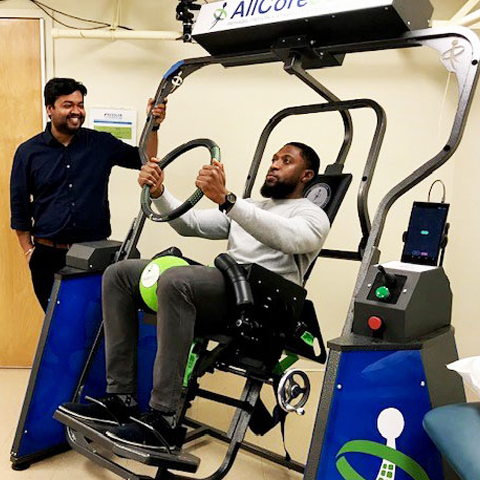 Researchers at Kessler Foundation tested a core-strengthening program using the AllCore360º for improving trunk function, balance, and mobility after stroke
East Hanover, NJ. August 15, 2022. Kessler Foundation researchers conducted a pilot study for individuals with stroke, testing the feasibility of applying the AllCore360º to stroke rehabilitation. The article, "A novel core strengthening intervention for improving trunk function, balance, and mobility after stroke," (doi: 10.3390/brainsci12050668), was published May 20, 2022, in Brain Sciences. It is available open access: https://www.ncbi.nlm.nih.gov/pmc/articles/PMC9139817/
Authors Rakesh Pilkar, PhD, Akhila Veerubhotla, PhD, Oluwaseun Ibironke, and Naphtaly Ehrenberg, MS, conducted this study at the Center for Mobility and Rehabilitation Research at Kessler Foundation.
Efficient trunk function is fundamental to restoring postural stability, balance, and the functional mobility needed to perform activities of daily living after stroke. Traditional stroke rehabilitation comprises trunk-training programs aimed at improving balance and reducing fall risk. However, such training programs are limited by variability in dosing (therapist or interventional device-provided assistance) making it difficult to interpret results across studies.
The authors presented three post-stroke patients with hemiplegia who were treated with a novel core-strengthening intervention using the AllCore360º, a device that targets trunk muscles through a systematic, task-oriented and high-intensity rotating-plank exercise program. Each participant completed 12 sessions of training on the AllCore360º, comprising a minimum of 120 rotations at inclination angles of 40 to 65 degrees.
The effects of the intervention on functional outcomes of trunk performance, balance, and mobility were assessed using the Trunk Impairment Scale, the Berg Balance Scale, the Timed-Up and Go test, the 10-m walk test, and the 6-min walk test. Postural outcomes were assessed using center of pressure data recorded on a balance platform, and neuromuscular outcomes were assessed by electromyography (EMG) during AllCore360° rotations. 
Stressing the small sample size, Dr. Pilkar observed that the effects on functional outcomes were promising. "Our preliminary data suggest improved lateral control of posture during standing, and the EMG data demonstrate that this core-strengthening intervention systematically modulated trunk muscle responses. For individuals striving to recover after stroke, these are clinically important findings. Moreover, this device standardizes the treatment dosage, and minimizes the need for assistance by therapists in a safe environment"
"Improving long-term outcomes for stroke survivors depends upon the development of new rehabilitative treatments that restore balance," he emphasized. "By facilitating neuroplasticity, this novel intervention may help individuals push the boundaries of functional recovery."
Funding: Kessler Foundation
About Kessler Foundation
Kessler Foundation, a major nonprofit organization in the field of disability, is a global leader in rehabilitation research that seeks to improve cognition, mobility, and long-term outcomes, including employment, for people with neurological disabilities caused by diseases and injuries of the brain and spinal cord. Kessler Foundation leads the nation in funding innovative programs that expand opportunities for employment for people with disabilities.