Elaine Katz of Kessler Foundation Honored by Brain Injury Alliance of New Jersey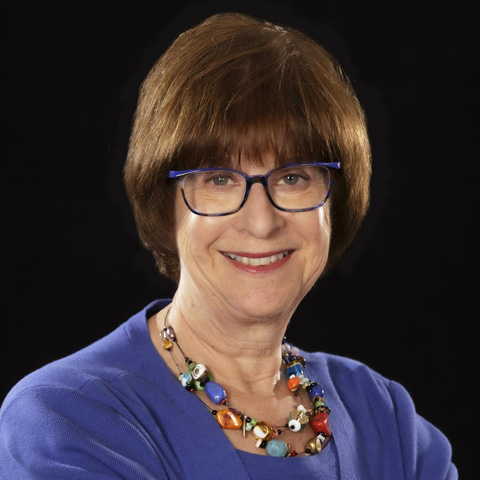 Brain Injury Alliance of New Jersey Announces Katz as Recipient of Irene Parisi Award 
East Hanover, NJ – May 11, 2023 – Elaine E. Katz, MS, CCC-SLP, of Kessler Foundation was named recipient of the Irene Parisi Award by the Brain Injury Alliance of New Jersey (BIANJ) at the Alliance's annual conference held on May 8, 2023, at the Berkeley Oceanfront Hotel in Asbury Park, New Jersey. Katz is the Foundation's senior vice president of grants and communications.
The Irene Parisi Humanitarian Award is named in memory of Irene Parisi, a remarkable woman who dedicated her life to serving others with kindness, benevolence, and an unwavering commitment to breaking down social barriers and prejudices. Irene's legacy lives on through BIANJ's annual award and the honorees who continue to embody her values and vision for a more inclusive world.
"I am pleased to be recognized by BIANJ, which shares the Foundation's commitment to changing the lives of people with disabilities," said Katz. "Irene Parisi — by countering prejudice with kindness —sought to overcome the barriers to full inclusion of individuals with brain injury in our communities. Irene set a lasting example for all of us in the disability community. It is an honor to share in her legacy."
Over the past 20 years, Elaine has been an instrumental figure at Kessler Foundation, directing its national grantmaking program, which funds innovative initiatives aimed at expanding employment opportunities for people with disabilities. Under her leadership, the Foundation has gained national recognition for employment research. In partnership with the University of New Hampshire Institute on Disability, the Foundation has issued monthly reports on National Trends in Disability Employment since 2013, and conducted four in-depth national employment surveys, which continue to yield important data that inform the work of stakeholders in the field, including nonprofit organizations, government agencies, educators, researchers, and policymakers. 
Nationally known for her work in employment and disability, Katz has served on the boards of prominent nonprofits. She currently serves on the boards of JESPY House, the New Jersey Association of People Supporting Employment First (NJAPSE), the Support Center for Nonprofit Management, Network of Jewish Human Service Agencies, Essex/Newark Disability Issues Committee, and the program committee of the Council of NJ Grantmakers. She is also an appointed member of Empower NYC Advisory Board, Workforce Matters National Steering Committee, and ReelAbilities NY Advisory Board and Council, In 2017, Katz served on the Human and Children Services Transition Advisory Committee for New Jersey Governor-elect Phil Murphy. 
In addition to the Parisi Award, Katz is a past recipient of the Humanitarian of the Year Award from Community Access Unlimited, the Jackson Drysdale Civilian of the Year Award from the GI Go Fund, and the Betty Pendler Award from Community Options.
About Kessler Foundation
Kessler Foundation, a major nonprofit organization in the field of disability, is a global leader in rehabilitation research. Our scientists seek to improve cognition, mobility, and long-term outcomes, including employment, for adults and children with neurological and developmental disabilities of the brain and spinal cord including traumatic brain injury, spinal cord injury, stroke, multiple sclerosis, and autism. Kessler Foundation also leads the nation in funding innovative programs that expand opportunities for employment for people with disabilities.