Your Support Jumpstarts Natalie's Future
Four years ago, Natalie was driving to Newark Airport with her dog, Dutchess. Her car was struck from behind. Seriously injured, she was rushed to University Hospital. Doctors saved Natalie's life, but she was paralyzed from the waist down. Dutchess was put in foster care.
Transferred to Kessler Institute for Rehabilitation, Natalie started her journey to recovery. Determined to get her life back, she began participating in spinal cord injury research led by Gail Forrest, PhD, director of the Center for Spinal Stimulation at Kessler Foundation. By participating in this innovative research, she is improving her mobility and helping scientists develop new ways to restore function after spinal cord injury.
With your support, Kessler Foundation established the Center for Spinal Stimulation, enabling Dr. Forrest and her team to study how electrical stimulation of the spinal cord, combined with intensive physical therapy—an experimental approach—can help people with spinal cord injury who are striving to recover.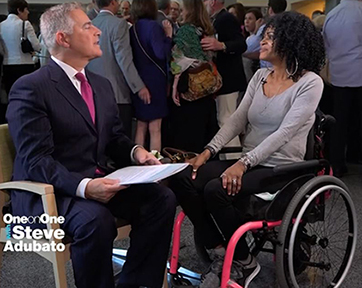 This treatment changed Natalie's life dramatically. She describes the electrical stimulation as "a jumpstart in my spine and legs—it makes me move." Because of Natalie's participation in the research at the Center, her legs are becoming stronger and easier to control every day. Now, she can stand, walk, with assistance, and talk at the same time—something she couldn't do before spinal stimulation. Natalie (pictured, right) further discussed her experience with spinal stimulation with Steve Adubato (pictured, left) at Kessler Foundation's recent event, "Transforming Care and Recovery for People with Spinal Cord Injury." Watch Natalie get up out of her wheelchair and walk. Learn more about spinal stimulation with the full podcast recording of this event.
"My legs are energized—and I'm energized about my future!" says Natalie. Recently, Natalie began managing her company's first retail outlet. She is gaining independence at home, too, cooking for herself, caring for her precious dog, Dutchess, who is back at her side, and she's engaged to be married. You helped Natalie get her life back. But Natalie's story isn't over—now, she wants to build the strength to walk on her own and use stairs. Your continued support will give Natalie—and others in need now—the chance to thrive, regain independence, and never stop moving and going forward.