Your Support Helps This Wounded Warrior Give Back
On Veterans Day, we are proud to share how your support of Kessler Foundation helps our veterans with disabilities transition to the civilian workforce and gain meaningful employment. Imagine the frustration of serving your country, then returning home to find that you can't get a job. This is a reality for many veterans, and the challenge is even greater for veterans with disabilities.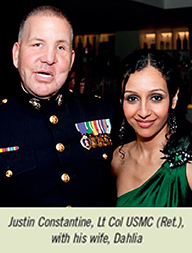 Thanks to friends like you, Kessler Foundation is a sponsor of the Jackson Drysdale Veterans Center, New Jersey's first one-stop center offering assistance with employment and entrepreneurship. The Center provides job training and mentoring to prepare veterans for corporate positions. Veteran entrepreneurs like Justin Constantine, Lieutenant Colonel United States Marine Corps (Ret.) (pictured left, with his wife), can access support services at the Drysdale Center to grow an idea from concept, to start-up, to established business. 
"Helping veterans with disabilities transition to the workplace is a priority," says Elaine E. Katz, MS, CCC-SLP, senior vice president of Grants and Communications at Kessler Foundation. "We were pleased to partner with Panasonic, Prudential, and JobPath to launch the Drysdale Center."
The Drysdale Center, supported by GI Go Fund, Kessler Foundation and donors like you, was years in the making, starting with a pilot program in which 30 veterans with disabilities were trained for work-at-home jobs as customer service representatives for PSE&G.
"Our pilot program grew into a state-of-the-art facility, helping many veterans and their families. This would not have happened without the support of Kessler Foundation and its donors," says Jack Fanous, executive director, GI Go Fund. Learn more in this podcast.
Justin Constantine, Lt Col USMC (Ret.), joined the Marines as a law student and served on active duty as a Judge Advocate General military law officer. Deployed to Iraq as a reservist in 2006, he was shot in the head by a sniper and sustained serious injuries, including a traumatic brain injury.
After a long recovery, Justin dreamed of starting a business to help other veterans gain employment and achieve their dreams. Justin was one of the first veteran entrepreneurs to utilize the Jackson Drysdale Veterans Center incubator space.
"By working, I feel as if I provide value to society and contribute to the well-being of my family," he says. "I want to create that same feeling for my fellow veterans and their families." Now, Justin is a motivational speaker, author, and veteran employment expert—paving the way for his fellow vets.
Because of your support, veterans with disabilities like Justin receive the help they need to find meaningful work and gain independence. In recognition of Veterans Day, help wounded warriors and others with disabilities in need now by making a gift today.