Stroke & VR, Cancer & Fatigue, TBI & Resources
By Rob Gerth
Here's what's been Trending@KesslerFdn. Items that might be of interest to our community.
Stroke & VR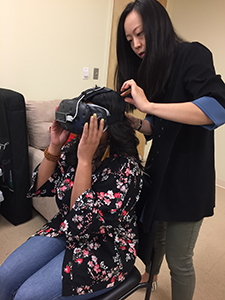 I recorded a podcast with Dr. Peggy Chen to be posted later this month. Dr. Chen is a senior research scientist in the Center for Stroke Rehabilitation Research at Kessler Foundation. Her story of how she got from Taiwan to Penn State to Kessler is fascinating. But maybe even better, she let me and Nicky, our social media specialist (Nicky and Peggy pictured), try out the virtual reality (VR) games she's building to help stroke survivors. She is just in the testing phase, but we did get to play three games. Dr. Chen calls them games too. She thinks gamifying the repetitive parts of rehab will keep the patients engaged.
You can't fully grasp how real VR feels until you've done it. You wear special goggles. The system tracks your hand movements. The experience is like being dropped into a 360-degree cartoon world where you use your hands to point and touch. Each game is meticulously designed to figure out the best rehab for damage caused by stroke and the resulting spatial neglect. Dr. Chen chose an animated world over something more realistic because she wants rehab to be fun. And it is.That's all I can say about the games while they are in this top secret phase. This project began almost two years ago thanks to a grant from National Institute on Disability, Independent Living and Rehabilitation Research. 
Cancer & Fatigue
Last Thursday night I attended an interesting conference at Kessler Institute for Rehabilitation. Dr. Michael Stubblefield (pictured at the top of this post) hosted the 3rd Annual Cancer Conference titled Beyond Rest: A Rehabilitative Approach to Managing Cancer-Related Fatigue. (This too is a future podcast.) I didn't know that cancer-related fatigue can start during treatment, maybe even before treatment, and last for years after remission. Kessler Institute for Rehabilitation is one of 1,600-plus outpatient centers offering a program called ReVital. The program provides individuals with the tools they need to take control of their pain, fatigue, and decreased activity levels. The rehab therapists, who attended in force, are on the front lines of helping patients use these tools.
At Kessler Foundation we are doing research to help find the best tools. We have a study open to volunteers right now called Effect of Exercise Training on Breast Cancer-Related Weakness.
TBI & Resources
If you are affected by TBI (consumers, caregivers, friends and family, rehab professional), in September we are holding a consumer conference for people living with a brain injury. It's called: Moving Forward: Improving Emotional, Physical, and Cognitive Health After Brain Injury. It's free, but registration is required.
Here's the Foundation's Center for TBI Research.
The Foundation is one of 16 in the TBI model system and one of 14 in SCI. Foundation scientists contribute to the Model Systems Knowledge Translation Center (MSKTC) for SCI and TBI, (there's also one for burn injury) which translates research finds into pratical information for people with SCI and TBI. There are tons of videos, slideshows, and fact sheets.
Odds and Ends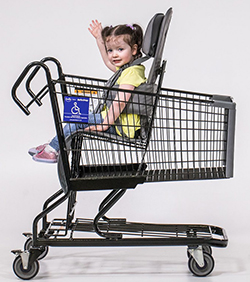 Some things being passed around the office this week:
And my favorite story of the week has to be about a wheelchair basketball player from the UK. It's just under three minutes long and well worth the listen.
BTW, you may have noticed a lot of mentions of podcasts you can enjoy. Watch this space for the latest ones.