Rodger DeRose Discusses Disability Employment on CNBC
Rodger DeRose, president and chief executive officer of Kessler Foundation, was interviewed on CNBC's Power Lunch, on Tuesday, August 27th. Live from the New York Stock Exchange, he discussed why employing people with disabilities is a good business decision, how Kessler Foundation is expanding opportunities through funding disability employment initiatives, the current employment environment for people with disabilities, and common myths that discourage employers from hiring jobseekers with disabilities.
"What we've been focused on at Kessler [Foundation] is how can we demonstrate to American corporations that hiring people with disabilities adds to their bottom line, potentially adds to their market share, and helps individuals feel like they are contributing to see society again," said DeRose.
Of the 56 million Americans with disabilities—the largest minority group in the nation—only 20 percent are employed. According to the July and August NTIDE reports, more people with disabilities are actively looking for work but fewer are working. This shows that people with disabilities want to work, but are not finding the opportunities.
Kessler Foundation has distributed more than $28 million in funding to organizations that create or expand employment opportunities for people with disabilities nationwide.
DeRose was joined by Gregory Wasson, the CEO of Walgreens. "People with disabilities are a vastly underutilized workforce," he said. "They want to work. They absolutely can be qualified to work in a variety of positions in our supply chain and distribution centers and retail stores and really have a deep down desire to do the best job they can. This was not charity for us. This is about making sure we have the same standards for people with disabilities and typically abled people. And the entire work environment has improved."
In the Walgreens distribution centers that made a concerted effort to hire people with disabilities, productivity, dedication, and safety ratings increased while absenteeism and turnover decreased.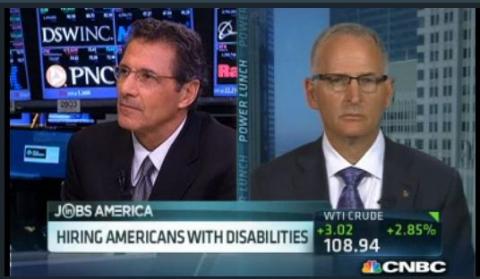 To watch the entire interview, click here.