Personal Perspective: Richard Anderson – Called to Be an Advocate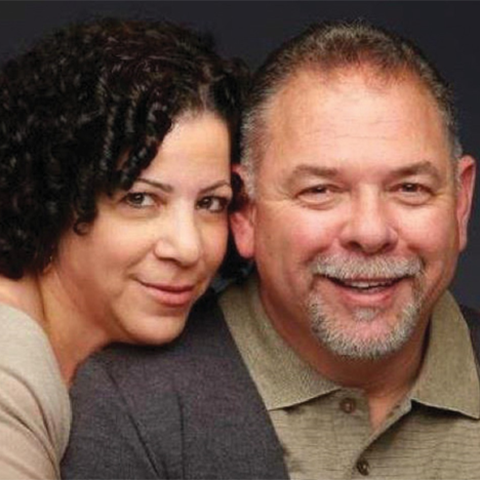 In August 2004, I sustained a traumatic brain injury (TBI) while on a family vacation at the Jersey Shore. To this day, my short-term memory has limits. I struggle with finding the right words to express my thoughts and emotions. And, I no longer have the ability to taste and smell. I am sharing this because looking at me, you might not know I have a brain injury. These challenges are what we call "invisible losses."
Despite these challenges, I try and help other individuals with brain injury by increasing awareness of TBI and advocating on behalf of the TBI community. I am a volunteer board trustee of the Brain Injury Alliance of New Jersey (BIANJ) and a member of the Kessler Foundation TBI Consumer Advisory Board. My wife Rose (pictured above with me) and I are also members of the Council for the Head Injured Community (CHIC) sponsored by BIANJ.
Currently, more than 5 million people living in our country have disabilities resulting from brain injury. The financial costs are staggering — $35 billion annually, which includes medical costs as well as costs associated with lost earnings and social service needs. Persons with severe brain injuries, like me, face 5 to 10 years of intensive rehabilitation, including speech, physical, cognitive, occupational, psychiatric, emotional, and behavioral therapies.
In most cases, a brain injury is not an event that heals and goes away. It becomes a chronic condition, and one may need assistance and advocacy for the remainder of their lives. The only cure for brain injury is prevention. Public awareness is critical to our efforts to prevent brain injuries and maximize the recovery process of all individuals affected by TBI. My calling is to increase awareness about brain injuries, to advocate for individuals with brain injury, and to help others understand what it is like to live with a brain injury.
I often listen to the song "I Dreamed a Dream" from the Broadway musical "Les Misérables." Although some consider the lyrics sad, I find it to be a passionate song that inspires and motivates me. I had dreamed of different dreams before I was injured, but now I have a new dream. And, it is coming true as I help others live again. Join me in fulfilling my dream of a brighter future for everyone living with brain injury by raising awareness of the impact that brain injury has on individuals, their families, and our society.
For More Information
Brain Injury Alliance of New Jersey
www.bianj.org
(732) 745-0200
Council for the Head Injured Community (CHIC)
bianj.org/chic/
Tom Grady, Director of Advocacy & Public Affairs
tgrady@bianj.org.