'A Little Something Extra' with Big Benefits for Young Adults with Disabilities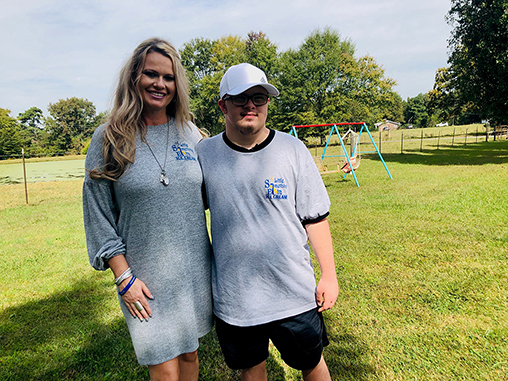 By Carolann Murphy
Families with children with disabilities often face challenges while planning for the future. Many times the family's ultimate goal is to help their child gain maximal independence and optimal quality of life. Some families choose the pathway to entrepreneurship, opting to start a business centered on their child's skills and interests. The impact of these enterprises can extend beyond the family and the individual with disabilities, reaching local communities and beyond. One example of a successful family enterprise is 'A Little Something Extra' in rural Dawson, Alabama.
Founded by the Norwood family, 'A Little Something Extra' is an ice cream truck that has become a familiar sight at local events. The truck is staffed by CEO Hunter Norwood, 19, who has Down syndrome, and his peers with disabilities from the local area. Michelle Norwood, Hunter's mother, came up with the business concept. Michelle is a special education teacher, a career path inspired by Hunter's disability. Concerned about the lack of job opportunities in their rural hometown, Michelle was attracted to the idea of creating a business that could employ Hunter, as well as her special education students after graduation.
On a family trip to Memphis, she noticed the popularity of the neighborhood ice cream truck, something the small town of Dawson did not have. That was the start of 'A Little Something Extra', a reference to the extra chromosome 21 that characterizes Down syndrome. The start-up was a success, with the truck in demand by healthcare facilities, churches, and businesses, and at parades, festivals, and other events. The truck has become popular at events for employee appreciation and customer appreciation, which are now mainstays of the business, according to Michelle. As the economy began opening up in Alabama, the corporate demand grew.    
The Norwood's success has extended to others in the community. Through 'A Little Something's annual training, more than 20 young adults with disabilities have earned certification as 'ice cream experts' for this unique business, which Michelle also sees as a tool for promoting advocacy and awareness of people with disabilities.
As the truck gained popularity in northern Alabama, so did Hunter. Something of a local celebrity, he helps sell t-shirts that promote the business with the slogans, "I'm an ice cream expert, what's your super power?", and "I'm so Extra!" He's also signed more than 600 copies of "Stars in My Eyes", a book about children with Down syndrome, authored by Michelle, which is also available from major online book sellers.
The family has a vision for extending the reach of their small business. There's interest in franchises, says Michelle, and a possible partnership with Auburn University's Eagles Program, a college level program for students with developmental disabilities. Michelle advises parents to focus on their child's strengths, not their shortcomings, and "Never stop dreaming. If you can dream it, you can do it."  
"Entrepreneurship offers a pathway for families like the Norwoods to ensure a place for their adult offspring in the workforce, where they can work toward self-sufficiency on their own terms," noted Elaine E. Katz, MS, CCC-SLP, senior vice president of grants and communications at Kessler Foundation. "The success of 'A Little Something Extra' shows how the benefits of entrepreneurship extend beyond the direct economic benefits for individuals with disabilities. This underscores the importance of having policies and programs that support disability-owned businesses and maximize the potential for job growth in this area."
You can learn more about 'A Little Something Extra Ice Cream' on social media at: Facebook and Twitter.
This post is based on the December 4, 2020 nTIDE Lunch & Learn webinar, watch the broadcast to learn more.