Healing After Traumatic Brain Injury
With your support, 15 year old Tyler Brown walks again—one (robotic exoskeleton) step at a time.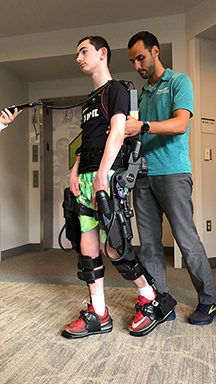 One day after school, Tyler Brown and his twin brother, Kevin, were walking along a busy street when they were struck by a car. Though Kevin was hit first, his injuries were not as grave as Tyler's. Tyler sustained multiple broken bones, severe internal bleeding, organ damage, and a traumatic brain injury.
"The trauma team wasn't sure Tyler would make it," recalls Liz Brown, the twins' mother.  "If you told me he would walk again, I wouldn't have believed it," says Liz. But thanks to donors like you, Tyler experienced the powerful combination of one-on-one physical therapy and the latest robotic exoskeleton technology as part of a Kessler Foundation research study. By walking in the Ekso by Ekso Bionics, Tyler gained strength and improved his balance—moving from a power wheelchair to a regular wheelchair, then a walker and a cane, to walking completely on
his own.
"I've always loved robots," explains Tyler, now 15 years old. "I couldn't wait to be strapped into the Ekso." Tyler remembers that walking in the Ekso was scary at first, but after only a few sessions, he felt improvement. "Even though I got tired, I never looked forward to anything as much as I did my Ekso training."
Tyler was so moved and encouraged by the Kessler Foundation research team, led by Karen Nolan, PhD, senior research scientist in the Center for Mobility and Rehabilitation Engineering Research, that he now dreams of becoming a physical therapist. "I want to help others like me who have lived through a traumatic injury. I want to do for them what Kessler Foundation did for me," he says.
Liz emphasizes her gratitude. "I will never underestimate the healing process. Without the specialized therapy Tyler received, he never would have come so far so quickly. Tyler could not have accomplished all of this healing without Kessler Foundation's rehabilitation research—without donors like you."
Like our Facebook page to read more stories like Tyler's.