Embracing Fatherhood After Traumatic Brain Injury
In celebration of Father's Day, we share a story to demonstrate how your support makes all the difference for fathers like Pete Welch. You advance groundbreaking rehabilitation research to help fathers like Pete and others overcome disability and live to the fullest with their families.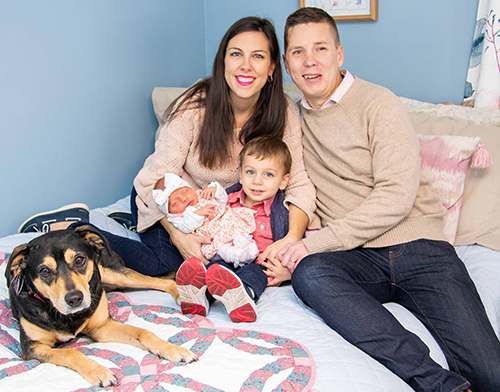 After Hurricane Sandy in 2012, Pete and his then-girlfriend, Ali, were assessing the storm's damage to their apartment when Pete fell three stories, sustaining a traumatic brain injury (TBI). That day, Ali—just 23 years old—became a caregiver.
Pete was rushed to Jersey City Medical Center, where he spent the next three weeks in a coma. After doctors saved his life, Pete was transferred to Kessler Institute for Rehabilitation, where he began his journey to recovery with Ali by his side.
During his rehabilitation, Pete worked hard and participated in several Kessler Foundation studies to improve his memory and his ability to process and learn information. Ali joined Kessler Foundation's unique caregiver study to support him. 
Ali says Kessler Foundation's study felt like group therapy. While she was the youngest of the caregivers participating in the study, her experiences were similar to those of other families dealing with a TBI. Ali found solace in sharing her daily frustrations and learning from others. The study helped her to more fully embrace her new role as caregiver.
"Kessler Foundation gave me the chance to talk to people who knew what Pete and I were going through because they experienced it too," Ali says. "They shared strategies Pete and I could use so he could take on everyday tasks more easily."
Ali was able to support Pete during his recovery and also found support for herself thanks to Kessler Foundation and donors like you. Ali says, "Kessler Foundation gave us our future."
Today, Pete works as a corporate real estate project coordinator and this November will mark the 9th anniversary of his recovery. He and Ali are happily married and raising their son, Patrick, and their daughter, Katie. 
While these results are encouraging, more research is needed. By making a gift to Kessler Foundation today, you will advance groundbreaking rehabilitation research to help Pete and others overcome their disability and live to the fullest with their families.
Thank you, in advance, for your generosity, and Happy Father's Day!