Embracing Fatherhood After TBI
Happy Father's Day! In celebration, I share a story to demonstrate how your support makes all the difference for fathers, like Pete Welch, who live with disabilities. You advance groundbreaking rehabilitation research to help Pete and others with disabilities live fuller, more engaged lives with their families.
After Hurricane Sandy, Pete and his then-girlfriend, Ali, were assessing the storm's damage when Pete fell three stories, sustaining a traumatic brain injury. After doctors saved his life, Pete began his journey to recovery with Ali by his side.
During his rehabilitation, Pete worked hard and participated in several Kessler Foundation studies to improve his memory and his ability to process and learn information. Ali joined Kessler Foundation's unique caregiver study to support him. Ali says, "Kessler Foundation gave us our future."
Today, Pete works as a corporate real estate project coordinator. He and Ali are happily married and have welcomed their son Patrick. Pete reflects on how far he has come since his injury. "After my accident, Kessler Foundation helped me get back to a full life and on the road to my greatest accomplishment yet—becoming Patrick's dad."  
Because of your support, Pete's story—and the lives of many others with disabilities—can continue to unfold. Contact me to learn more. I'd love to talk to you.
In gratitude for all you make possible,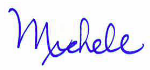 Michele Pignatello
Vice President and Chief Development Officer
mpignatello@kesslerfoundation.org
Phone 973.324.8363
www.kesslerfoundation.org
P.S. Your generosity has made a difference for Pete, Ali, and Patrick. Your continued support will help others in need now.