Dirk Wakes Up to Life and Helps Others Wake Up Too
As we continue to celebrate National Disability Employment Awareness Month, we share a story to demonstrate the impact of your support on the lives of people with disabilities like Dirk Hohenkirk. Because of donors like you, Dirk lives a fuller, more engaged life by getting the help he needs to find meaningful employment.
Dirk Hohenkirk was 18 years old when he was shot and paralyzed from the neck down. In his hospital bed, unable to move, Dirk initially resisted a therapist's attempts to discuss how he might move forward with his life. "But she never gave up," remembers Dirk. "She asked if I was going to just sleep my life away. She encouraged me to wake up to life—to use my mind, go back to school, and find a job."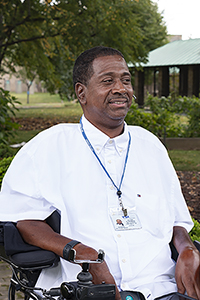 Dirk followed every word of his therapist's advice. He earned his GED, an undergraduate degree, and finally his master's in social work. Dirk was eager to find a job. His vision was to help people improve their lives. Luckily, he learned about NYC: ATWORK, an employment program supported by Kessler Foundation and donors like you. "The program helped me take steps toward finding a meaningful career where I could help people just like I had been helped," says Dirk.
Thanks to you, NYC: ATWORK provided Dirk with the career counseling, resume building, and interview coaching he needed to land the perfect job. Now, as a specialist at Transitional Services for New York, he assists people living with substance abuse or physical and mental challenges as they strive to live the best lives they can. "You have to give life a chance," Dirk emphasizes, "and employment is a huge part of fully embracing life. I'm grateful to that hospital therapist who urged me to wake up, and I'm grateful to NYC: ATWORK and donors like you for helping me secure a job where I can help others wake up too."
Learn more about Kessler Foundation and disability employment