Wings of Change: Building a Career Based on Equitable Access to Nature
Bird enthusiast improves the accessibility of environmental surroundings for people with disabilities
By Carolann Murphy, PA, senior medical writer, Media/Communications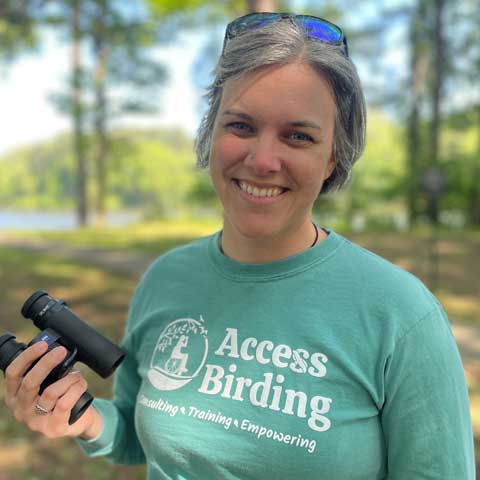 With the onset of pandemic restrictions in 2020, we saw a surge in interest in outdoor spaces of all kinds. The sudden massive shift to at-home work and education, combined with the suspension of travel and public entertainment such as concerts, plays, and sports events, resulted in a dramatic rise in neighborhood activities. People visited parks and trails in unprecedented numbers, and took up new hobbies, including birding. This surge in interest revealed issues of access and equity for minority groups, including people with disabilities.  

Addressing these issues has become the life's work of Freya MacGregor, an occupational therapist dedicated to improving the accessibility of nature settings for birders with all types of disabilities. She has built a unique career by combining her professional expertise with her lifelong interest in birding and her personal perspective as a disabled birder.
Freya is the founder of Access Birding, LLC, and is a research associate at Virgina Tech, where she focuses on the intersection of birding, disability, and wellness, including work on two projects funded by the National Science Foundation. She is a published author, a frequent blogger, a regular guest on birding podcasts, and an advocate for access for all to natural spaces. Freya has been quoted in major outlets such as the New York Times and is writing the first U.S. field guide for birders with disabilities.
Through Access Birding, Freya offers comprehensive training and consulting services for nature organizations striving to welcome all members of the community. For Freya, physical barriers are just one aspect of accessibility. Central to her approach is the empowerment of personnel "to become confident agents of change who improve access and inclusion for disabled birders."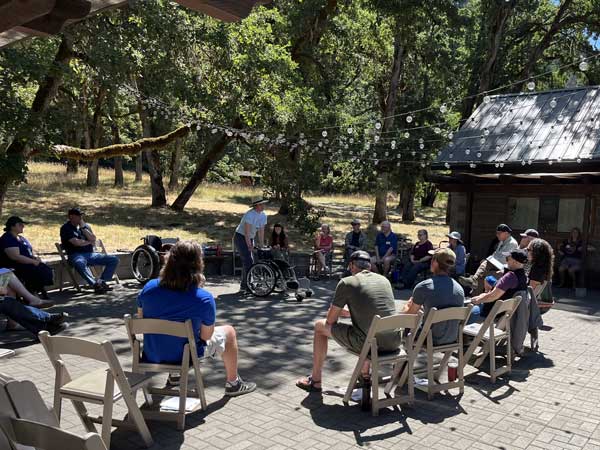 Access Birding's offerings span disability etiquette, communicating using best practices, facilitating inclusive outings, and conducting community outreach. Specialized workshops for occupational therapists encourage incorporating birding as a therapeutic tool, including ways to help individuals overcome functional limitations to participation. Available on the website, is a downloadable flyer, "Five easy ways to improve access at nature preserves," detailing suggestions that can improve access for all park visitors, not just those with disabilities. Freya also recommends adaptations for specific disabilities. In addition to tips for birders who are blind or have low vision, for example, nature sites can offer audio guides and signage and resources in Braille. Trails can be made more accessible by installing  guide ropes for self-guiding and tactile markers on trail surfaces.

Freya's success as an entrepreneur is an example of how pursuing one's passions can be the path to fulfilling employment for people with disabilities. From a larger perspective, it also illustrates that accessibility is gaining acceptance as a field to enter and as a job type. This recognition of accessibility as a discipline is creating new career options for people with disabilities.
Clearly, "Advancing Access and Equity" is a timely theme for this year's National Disability Employment Awareness Month. "Accessibility isn't just about compliance; it is a fundamental right," stated Rylin Rodgers, Disability Policy Advisor for Microsoft's Accessibility Team, in the September 1, 2023 webinar for National Trends in Disability Employment. "By expanding access to education, technology, and employment, accessibility unlocks opportunities and helps reduce the disparities and inequities that contribute to the Disability Divide."  
Links to Resources:
Access Birding:  https://accessbirding.com/
The OT Birder: https://www.freyamcgregor.com/
Birdability: https://www.birdability.org/