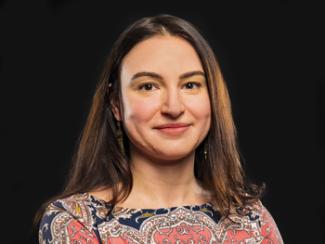 Senior Research Scientist
Laboratory
Neurolinguistics and Brain Connectivity Laboratory
Olga Boukrina received a PhD at Rutgers University, working with Dr. Stephen José Hanson in cognitive neuroscience and advanced statistics. She also completed a post-doctoral fellowship in neuroscience of language under the direction of Dr. William W. Graves, investigating brain function in healthy adults and stroke survivors.
Dr. Boukrina has over 9 years of experience in MRI data analysis, including lesion mapping, lesion-deficit analysis, diffusion, perfusion, univariate/multivariate pattern analysis of functional neuroimaging data, and network connectivity analysis for deriving global patterns of brain activity. Since 2015, she has been a research scientist in the Center for Stroke Rehabilitation Research, where she directs the Neurolinguistics and Brain Connectivity Lab. Dr. Boukrina's work focuses on behavioral and physiological research to improve the understanding, diagnosis and treatment of stroke-related impairments in reading and spatial processing.
Dr. Boukrina oversees the workflow of several imaging biomarker studies of these conditions. Her research is funded by grants from the Mabel H. Flory Foundation, the American Heart Association, and Eunice Kennedy Shriver National Institute of Child Health and Human Development (NICHD). This work is also made possible through her close partnership with clinical colleagues at the Kessler Institute for Rehabilitation, NYU-Bellevue Hospital, and the Adler Aphasia Center.
Expertise
Neuroimaging
Stroke
Language
Reading
Brain Connectivity
Education
Postdoctoral Fellow - Neuroscience, Rutgers University
PhD - Psychology, Rutgers University
BA - Psychology, Binghamton University
Honors
Norman Samuels Scholarship, Rutgers University, 2007
Cognitive Science Fellowship Northwestern University, 2005
H.B. Daly Memorial Award for Excellence in Undergraduate Research, Binghamton University, 2004
Undergraduate Research Grant, Binghamton University, 2004
Member, Phi Eta Sigma National Honor Society, Binghamton University, 2001
Member, Phi Beta Kappa National Honor Society, Binghamton University, 2001
Member, The National Scholars Honor Society, Binghamton University, 2001
Recipient of Town of Borovichi Scholarship, Borovichi School Number 1, 1997-1999
Winner Novgorod Region Olympiad in Russian Language, Borovichi School Number 1, 1997
Research Interests
Functional and Structural Neuroimaging in Stroke

Neural Networks Underlying Spatial Cognition and Language

Alterations of Cerebral Blood Flow in Stroke and Stroke Recovery

Brain Connectivity as Predictor of Functional Impairments after Stroke